Taylor Swift, Apple Music, And The Future Of The Music Business
Taylor Swift is taking a stand against Apple's new streaming music service, and she's largely right.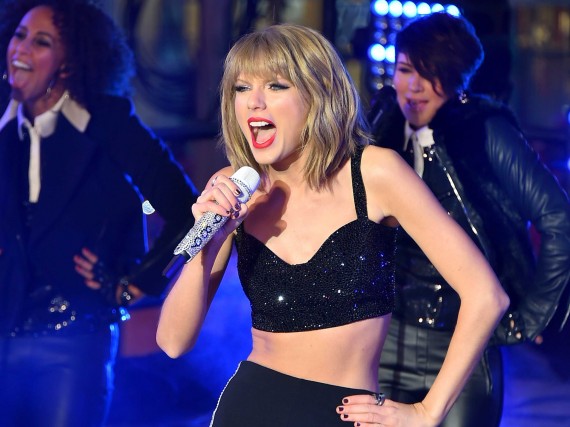 One of the biggest stars in the music business is taking a stand against Apple's new streaming music service:
First, Taylor Swift spoke out about the economics behind Spotify. Now, she has taken aim at Apple over its decision not to pay musicians during a trial period for its new music service.

In a letter posted on her Tumblr page on Sunday called "To Apple, Love Taylor," Ms. Swift spoke of a situation that has sent shock waves through the music industry: Apple has finally announced a subscription streaming service to compete with Spotify, Rhapsody and Deezer, but says that it will pay no royalties during a three-month period when customers can try it free.

Ms. Swift called the policy "shocking, disappointing and completely unlike this historically progressive company," and added that she was not just speaking for herself.

"These are the echoed sentiments of every artist, writer and producer in my social circles who are afraid to speak up publicly because we admire and respect Apple so much," she wrote. "We simply do not respect this particular call."

The new service, Apple Music, is set to open around the world on June 30. In addition to its longstanding iTunes download store, it will include a $10 streaming subscription plan, a free Internet radio station and a media platform that will let artists upload songs, videos and other content for fans. Unlike Spotify, which lets customers listen free or pay monthly fees to eliminate ads, Apple's subscription feature will have no permanent free level.

The public letter from Ms. Swift — who will not be offering her new album, "1989," through Apple's new service because of its stance — comes after independent music groups around the world have complained that the company's terms were unfair.

"This is a major misstep as Apple is trying to launch this service," said Jeff Rabhan, the chairman of the Clive Davis Institute of Recorded Music at New York University. "Apple has always positioned itself as a supporter of artists, and this was a very easy way for them to prove that and stand out from everybody else in the space."

Apple declined to comment.

Apple has said that at least 71.5 percent of the money it collects from music sales will be paid in royalties, a slightly higher ratio than the industry standard of 70 percent. But record executives, particularly at small labels where margins are thin, describe a frightening scenario in which income from important new albums that come out during the free period would not only lose out on important download income but also get nothing from Apple's new streaming feature.

The complaints also come as various government agencies in the United States and in Europe, including the attorneys general of New York and Connecticut, have begun investigating possible anticompetitive practices in Apple's dealings with record companies over streaming music contracts.

Ms. Swift, one of the best-selling artists in music today, has been outspoken about economic issues for musicians. In an opinion article in The Wall Street Journal last year, she wrote: "Valuable things should be paid for. It's my opinion that music should not be free." A few months later she withdrew her entire catalog from Spotify because that company would not restrict access to her music to its paid version.
As streaming becomes a larger and larger part of the way that people, especially the people who fall into the target demographics that the music industry cares about, consume and are exposed to music, the issue of how artists, songwriters, musicians, producers and others involved in creating music is becoming a larger and larger issue. Along with many other big artists, Swift has complained about Spotify in particular in the past due to the fact that the royalties that songs earn are almost infinitesimal even when they are among those tracks that are played most frequently. That is what led her and some other top artists to pull their music from Spotify completely, and it's a good part of what's behind the objections to Apple's new service. In this case, though, the objection is to something that seems to be more egregious, the fact that Apple has apparently decided that it will not pay any royalties at all during the three month free (to customers, and apparently to Apple) trial period. Given that Apple's plan includes a service that is subscription based but has no free alternative, I suppose this makes sense for them from a business point of view in that it's a way to get consumers hooked on the service to the point where subscribing on either a monthly or annual basis seems like a no-brainer to them. There's nothing objectionable about that business decision per se, but approaching that trial period with the understanding that Apple will not be paying royalties seems to me like a patently unfair move on Apple's part.
Obviously, Apple can't just implement the "no royalties" policy on it's own. Apparently, it's part of the contracts that are being entered into with record companies, artists, and the other people who hold rights over music distribution. To a large degree, Apple is in the superior bargaining position here because they have a virtually guaranteed market of consumers that these artists will want to have access to, and most of these artists are nowhere near being in the same position as someone like Taylor Swift who, as she says in her post, makes more than enough money touring to not have to worry about getting royalty checks. Whether a decision by Swift and others in her position to boycott Apple Music will lead to a change of heart in Cupertino is unknown, but it seems to me that they're on the right side of this argument. People ought to get paid for the music they create, that's why Napster was quite obviously wrong in the way it essentially created a means for people to get permanent copies of music they never paid for. Streaming is different in that users aren't able to save the music they're listening to, but the principle is the same. When you hear a song on the radio, or in a television show or movie, someone is getting compensated for that, there's really no reason why that shouldn't happen when its a streaming service doing the "broadcasting."
This is likely just the beginning of a battle between the music industry and technology companies like Apple over these issues. As I noted, streaming is quickly becoming the most prominent means by which people consume music, companies such as Spotify and Apple make money off it via subscriptions for premium services or through ad sales. Consumers subscribe to these services because they get easy access on the go to their favorite artists. At some point, the two sides are going to have to come to some agreement on how the money these services generate will be divided up. Until then, you're likely to see more artists taking the position that Taylor Swift is taking, and I can't really blame them.
Update: Apple announced late Sunday night that it was reversing course on the royalty policy.