Taylor Swift Refuses to Shut Up and Sing
Should celebrities use their influence in partisan politics?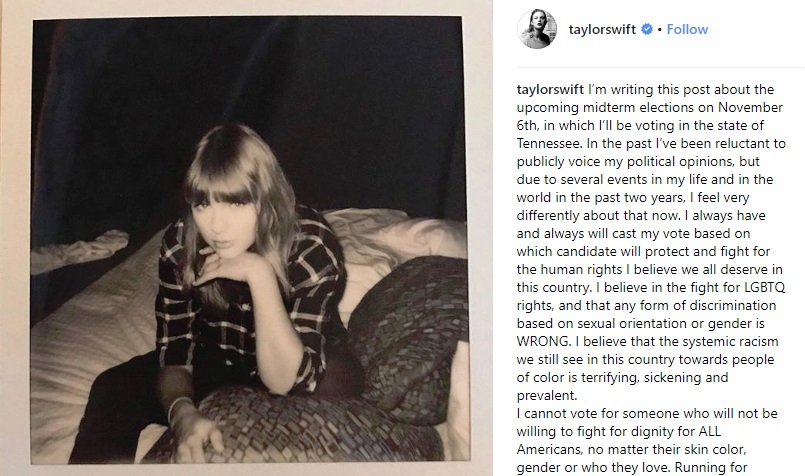 Pop star Taylor Swift went political on Instagram and ignited a controversy.
WaPo ("Taylor Swift's stunning statement: Famously apolitical star slams Tennessee Republican, endorses Democrats"):
In a stunning turnaround from her refusal to discuss anything related to politics, Taylor Swift revealed whom she's voting for in the 2018 midterms.

The pop megastar, who just wrapped up a 40-date stadium tour across the country, posted a long Instagram caption Sunday night. In it, Swift, who is registered to vote in Tennessee, gave a detailed explanation about why she's voting for Democrats Phil Bredesen for Senate and Jim Cooper for the House.

Swift also slammed Rep. Marsha Blackburn (R-Tenn.), writing, "Her voting record in Congress appalls and terrifies me."

"In the past I've been reluctant to publicly voice my political opinions, but due to several events in my life and in the world in the past two years, I feel very differently about that now," Swift wrote to her 112 million Instagram followers. "I always have and always will cast my vote based on which candidate will protect and fight for the human rights I believe we all deserve in this country."

She continued: "I believe in the fight for LGBTQ rights, and that any form of discrimination based on sexual orientation or gender is WRONG. I believe that the systemic racism we still see in this country towards people of color is terrifying, sickening and prevalent. I cannot vote for someone who will not be willing to fight for dignity for ALL Americans, no matter their skin color, gender or who they love."

Over the past two years, Swift has been criticized for not using her platform as one of the most powerful celebrities on the planet to talk about current events — and glossing over anything political during a grueling, divisive time. The day of the 2016 presidential election, she posted a photo of herself in line to vote and urged others to do the same. She made no mention of her political leanings, even as a top Google search was "Who is Taylor Swift voting for?"
I must confess, it has never occurred to me to wonder who Swift was voting for. Still, it's not surprising that someone so famous and with such a large social media following would generate a reaction with that post–especially considering she used ALL CAPS several times to indicate how much she meant it.
WaPo ("A betrayal beyond words': The far right melts down over Taylor Swift's endorsement of Democrats"):
Taylor Swift's declaration that she plans to vote for Democrats next month fell like a hammer across the Trump-worshipping subforums of the far-right Internet, where people had convinced themselves, for reasons it will take some time to explain, that the world-famous pop star was a secret #MAGA fan.

The news caught 4chan and Reddit trolls mid-post. On the pro-Trump r/The_Donald board, someone had just written out a sexual fantasy in which Swift and Kanye West hooked up because "Trump being the best president is actually something they both agree on." The author edited the post minutes later: "NVM didn't realize Taylor sold out to the left."

Missives about Swift's perceived betrayal of conservatism clogged far-right message boards. Some simply refused to believe what she had written to her 112 million Instagram followers Sunday evening — a 400-word condemnation of "systemic racism," homophobia and Rep. Marsha Blackburn, the GOP Senate candidate in her home state of Tennessee, complete with Swift's endorsement of two Democrats: Phil Bredesen, the party's Senate candidate, and Rep. Jim Cooper.

"This is more than likely from Democratic MK ultra forces from above," m3Me_Magic wrote on The_Donald. "I highly doubt Swift decided to become political at the 11th hour all on her own."

That a 28-year-old celebrity — even one who had previously kept her politics private — would weigh in on a potentially crucial midterm election seems much less strange than the story of how the far-right Internet came to believe Swift was their secret ally — "our girl," as many put it.

The delusion traces back to the middle of the Obama administration, 2011, when a certain fraction of 4chan users convinced themselves that Swift had let them name her cat.
Ah, so these are random yahoos on subreddits catering to cretins. Apparently, though, that's something of a big deal in that she had rather a large and creepy following among that demo.
Vanity Fair ("Taylor Swift's Politics and the Death of One of the Internet's Worst Memes"):
Taylor Swift is not a neo-Nazi. She's never espoused those views in public. Regardless, in 2016, in the summer before the presidential election, reports surfaced that the alt-right refer to her as its "Aryan goddess." On Monday, after she condemned a Republican Senate candidate with a history of anti-L.G.T.B.Q. views, and offered a strong, clear political opinion for the first time ever, they were not pleased.

If "Ayran goddess Taylor Swift" sounds like a bad joke, know that it is—or, at least, it started that way. The idea came from the once-fringe reaches of the Internet, 4chan's "politically incorrect" forum "/pol." 4chan convinced itself that Swift was lurking on the forum in 2011 (it's a long story involving her cat Meredith). Elsewhere, a Pinterest user superimposed Hitler quotes over her photos to satirize of the Pinterest habit of misattributing quotes willy-nilly, according to BuzzFeed. Around the same time, a maybe real, maybe fake photo of her posing with a guy wearing a swastika made the rounds. With the power of the Internet threads combined, a Nazi meme was born.

When progressives criticized Swift in subsequent years—for the colonial nostalgia of the "Wildest Dreams" video, or her lack of a political endorsement during the 2016 election—these right-wing sites defended her in their particular brand of humor, and continued to post anti-Semitic memes starring her. In 2017, her legal team threatened a lawsuit against the site PopFront when a writer claimed that she was leaning into the alt-right's obsession with her in her most recent album Reputation. The A.C.L.U. intervened on behalf of the blogger, and on Andrew Anglin's the Daily Stormer, the gleeful headline was, "[Slur] A.C.L.U. Defends Website Accusing Taylor Swift of Being a Neo-Nazi!"

Other headlines on the Daily Stormer—a site guided in part by the ethos of "ironic Nazism disguised as real Nazism disguised as ironic Nazism"—read, "Taylor Swift, Avatar of European Imperialism," and, "Aryan Goddess Taylor Swift: Nazi Avatar of the White European People," and, "Aryan Goddess Taylor Swift Accused of Racism for Behaving Like an Ape in a Music Video."

When right-wing provocateur Milo Yiannopoulos was still working with Breitbart, he tried to spell it out: "The alt-right can be given to conspiracy on occasion—hardly surprising, given how often they are lied to and about—and the thought that Swift is covertly 'red-pilled,' concealing her secret conservative values from the progressive music industry while issuing subtle nods to a reactionary fanbase, delights them." As long as Swift said nothing, the lark played.

And now the lark is over. On Sunday, as she finished the American leg of her Reputation tour, Swift posted a photo of herself to Instagram with a long caption that warned against Tennessee Senate hopeful, Republican Marsha Blackburn. Blackburn's voting record "appalls and terrifies" her, she wrote, and cited views held by Blackburn that tend to go against L.G.T.B.Q. rights and women's equality. "In the past, I've been reluctant to publicly voice my political opinions, but due to several events in my life and in the world in the past two years, I feel very differently about that now," Swift said.
Yikes.
But I digress. My interest in this is not in Swift or her views per se but in the public reaction to it and, specifically, whether it much matters.
Swift is, by all accounts, an intelligent and successful woman. She has every right to use the platform afforded by her celebrity to promote causes she believes in, speak out about issues she's passionate about, and, yes, endorse candidates for political office. Presumably, though, she has up until now demurred from doing so on the same grounds that a young Michael Jordan famously eschewed politics: Republicans buy music, too.
As best I can tell from a quick Internet search, the "meltdown" from Republicans has been muted at best. The Fox & Friends gang is saddened by it and questioning whether she wrote it herself. The National Republican Senatorial Committee is being good-humored about it:
If you haven't heard, multimillionaire pop star Taylor Swift came down from her ivory tower to tell hardworking Tennesseans to vote for Phil Bredesen.

Here's a look at the man T Swift is supporting:

As governor, Bredesen's office shielded top aides from sexual harassment allegations. (Bonna de la Cruz, "Deputy Gov. Pulled Strings In Hushed-Up Harassment Case," The Tennessean, 12/21/05)
Under Bredesen's administration, sexual harassment problems skyrocketed. (Matt Gouras, "Sexual Harassment Reports Climb," The Associated Press, 12/12/05)
Bredesen's administration shredded evidence about sexual harassment allegations involving his political appointees. (Brad Schrade, "Investigator Shreds Notes In Bredesen Aide's Demotion," The Tennessean, 5/12/05)
"Records have shown that when Bredesen's office becomes involved in a complaint, notes are shredded or not taken, or documents are not released." (Editorial Board, "EDITORIAL: Bredesen Must Clean Up Conduct, Open Records," The Tennessean, 7/15/05)
Bredesen downplayed sexual harassment saying, "Anytime you mix men and women together in a work environment there's going to be issues." (Brad Schrade, "Bredesen Imposes Secrecy On Select Harassment Cases," The Tennessean, 7/16/05)
Bredesen called a small fine and minimal suspension "appropriate," after the President of Middle Tennessee State University was accused of sexually harassing a female subordinate. (Duren Cheek, "MTSU Chief's Penalty Fair, Too Soon To Tell For TSU Head, Governor Says," The Tennessean, 12/9/03)
Bredesen hired two individuals who oversaw the mishandling of the sexual harassment allegations to run his campaign. (Brent Scher, "Bredesen Reassembles Team That Mishandled Sexual Harassment Claims," The Washington Free Beacon, 2/6/18)

Guess when it comes to letting sexual harassment get in the way of political gain, Taylor Swift's attitude is to just shake it off…
Presumably, some number of Republican fans will be offended by Swift's post and refuse to buy her music in the future and some number of Democrats will be more inclined to do so. And I really don't want to contemplate the future sexual fantasies of the Reddit gang.
Will Swift's plea matter at the polls? One wouldn't think so but there has reportedly been a spike in voter registration:
Voting registrations nationwide and in Tennessee have significantly increased just a day after singer Taylor Swift posted a rare political Instagram post.

According to Vote.org on Monday, nationwide, there have been 51,308 new registrations in the past 24 hours.

It also saw a general spike in website traffic in the last 24 hours, with 155,940 unique visitors.

In the state of Tennessee, 2,811 registrations from September increased to 3,582 in October so far, and 2,144 of those were in the last 36 hours, according to the website.

The climb in registration numbers comes after Swift posted her political opinion on Instagram Sunday.

"She laid it out there in a lot of words with a lot of passion, saying vote based on issues. Take a look at the candidates and make sure that you agree with candidates as opposed to look at the demographics of the candidates," Karen North said.

North, who is a professor of digital social media at USC Annenberg, said Swift's post could very well have an impact on the midterm elections.

"Taylor Swift, given her immense following in social media and just following among fans, could actually sway people – not even necessarily on their vote – but possibly just the get out the vote, the push to go show up at the polls and make a difference," she said.
Now, this is purely anecdotal. How many of these registrations were spurred by Swift? How many of them would have registered on a different day but registered early because of Swift? Who knows. But it's plausible that some number of younger eligible voters will exercise their franchise because they're inspired by Swift.