Ted Cruz with a Gun to His Head
So, this picture is going around: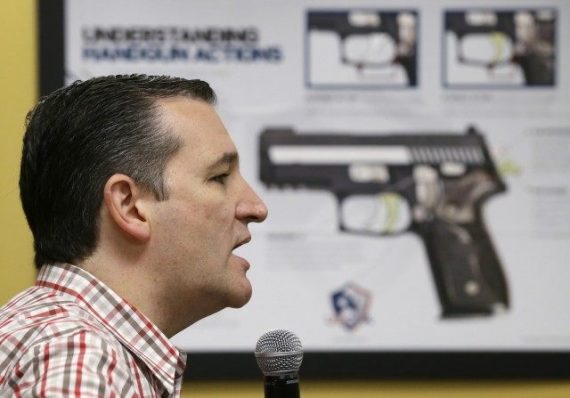 And this one: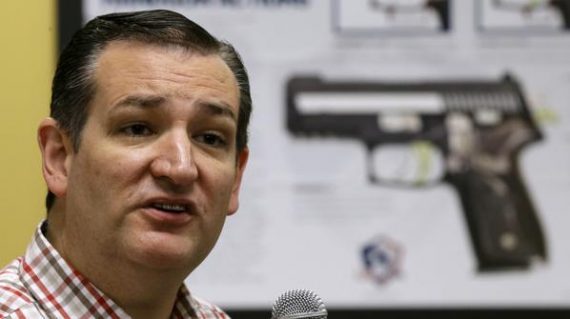 In both, Ted Cruz is giving a speech about gun rights in front of an illustration of a gun. Naturally, outrage is ensuing.
POLITICO ("AP photo shows a gun pointed at Ted Cruz's head"):
In an Associated Press image that drew comment and criticism on Twitter on Sunday, Texas Sen. Ted Cruz is seen speaking with what appeared to be a gun aimed straight at him.

The photograph — taken by the AP's Charlie Neibergall — actually captured a background poster, with a large semi-blurred image of a handgun pointed at Cruz's forehead, straight between the eyes.

Cruz was appearing Saturday at CrossRoads Shooting Sports in Johnston, Iowa. During his speech, Cruz, an outspoken proponent of Second Amendment rights, encouraged residents to adopt what he called a Texan approach to guns by simply "hitting what you aim at."

A day earlier, the Republican presidential candidate accused Democrats of using Wednesday's church massacre in Charleston, South Carolina, as an excuse "to take away the Second Amendment rights of law-abiding citizens."

Conservative Twitter users said the image showed the AP's bias against Republicans, while The Breitbart website wrote about the response the AP image would have drawn from the public had it been an anti-gun rally featuring a Democratic candidate: "How many think pieces about violent imagery and responsible reporting would we see?"
Breitbart ("GUESS THE POLITICAL PARTY: AP PHOTO LINES PISTOL UP WITH SENATOR, 2016 CANDIDATE TED CRUZ'S BRAIN"):
Of course, Sen. Ted Cruz (R-TX) is a Republican.

That puts him in proximity with guns and gun posters, as seen in this picture from Associated Press photog Charlie Neibergall, more often than Democrats.

Still, imagine a similar situation-a U.S. Senator campaigning for President-and instead of a pro-2nd Amendment event, it's a pro-gun control event. Imagine this Senator is standing in front of a giant poster of a pistol-one meant to demonize the weapon rather than promote it.

Imagine that this same AP photographer, instead of shifting a foot to the left or the right, framed a picture with the Senator's nose almost touching the barrel, as a closer crop makes clear.

Imagine that this photographer, even though he took a few shots with this silly setup, took many more without it. Imagine that his editor-unnamed and insulated from public backlash-chose not one but two but three of those photos to distribute to AP's clients.

Imagine this scenario-and how would the world respond if the name on those photos read:

Bernie Sanders?

Hillary Clinton?

Even excluding 2016 candidates, what about:

Rep. Nancy Pelosi (D-CA)

?

Gabrielle Giffords?

Sen. Ted Cruz (R-TX), again, is a Republican, and of course his feelings won't get hurt. He's a big boy.

But imagine the outcry were he a Democrat. How many think pieces about violent imagery and responsible reporting would we see? How many more if he were a woman?

Keep this in mind for the 2016 campaign. This is the playing field.
The AP explanation:
The AP responded with a statement late Sunday night.

"Presidential candidate Ted Cruz," Paul Colford, vice president & director of media relations, said, "was shown in a series of 14 photos taken by an Associated Press photographer at a 'Celebrate the 2nd Amendment' event Saturday afternoon, held at a shooting range in Johnston, Iowa. Five of the photos published by AP included images of guns seen on a wall in the background so that it appeared a pistol was pointed at Sen. Cruz's head.

"The images were not intended to portray Sen. Cruz in a negative light," Colford said.
I know nothing about the photographer, his political leanings, or his sense of humor. But it strikes me as completely plausible that, in taking a picture of a man talking about guns with a giant poster of a gun behind him, capturing the gun pointed at his head was inadvertent rather than some sort of nefarious plot by the liberal media.