Tennessee Lt. Gov.: No Religious Freedom For Muslims
The Lt. Governor of Tennessee suggested recently that religious freedom possibly shouldn't apply to Muslims, but he's only part of the problem.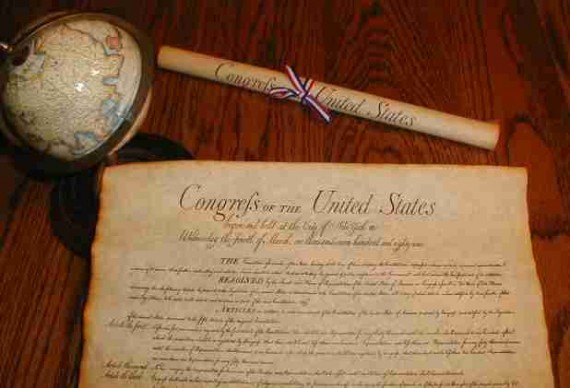 While the headlines are focusing on the protests over the so-called "Ground Zero" mosque, we're seeing similar protests against mosque construction far away from any area impacted by the September 11th attacks:
A plan to build an Islamic community center in the middle-Tennessee town of Murfreesboro sparked an eruption of ugly criticism on Thursday from some residents who don't want a mosque built in their backyard.

More than 600 people turned out for a meeting of the Rutherford County Commission Thursday night, with some sharing their opposition in public comments that at times turned intolerant.

"We have a duty to investigate anyone under the banner of Islam," Allen Jackson, the pastor of World Outreach Church, said at the meeting.

Some at the Thursday meeting wore religious or patriotic-themed clothing, and no one defended the plan in two hours of public comments, the Tennessean newspaper reported.

"They seem to be against everything that I believe in, and so I don't want them necessarily in my neighborhood spreading that type of comment," said one man at the meeting.

Tracey Steven, who also attended, said, "Our country was founded through the founding fathers — through the true God, the Father and Jesus Christ."
Sigh.
Perhaps not a surprising attitude to find in the Bible Belt, but still distressing nonetheless and even more so when a politician jumps on the bandwagon, as Tennessee Lt. Governor, and candidate for Governor, Ron Ramsey did last week:
Tennessee Lt. Gov. Ron Ramsey, currently running third in the state's Republican gubernatorial primary race, says he's not sure if Constitutional guarantees of freedom of religion apply to the followers of the world's second-largest faith, Islam.

At a recent event in Hamilton County, Ramsey was asked by a man in the audience about the "threat that's invading our country from the Muslims." Ramsey proclaimed his support for the Constitution and the whole "Congress shall make no law" thing when it comes to religion. But he also said that Islam, arguably, is less a faith than it is a "cult."

"Now, you could even argue whether being a Muslim is actually a religion, or is it a nationality, way of life, cult whatever you want to call it," Ramsey said. "Now certainly we do protect our religions, but at the same time this is something we are going to have to face."

(…)

"Now, you know, I'm all about freedom of religion. I value the First Amendment as much as I value the Second Amendment as much as I value the Tenth Amendment and on and on and on," he said. "But you cross the line when they try to start bringing Sharia Law here to the state of Tennessee — to the United States. We live under our Constitution and they live under our Constitution."

(…)

"My concern is that far too much of Islam has come to resemble a violent political philosophy more than peace-loving religion," he said in an email. "It's time for American Muslims who love this country to publicly renounce violent jihadism and to drum those who seek to do America harm out of their faith community."
Video here (comments begin around 3:10 mark):
How exactly you expel someone from a faith that has no central leader and several different sects is an interesting question, but Ramsey's remarks, as well as the comments of the residents in Murfreesboro, do raise the specter of a troubling level of anti-Muslim bias that seems to be bubbling to the surface. It's odd, actually, considering the fact that it's been nearly nine years since there was a successful terrorist attack on American soil. But yet, here it is in Manhattan, Staten Island, Florida, California, and, now, Tennessee.
I'm loath to use words like bigotry lightly, but when you see rhetoric like this directed toward the members of one religious group regardless of whether they're connected with people who do evil or not, there really is no other word for it. I don't know if it's ignorance or a steady diet of Fox News that causes people to believe these things, but whatever it is, it's wrong and it needs to be called out.
And yes, that means you Sarah Palin and Newt Gingrich.