Terrorist Attack Kills 49 in Christchurch Mosques
Another white supremacist attack raises disturbing questions about our information environment.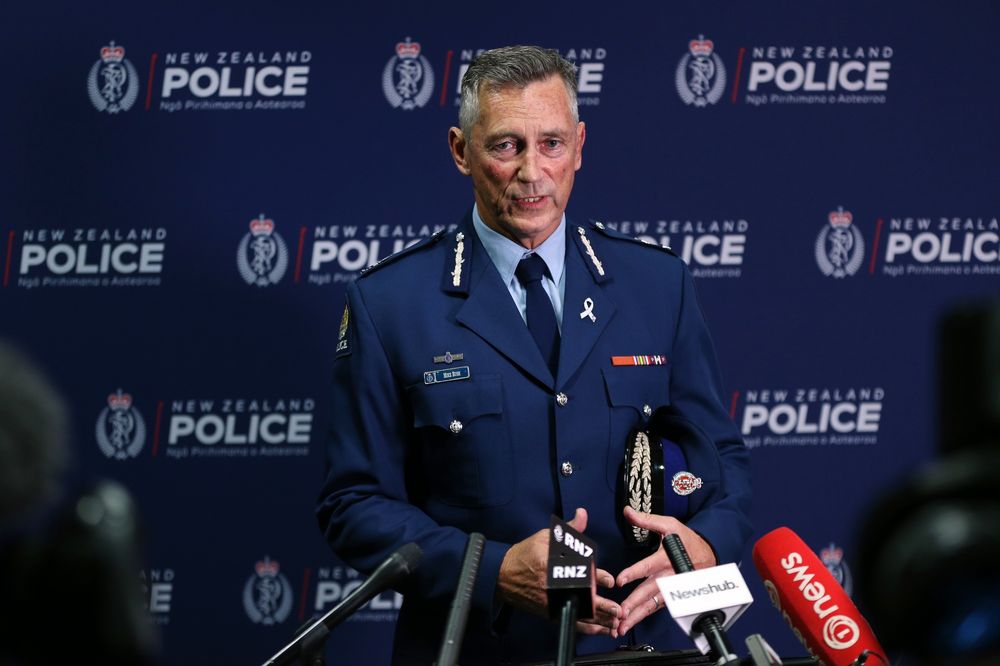 NYT ("Christchurch Shooting Live Updates: 49 Are Dead After 2 Mosques Are Hit"):
Forty-nine people were killed in shootings at two mosques in central Christchurch, New Zealand, on Friday, in a terrorist attack that Prime Minister Jacinda Ardern described as "an extraordinary and unprecedented act of violence."

• Officials said that one man in his late 20s had been charged with murder, and that two explosive devices were found attached to a vehicle that they had stopped.

• A Muslim leader in New Zealand said the attack was especially shocking as it took place around Friday Prayer. The police urged people to stay away from the mosques until further notice.

• A video and manifesto that appeared to be by a gunman involved in the shooting were posted online on the day of the attack.

Two mosques are attacked

Shots were fired at Al Noor Mosque on Deans Avenue in the center of the city, and at Linwood Mosque, about three miles away, the police said.

The country's police commissioner, Mike Bush, said in an evening news conference that 41 people had been killed at Al Noor Mosque and seven at Linwood Mosque, and that a further victim had died at Christchurch Hospital.

The police said that four people, including three men and one woman, had been taken into custody. Prime Minister Scott Morrison of Australia said that one of them was Australian.

Mr. Bush said that a man in his late 20s had been charged with murder and would appear in Christchurch court on Saturday morning. A number of firearms were recovered from the scenes of the shootings, he said.

Of the three others who were arrested, the police commissioner said that one might have had nothing to do with the attack and that the police were working to determine how the other two might have been involved.

Ms. Ardern said earlier that none of those detained were on security watch lists.

[…]

A white-nationalist manifesto

Before the shooting, someone appearing to be the gunman posted links to a white-nationalist manifesto on Twitter and the online forum 8chan. The 8chan post included a link to what appeared to be the gunman's Facebook page, where he said he would also broadcast live video of the attack.

The Twitter posts showed weapons covered in the names of past military generals and men who have recently carried out mass shootings.

In his manifesto, he identified himself as a 28-year-old man born in Australia and listed his white nationalist heroes.

Writing that he had purposely used guns to stir discord in the United States over the Second Amendment's provision on the right to bear arms, he also declared himself a fascist. "For once, the person that will be called a fascist, is an actual fascist," he wrote.

[…]

Murders are rare in New Zealand, but guns aren't

Murders are rare in New Zealand, and gun homicides even rarer. There were 35 murders countrywide in 2017. And since 2007, gun homicides have been in the single digits each year except 2009, when there were 11.

But there are plenty of guns.

There were 1.2 million registered firearms in the country of 4.6 million people in 2017, according to the Small Arms Survey, a Swiss nonprofit.

A mass shooting in the New Zealand in 1990 — when a man killed 13 people, including two 6-year-olds, after a dispute with his neighbor in the seaside town of Aramoana — led directly to tightened gun laws, including restrictions on "military style semiautomatic weapons."

Gun owners must be licensed, a process that includes a review of criminal activity and mental health, attendance at a safety program, an explanation of how the gun would be used, a residence visit to ensure secure storage, and testimonials from relatives and friends.
WaPo ("49 killed in terrorist attack at mosques in Christchurch, New Zealand") adds:
[…]

Police had deactivated an improvised explosive device, and were working to disarm a second, that had been attached to a vehicle used by the suspects. Counterterrorism forces were activated across New Zealand and Australia, as New Zealand elevated its national security threat level to "high" for the first time.

[…]

Portions of the ghastly attack at the downtown mosque were broadcast live on social media by a man who police confirmed had also released a manifesto railing against Muslims and immigrants. The 74-page document stated that he was following the example of notorious right-wing extremists, including Dylann Roof, who murdered nine black churchgoers in Charleston, S.C., in 2015. The document, littered with conspiracy theories about white birth rates and "white genocide," was the latest sign that a lethal vision of white nationalism has spread internationally.

Meanwhile, the digital platforms apparently enlisted by the suspects highlighted a distinctly 21st-century dimension of mass gun violence — one sure to put more pressure on social media companies already under scrutiny about how they police their services.

[…]

In a country of nearly 5 million, more than 46,000 residents are Muslim, according to data from the 2013 census, up 28 percent from 2006.

The prime minister said New Zealand had suffered "an extraordinary and unprecedented act of violence," lamenting in particular that a target had been placed on the country's migrant population. "Many of those who will have been directly affected by this shooting may be migrants to New Zealand. They may even be refugees here. They have chosen to make New Zealand their home, and it is their home."

"They are us," Ardern intoned.

The "extremist views" that she said had motivated the alleged attackers, "have absolutely no place in New Zealand, and, in fact, have no place in the world."

She said the suspects had chosen New Zealand "because we represent diversity, kindness, compassion, a home for those who share our values." Addressing the suspects directly, she said, "You may have chosen us. But we utterly reject and condemn you."

[…]

Before the attack, someone with apparently advance knowledge of unfolding events posted links on Twitter and the message board 8chan to the 74-page manifesto, as well as to a Facebook page where the individual promised that the attack would be streamed live. The Twitter posts included images of weapons and ammunition, as well as the names of perpetrators of past mass-casualty shootings.

In the manifesto, the purported shooter identified himself as a 28-year-old white man born in Australia. He described his motivation, which he said involved defending "our lands" from "invaders" and ensuring "a future for white children." He aimed to "directly reduce immigration rates," he said, explaining that he chose to target New Zealand to illustrate that there was nowhere "left to go that was safe and free from mass immigration."

The 17-minute video, apparently filmed from a helmet camera, captures the man's drive to the mosque. Once there, he pulled a weapon from the trunk of the car and walked a short distance to the entrance, where he began to shoot. In the final minutes of the video, he can be seen spraying bullets through the corridors and into the rooms of the house of worship.

Twitter said it had suspended the account where the links had first appeared and was "proactively working to remove the video content from the service," according to a spokesperson. Facebook "quickly removed both the shooter's Facebook and Instagram accounts and the video" as soon as the social media company was alerted by police, a spokeswoman, Mia Garlick, said in a statement. "We're also removing any praise or support for the crime and the shooter or shooters as soon as we're aware."

The aggregation and discussion website Reddit was also "actively monitoring the situation" and removing "content containing links to the video stream," a spokesperson told The Post.
I'm rather loathe to help popularize the main perpetrator's name but suppose that's a futile gesture. His manifesto describes himself as having gone through a wide-ranging ideological journey:  "a communist, then an anarchist and finally a libertarian before coming to be an eco-fascist." He was obviously a sick man. Still, his ultimate ideology is hardly unique. And it raises some questions as to how a free society deals with such people.
C.J. Werleman, "a journalist, author and analyst on conflict, terrorism and the Middle East," writes for the Sydney Morning Herald ("Broken white men and the racist media that fuels their terrorism"):
What we do know about [the main perpetrator], however, at least based on his social media accounts, is his profile reads as the sum total of every counter-terrorism practitioner's and academic's fear, one that law-enforcement agencies throughout the Western hemisphere have long warned to be the No. 1 terror threat: right-wing extremism.

More specifically, Tarrant represents the dangerous convergence between broken white men and extreme right-wing media, bearing in mind that 100 per cent of all terrorist attacks carried out on US soil in 2018 were carried out by right-wing extremists, with the Southern Poverty Law Centre crediting a "toxic combination of political polarisation, anti-immigrant sentiment and modern technologies that help spread propaganda online".

These kind of attacks are being carried out in increased frequency and ferocity in mosques, synagogues, and black churches throughout the Western world, with a notable common denominator: the gunmen are always white, male and fuelled by consumption of right-wing media.

"Well, it's time to stop shitposting and time to make a real life effort post. I will carry out an attack against the invaders, and will even live stream the attack via Facebook link," Tarrant warned on the far-right online forum 8Chan on Thursday, which included links to what he called his "writings".

A day earlier, he posted a photo of his semi-automatic weapon on Twitter, with the words "Here's your migration compact!" etched onto the butt of his assault rifle.

Essentially, his manifesto mimics the same kind of anti-immigrant, anti-Muslim, and anti-leftist views expressed by the Norwegian right-wing extremist Anders Breivik, who shot dead 77 Norwegian students in what he described as his protest against Europe's liberal and multicultural values.

"Merkel [German Chancellor], the mother of all things anti-white and anti-germanic, is top of the list. Few have done more to damage and racially cleanse Europe of its people," reads the opening excerpt to Tarrant's manifesto titled "The Great Replacement". That is a reference to the same "white genocide" theory that drove the Pittsburgh Synagogue shooter, who killed 11 Jewish worshippers in October of last year.

In another post, Tarrant provides his social media followers a series of questions and answers, in which he claims conservative pundit Candace Owens, a darling of the far right, to be the "particular person" who radicalised him the "most".

"Each time she spoke I was stunned by her insights and her own views helped push me further and further into the belief of violence over meekness," Tarrant wrote.

Owens, an African American, is feted by far-right activists and white nationalists for praising the US President as the "saviour" of the West, and for warning Europe will soon be overrun by Muslims, while also not forgetting her recent statement proclaiming Hitler would have been fine if he didn't want to "globalise". In other words, the Holocaust was fine. The problem is Hitler invaded other countries.

It was only a decade or two ago that anti-Muslim and anti-immigrant extremists like Owens existed only on the fringe of the media landscape or the corners of the dark web, but today, particularly in the age of Trump, Brexit and the return of ultra-nationalism, they have moved to the mainstream, enjoying platforms on major television networks.

Today, pundits can say and write things about Muslims that would never be published by editors or executive producers. Whereas anti-Semitism, anti-black and anti-Asian racism are rightfully and routinely condemned, Islamophobia remains the only form of racism that remains within socially acceptable limits.

Last week, for instance, Fox News host Jeanine Pirro suggested America's first elected black Muslim congresswoman would not be loyal to the US constitution because she wears a hijab, invoking the anti-Semitic "dual loyalty" canard, a slur that would have seen her show pulled had she said similar about a kippah-wearing Jewish American politician.

For years, tabloid newspapers in New Zealand, Australia, Britain and the US have published a stream of inaccurate stories about Muslims, while also deploying sensationalised headlines, with one study finding British newspapers were pressured into correcting stories about Muslims more than 20 times in one three-month period, and another revealing that crimes committed by Muslims received almost four times as much media coverage as crimes committed by all other groups.

Ultimately, Tarrant nurtured by a media that exploits the politics of hate and division. If the slaying of dozens of Muslims so close to home isn't a warning that Islamophobia and the rise of white supremacy must be taken seriously, then what is?
There's simply no doubt that the Internet, for all the good it does, has a seedy underbelly that makes it much easier to conduct illicit activity than was the case previously. Whether it's arranging extramarital affairs, sharing revenge porn, distributing child pornography, spreading bigotry, or plotting acts of terrorism, it's much, much easier to find like-minded individuals while going unnoticed by one's local community.
It's a slippery slope, indeed, to include the Fox News propaganda machine in the same category as those who commit acts of terrorism. But, certainly, they render some of the white supremacist agenda more mainstream. And, in the minds of the right individuals, it's not too difficult to go from seeing people as a dangerous "other" and seeing their extermination as not only just but necessary.