The 2020 Republican Platform
Jared Kushner and others want one that fits on a index card.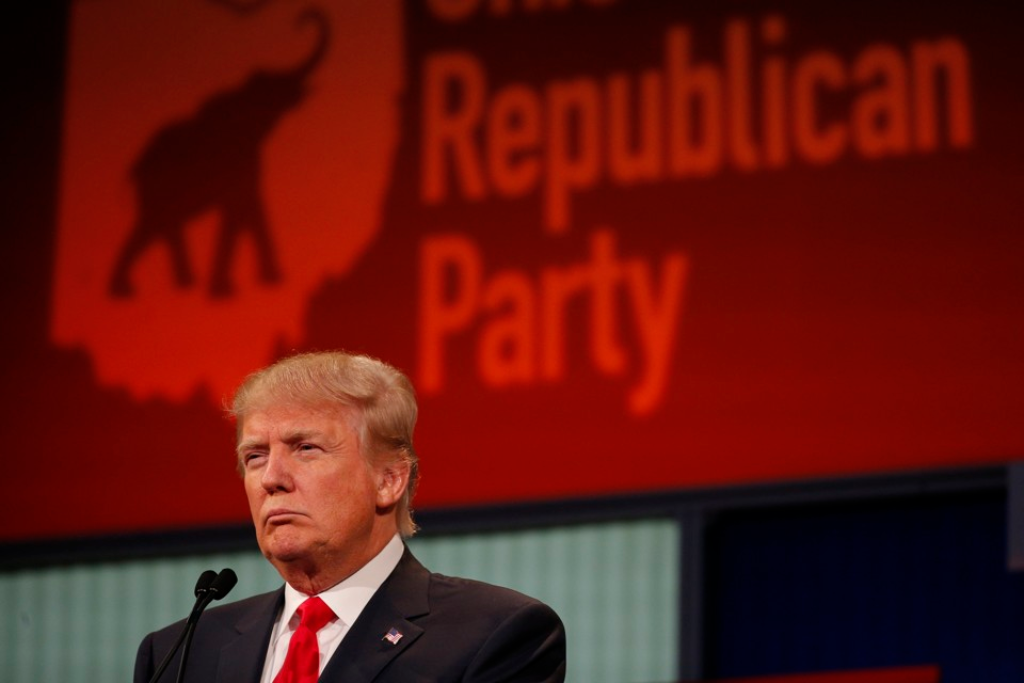 Axios' Jonathan Swan takes us "Inside the secret talks to overhaul the GOP platform." Not surprisingly, they're being overseen by Jared Kusher.
On the one hand, they're rather comical:
The president's son-in-law and top adviser has told confidants he wants to shrink the GOP's extensive platform of policy beliefs and principles down to a single card that fits in people's pockets. That's a huge change. The 2016 platform runs 58 pages — the product of extensive debate and heated negotiations.
Kushner told colleagues he wanted "something like the 10 principles we believe in," per two sources familiar with his comments. He asked Stepien to find historical examples of Republican platforms that look more like a "mission statement," per a source familiar with one of their meetings.
Another source familiar with the discussions pointed to the GOP platform of 1856 as an example of a platform that is similarly short. The source used this example to argue that the idea of a one-page platform isn't so new or radical after all.
On the other, they're surprisingly shrewd:
From his seat at the center of a long table, Kushner told senior White House and campaign staff that more of their policies should be drawing people to the party, so they ought to eliminate alienating language.
As an example of language that would alienate voters, Kushner said that he didn't want to see anything about "gay conversion therapy" in the 2020 Republican platform.
The 2016 Republican platform did not explicitly mention gay conversion therapy, but it included this line: "We support the right of parents to determine the proper medical treatment and therapy for their minor children."
Gay Republicans were furious because they viewed it, accurately, as a coded endorsement for the widely condemned practice that's rejected by major medical associations and whose use on minors is banned in many states and some other countries.
Kushner also argued against rebranding "School Choice" as "Education Freedom Scholarships," because he said the latter phrase doesn't resonate with African Americans.
Two sources said they recalled Kushner making a more sweeping point — that they should rethink using the word "freedom" altogether in the GOP platform because polling showed it doesn't appeal to African Americans. But another source familiar with the Dec. 19 meeting pushed back adamantly against this.
The source said the only context in which Kushner argued against using the word "freedom" was in the context of rebranding "school choice." The source added that "freedom's a great word" and "should be smartly utilized" in the 2020 Republican platform.
(The Trump administration had been using the phrase "Education Freedom Scholarships" since at least February 2019 — more than nine months before this meeting.)
While this process has been going on for six months, Swan reports that "the Trump team has kept the information flow to an extremely tight circle. It's unclear who, if any, of the state party leaders — whose delegates will ultimately need to vote on the platform — have visibility of the discussions. And most White House officials have no idea these talks have been happening."
That's par for the course.
But that means Kushner and company aren't building the buy-in necessary to change the platform. That's important since, as Swan puts it, "Overhauling the platform is no easy feat. Representatives from disparate and well-funded factions of the Republican Party live for their quadrennial fights over what goes into it, language for everything from hot-button social issues to America's relationships with allies and adversaries. And outside interest groups aggressively lobby to shape its contents."
Henry Kissinger is reputed to have remarked, "Academic politics are so vicious precisely because the stakes are so small." But, arguably, the stakes are even smaller here.
Sure, it makes sense to have a party platform that avoids alienating people who might otherwise be persuaded to vote for the party's candidates. But I know of no evidence that people chose to vote for a party or its candidates based on the language in the platform.
One doubts that Donald Trump has ever read the 2016 platform, much less governs according to it. While it's at least possible that Mitch McConnell has read it, it's surely not a driving force in how he runs the Senate.
A ten-point "platform" may well be a better campaign vehicle than a traditional organized-by-committee treatise that attempts to satisfy all the delegates at the convention, assuring that everyone's pet issue is at least tangentially covered.
Then again, a party could have a ten-point campaign plan independent of the party platform. While there's little evidence that it was a major factor in the 1994 landslide that returned the House to GOP control for the first time in decades, the "Contract with America" was that sort of vehicle. I have no recollection of how it jibed with either the 1992 or 1996 convention platforms.
Beyond all that, the 2020 election will be a referendum of Donald J. Trump. He'll have been President of the United States for nearly four years. I can scarcely imagine the voter who doesn't currently like Trump or think he deserves a second term who will be swayed by an index card.