The Capital Strike Of 2010
American businesses are sitting on a big pile of cash, and giving no indication that they have any intention of spending it any time soon.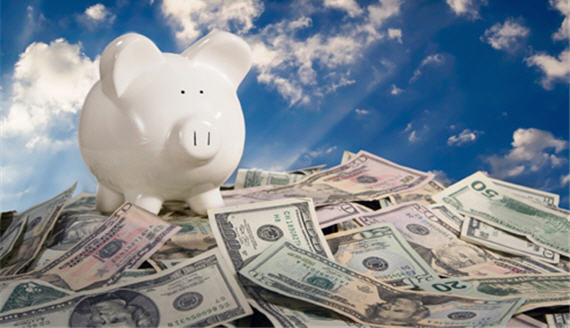 Today's Washington Post reports on a phenomenon that many financial commentators have been noting for some time now; the fact that many of America's largest companies are sitting on large piles of cash rather than investing in new business or expanding existing ones:
Corporate America is hoarding a massive pile of cash. It just doesn't want to spend it hiring anyone.

Nonfinancial companies are sitting on $1.8 trillion in cash, roughly one-quarter more than at the beginning of the recession. And as several major firms report impressive earnings this week, the money continues to flow into firms' coffers.

Yet all the good news from big business hasn't translated into much promise for jobless Americans, leading many to wonder: If corporations are sitting on so much money, why aren't they hiring more workers?

The answer to that question has become a political flash point between the White House and big business groups such as the U.S. Chamber of Commerce, which held a jobs summit Wednesday and accused the Obama administration of dumping onerous regulations on businesses. That has created an environment of "uncertainty," which is causing firms to hold back on hiring as the unemployment rate has hovered near 10 percent, the Chamber said.

The White House countered that companies are wary of hiring not because of new regulations but because they're still waiting for consumer demand to return. The administration also claimed credit for 3.5 million jobs created by the stimulus bill from last year.
In some ways, I think that both the Chamber of Commerce and the White House are diagnosing the problem correctly.
The Obama Administration's policies, including health care reform, cap-and-trade, proposed immigration reforms, financial reform, and the continued threat of so-called "card check" regulation, are indeed creating a vast amount of uncertainty in businesses across the country, especially as they learn of the massive book-keeping requirements that the new health care law will impose upon businesses of all sizes in the very near future. Given all of these new regulations, and the threat of more such regulations in the future, it's not at all surprising that businesses would be reluctant to invest in the future.
Small business owners attending the U.S. Chamber of Commerce meeting this week seemed to confirm the uncertainty hypothesis:
The White House's attempts to tamp down the growing narrative of President Barack Obama as an enemy of the business community are not resonating with an important audience — business owners themselves.

A number of small-business owners attending the U.S. Chamber of Commerce's jobs summit Wednesday said the administration is responsible for policies that have made them uneasy about hiring or investing in their businesses. And several of the owners interviewed by POLITICO said they believe the White House has demonized their work.

Bill Glacken didn't hesitate when asked if the president is anti-business.

"Yes," said Glacken, owner of a sporting events planning company. "There's always uncertainty in business but [even more so] if you have the feeling that someone is not out there to help you."

Daryl Hancock owns an information technology consulting company in Maryland and said Obama's sweeping changes to the health care industry and new restrictions on Wall Street have only exacerbated the uncertainty of a bad economy.

Hancock said he's "very nervous" about the future and has put off improvements. "It's easier for me just to sit and wait," he said.

Jim Wordsworth, who owns eight businesses in Northern Virginia and chairs the Chamber's small-business council, said, "I'm offended. After all these years, I feel like I've done an evil thing, like profit is a bad thing."
At the same time, the state of the economy, while better than it was a year ago, is still largely uncertain and it looks as though we are headed for, at best, an anemic, jobless, recovery which is unlikely to result in the massive boosts in consumer demand that would justify expansion on the part of business. By some estimations, we could end up falling into another recession within the next two years. With forecasts like that, you're simply not going to see businesses willing to spend cash, which may mean that the forecasts of another recession will end up becoming a self-fulfilling prophecy.
Finally, though, I think that a phenomenon like this suggest strongly that the business community has lost confidence in the political class and views Washington as potential enemy at this time, rather than a necessary evil, something that has happened before:
The term was popularized by the Manhattan Institute's Amity Shlaes. In her 2008 bestseller, The Forgotten Man: A New History of the Great Depression, Shlaes documented how uncertainty on the part of business leaders as to the intentions of the New Dealers after FDR's 1936 re-election and the creation of large Democratic majorities in Congress. In response to the president's attempt to pack the Supreme Court and Congress' creation of a host of new regulatory agencies, there was a second stock market crash in 1937 and new business investment ceased. This capital strike prolonged the Great Depression which began in 1929 until America's entry into the Second World War in December, 1941.
I'm not quite sure that things are quite that bad this time around, but businesses sitting on cash would seem to be something we'll be dealing with for some time to come, and the economic consequences of that fact could be quite painful.