The Case Against Repatriating Museum Artifacts

Who should own antiquity?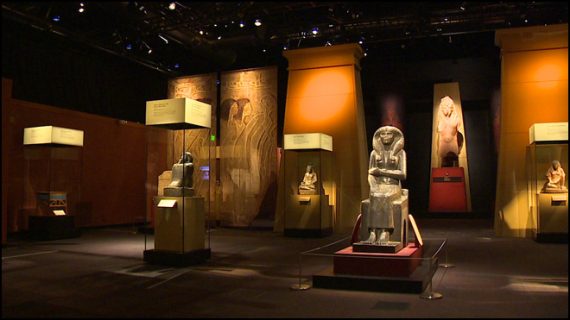 James Cuno, President and CEO of the J. Paul Getty Trust, previews his new book Museums Matter: In Praise of the Encyclopedic Museum and Who Owns Antiquity? for Foreign Affairs magazine. Most of the article is behind a paywall and I have access because I'm a subscriber, so I'll be judicious in my excerpting here. The core of the setup is this:
In 2011, the German government agreed to return to Turkey a 3,000-year-old sphinx that German archaeologists had excavated from central Anatolia in the early twentieth century. Afterward, the Turkish minister of culture, Ertugrul Gunay, declared that "each and every antiquity in any part of the world should eventually go back to its homeland."

Such claims on the national identity of antiquities are at the root of many states' cultural property laws, which in the last few decades have been used by governments to reclaim objects from museums and other collections abroad. Despite UNESCO's declaration that "no culture is a hermetically sealed entity," governments are increasingly making claims of ownership of cultural property on the basis of self-proclaimed and fixed state-based identities. Many use ancient cultural objects to affirm continuity with a glorious and powerful past as a way of burnishing their modern political image — Egypt with the Pharaonic era, Iran with ancient Persia, Italy with the Roman Empire. These arguments amount to protectionist claims on culture. Rather than acknowledge that culture is in a state of constant flux, modern governments present it as standing still, in order to use cultural objects to promote their own states' national identities.

In the battle over cultural heritage, repatriation claims based strictly on national origin are more than just denials of cultural exchange: they are also arguments against the promise of encyclopedic museums — a category that includes the Metropolitan Museum of Art, in New York; the British Museum, in London; and the Louvre, in Paris. By presenting the artifacts of one time and one culture next to those of other times and cultures, encyclopedic museums encourage curiosity about the world and its many peoples. They also promote a cosmopolitan worldview, as opposed to a nationalist concept of cultural identity. In an era of globalization that is nonetheless marked by resurgent nationalism and sectarianism, antiquities and their history should not be used to stoke such narrow identities. Instead, they should express the guiding principles of the world's great museums: pluralism, diversity, and the idea that culture shouldn't stop at borders — and nor, for that matter, should the cosmopolitan ideals represented by encyclopedic museums. Rather than acquiesce to frivolous, if stubborn, calls for repatriation, often accompanied by threats of cultural embargoes, encyclopedic museums should encourage the development of mutually beneficial relationships with museums everywhere in the world that share their cosmopolitan vision. Cultural property should be recognized for what it is: the legacy of humankind and not of the modern nation-state, subject to the political agenda of its current ruling elite.
My longstanding sympathies on this issue are with Cuno. The natural extension of Gunay's argument is that the regimes that currently govern a given territory somehow have exclusive rights to any object that has ever been on that plot of land, may do whatever it is they wish to with it, and that the only way anyone should be allowed to ever see said object is to visit that country. This, despite the fact that most of the great antiquities in places like the Louvre or MMOA were discovered by Western archaeologists in digs financed by Western sources and have been preserved because Westerners cared enough to do so. Indeed, current regimes often intentionally destroy ancient artifacts:
A national government or state-backed entity can even declare a preceding state's or regime's self-proclaimed national cultural property idolatrous and destroy it, and there is nothing any other country or any international agency can do to stop it. In 2001, UNESCO tried in vain to prevent the Taliban from demolishing the Bamiyan Buddhas, two monumental sixth-century statues carved into a cliff in central Afghanistan. Not even a meeting between UN Secretary-General Kofi Annan and representatives of the Taliban leader could spare the statues.

Since that notorious attack, threats to the world's cultural heritage have only become more common. UNESCO lists sites where what it calls "emergency actions" to protect cultural heritage are needed; the list currently includes places in Egypt, Haiti, Iraq, Libya, Mali, and Syria where cultural property is threatened by either armed conflict or, in the case of Haiti, natural disaster. These actions, led by UNESCO, assess and document the extent and severity of the damage to, for example, the Roman-era ruins of the ancient desert city of Palmyra, in Syria, and Aleppo's Old City, both designated as UNESCO World Heritage sites and both damaged in 2012 in fighting between the Syrian army and rebels in the ongoing Syrian civil war, and Egypt's Museum of Islamic Art, in Cairo, which was damaged in a bombing claimed by Islamist militants in January.
Cuno and I agree that stolen artifacts are a different matter, and that the presumption should be for their repatriation. But it's not at all obvious why the current government in Egypt, for example, should enjoy custody of every artifact of the Pharaonic period.