The Case Against War
There must be a predisposition against war and we should only engage in just wars.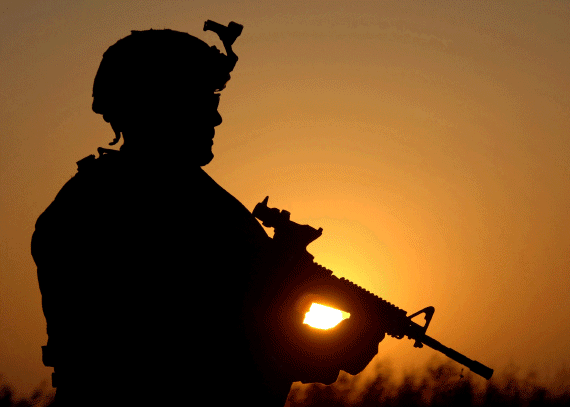 Since I have opposed every American use of force over the period of, roughly, the last 40 years, I think that my views might form a good counterpoint to those expressed by James earlier today. I believe that there must be a predisposition against war and that we should only engage in just wars.
The theory of a just war has been in place over approximately the period of the last 500 years in the West and I won't attempt to rehash it in its entirety here. Among the general criteria of a just war is that there must be a just cause, a legitimate authority, it must be fought as a last resort and with the right intention, it must have just ends, and there must be a probability of success. In my view all of our military interventions over the last several decades have failed one or more of these tests.
The invasion of Grenada was unjust: it failed on grounds of legitimacy and it was not fought as a last resort. The intervention in Kosovo was unjust: it failed on grounds of legitimacy, morality, and probability of success. The measure of that failure is that there still isn't a viable state in Kosovo. I considered the invasion of Iraq unjust. It could be justified on legal and moral grounds but I always believed that it failed on pragmatic grounds.
In general self-defense is always justified. Regime change as a sole objective is not. Humanitarian intervention may be just or unjust; the requirements for its justification are much more stringent. In my view in order for a humanitarian intervention to be just in addition to the criteria for a just war the act that are being punished or to be prevented must be gross, persistent, and unbearable.
In the case of Libya I believe the use of military force is an abuse of power and illegal (the United States has not been attacked by Libya and is not in imminent danger of attack) and the Congress has not given the use approval. I also believe that it is immoral. It is unclear to me whether it is a last resort.
Clearly, Qaddafi's actions are gross and persistent; they are inhumane. Are his actions today worse than they were two months ago? Twenty years ago? Are they worse than the Mugabe's actions in Zimbabwe, China's actions in Tibet, Russia's actions in Chechnya, or the king of Bahrain's actions? I don't believe so.
Is the prospect of success greater in Libya than they would be in Zimbabwe or in Bahrain? Or are our actions directed against a leader we despise and who has proved troublesome over the years?