The Confederate Flag Battle Slips Into Silly Territory
The Confederate Flag needs to be removed from official places of honor, but do we really need to worry about reruns of The Dukes of Hazzard?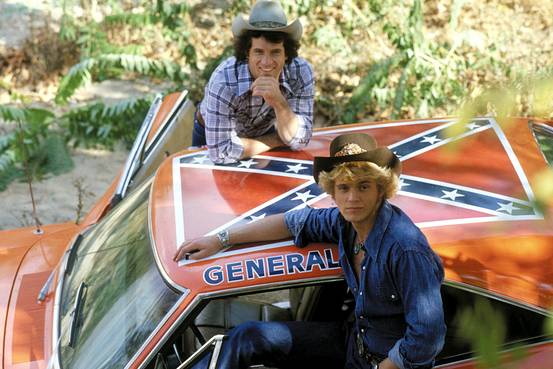 In what I can only describe as an act of supreme silliness, TVLand has announced that it is pulling reruns of The Dukes Of Hazzard from its schedule in apparent response to the recent controversy over the display of the Confederate Flag:
TV Land is putting the General Lee in the garage.

The network confirmed to Speakeasy on Wednesday it is pulling reruns of "The Dukes of Hazzard" from its schedule.

The move comes amid controversy over the Confederate flag following a massacre of nine worshippers at a traditionally black church in Charleston, S.C. The flag is featured prominently on the General Lee, the fiery orange car belonging to the Duke boys, and is a central part of the popular show's iconography.

A TV Land representative said the network, which is owned by Viacom, declined to comment beyond the fact that the show is being removed from its schedule.

(…)

"The Dukes of Hazzard," which ran from 1979 to 1985 on CBS, followed the adventures of "good ol' boys" Bo and Luke Duke as they evaded the corrupt and bumbling Sheriff Roscoe P. Coltrane and "Boss" Hogg in rural Hazzard County, a fictional region set in Georgia. The show spawned TV movies, an animated series and a 2005 Hollywood adaptation starring Johnny Knoxville, Seann William Scott and Jessica Simpson.
This whole controversy started, of course, with the murders in Charleston and specifically because many African-Americans, and other Americans, pointed out the fact that Dylan Roof, who carried out that attack, was deeply steeped in a racist ideology that included the symbolism of the Confederate flag and that the same flag was flying in a place of honor at the South Carolina Capitol in Columbia. The fact that the flag was still there, and that it had not been lowered to half staff in honor of the late State Senator Clemanta Pinckney as the other flags on the grounds had, quickly became a cause of controversy and a national news story. Within days after the attack, South Carolina Governor Nikki Haley was leading a bipartisan group of state leaders in calling for the legislature to remove the flag from the grounds of the Capitol and the movement to reassess official depictions of the flag had moved well beyond South Carolina and eventually led the Governor of Alabama to take his own steps to remove Confederate flags from that state's Capitol. Beyond the public sector, many top retailers decided to remove Confederate flag items from their stores or online catalogs, and the movement even extended to the National Park Service, which removed some Confederate flag items from gift shops and Fort Sumter in Charleston Harbor, which took down the Confederate flag that had flown there for many years. Before TVLand announced its scheduled change, Warner Brothers announced that it had canceled licensing agreements for toy reproductions of the General Lee, the iconic car from The Dukes Of Hazzard.
As I said when this all started, it was long past time to take many of these actions, especially since the flag itself has always been a symbol of hatred and racism, not the heritage that many of its backers contend it is. At the same time, though, I have to wonder if we haven't approached the point of overreaction when it leads a cable network that specialized in broadcasting old television shows to pull reruns because the show in question featured a car that had a Confederate Flag on the roof. I haven't watched The Dukes Of Hazzard in years, but from what I remember of it, it wasn't a show where the flag itself, or racial issues of any kind, played any kind of a role at all. If this show is now unacceptable because of a paint job on a car, then what does that say about shows from an earlier time that actually had content that would be considered controversial today, such as All In The Family or Maude. What about documentaries like Ken Burns's The Civil War that show Confederate flags constantly? At what point do we draw the line between what's acceptable and what's unacceptable?
To me, the line seems exceedingly clear. What's unacceptable are official displays of the flag by state government in places of honor such as in South Carolina and Alabama, it's continued presence on the State Flag of Mississippi, and the fact that the George State Flag is basically just the original "Stars & Bars" flag of the Confederacy with the George State Seal imposed on it. The debate over the flag has also started a long overdue discussion in many states about other honors given to the Confederacy or its leaders. Discussions have started in several cities in many states of the former Confederacy regarding statues and other monuments to figures ranging from Robert E. Lee and Stonewall Jackson to Jefferson Davis and Nathan Bedford Forrest. The extent to which these types things need to be reevaluated along with the flag isn't an easy one, but it's at least a conversation worth having. Beyond that, some have also questioned the large number of roads, schools, and other official buildings that are named after Confederate figures. These things need to be discussed and many of them probably need to change because it is wholly inappropriate for elected governments in the United States to be flying the banners of a nation that stood for both rebellion and the perpetuation of human slavery or to be honoring someone like Forrest who after the war went on to become a founder of the Ku Klux Klan. Additionally, they need to change because it is understandably offensive to the African-American citizens of these states to see the government that is supposed to be representing them giving honor to the symbols that to this day stand for their repression.
Beyond that, I think we need to be careful about the kind of historical revisionism we engage in. I'm not particularly troubled by retailers who decide to stop selling Confederate Flag merchandise. That's their decision to make based on what they think is in their business interests, and they have to worry about speaking to a wide audience of potential consumers. At the same time, I have to wonder why Amazon considers it unacceptable to sell Confederate Flag merchandise while it stills merchandise emblazoned with images of Che Guevara, the Hammer & Sickle of Communism, and the Swastika. These symbols represent regimes and movements that were arguably far worse and far more bloody than the Confederate States Of America. I also think we have to be careful about how we handle the display of that flag in historical settings such as Fort Sumter and other National Parks related to the Civil War. Rather than wiping it from history, it needs to be placed in its proper historical context. And, finally, of all the battles that need to be fought in this country, a battle against Dukes of Hazzard reruns on TvLand would seem to me to be a pretty low priority. There's a difference between a proper reaction that's long overdue and silly overreaction, and I think this decision by TVLand may be evidence we're sliding into silly territory.