The Curious Case of Cain
What does the Cain candidacy say about the contemporary GOP?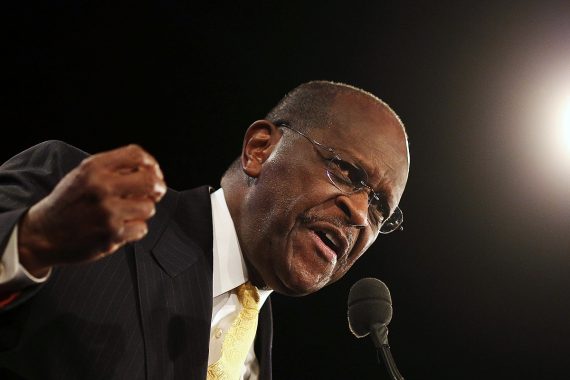 Quite honestly, the hypothesis that Herman Cain got into the campaign to sell books and to burnish a post-campaign media career is looking more reasonable all the time.  I am not sure that I actually believe it, but I can't deny that Cain looks more and more like someone who had no idea what he was getting into and so the need for an explanation for his behavior beyond just ignorance is appealing.
My personal hypothesis remains that he is a product of the talk radio mentality:  i.e., the approach to politics that assumes a few pithy sound bites about complex issues between commercial breaks makes one a policy expert.  Indeed, I think this approach has become a major approach within Republicans ranks at the moment.   Like I said back in May:
I find it interesting that he is a talk show host, as it seems that partisan political punditry has become accepted as a major road for GOP hopefuls (e.g., Gingrich, Palin, Santorum, Huckabee).  I would note that I think that this a problem for the party, as some of the least responsible people in public discourse at the moment, both intellectually and rhetorically, are talk show hosts and cable news commentators.  As such, I would prefer not to cultivate political leaders in that particular field.
In a normal election cycle a candidate like Cain (i.e., one who is charismatic but lacks any experience in elected office) would likely peak early in the low double-digits (i.e,. 10%ish) at best (which is why I talked about a "Cain boomlet" earlier in the year).  Usually, once voters learned about the inexperience and saw past the charisma, the candidacy would stall.  In Cain's case he rose from curiosity to front-runner before the bloom started to fade.
What explains Cain?  I have no definitive answer, but would offer the following questions:
1.  Weakness of the field?  The most popular hypothesis is that the Not Romney phenomenon is a result of a generally weak field of candidates where there is the legacy front-runner and a gang of alternates.  An interesting aspect of this question is whether the weakness being indicated here is one of electability (i.e., a perception in the Republican selectorate that all of these candidates are bad challengers to put up against Obama in 2012) or that it is one of ideology (i.e., the perception in the selectorate that the legacy front-runner is not ideological comfortable enough and so the need to try numerous other candidates to find one that is a better fit).  My perception is that the issue is more ideological than anything else at the moment and if that is true, this has potential longer-term implications of the GOP (which already hurt itself in some quarters with ideological primaries in 2010—see, e.g., the Senate races in Nevada and Delaware).
The degree to which Cain was considered to be a serious candidate by a significant slice of the GOP selectorate is interesting, if not problematic, because of Cain's clear lack of actual knowledge about governing.   Of course, his seeming rejection may absolve the voters in question for their momentary flirtation.  Although it would be interesting to know how much of the rejection is because of his clear ignorance of things that, well, matter for someone seeking to be president or if it is because of the sexual harassment accusations.
2.  A function of the long campaign coupled with 24/7 cable and new media? Perhaps the long campaign leading up to actual voting (especially with the proliferation of debates) simply allows for these boomlets as the voters evaluate and reject candidates.  The shape of this race, and whether it truly ends up being all that different from previous cycles, is how the voting goes, not how the pre-voting polling went.  As such, this story may end up looking rather different once we see the entire tale instead of focusing overmuch on specific plot points.
3.  The Cult of the Inexpert.  The thing that is perhaps the most troubling about Cain is the notion that so many people appear to have ever taken him seriously in the first place, given that his lack of expertise that was pretty obvious from the get-go.  The concerning part of this issue is that it does seem that some in the GOP are more than willing to support candidates who are unqualified for office.  Yet, the positive interpretation is that after lengthy exposure, Cain's support has waned.  Of course, as noted above, it is unclear at the moment if Cain's decline is about his lack of knowledge or because of various accusations.  Cain does seem to be emblematic of faction of the GOP that eschews the value of knowledge and expertise concerning governance, however.
4.  The Businessman Fetish?  Perhaps Cain is the latest manifestation of a long-term GOP fetish:  the notion that what we really need is a businessman in office, i.e., the need for someone who could run government "like a business."  This is one of those things that perhaps sounds good (it appealed to Younger Me, I must confess) because, you know, in business you have to balance budgets, be worried about the "bottom line" and all that jazz.  Of course, the fact that government is radically different than business makes this whole notion more than a bit problematic (e.g., government does not operate in a market, cannot go out of business, does not exist to make a profit, does not have customers, etc.).  However, the idea has appeal and perhaps that is make attracted people to Cain.
Having said all of this, it should be noted that while Cain did become a co-front runner with Mitt Romney for a few weeks, he peaked at 26% in the RCP average: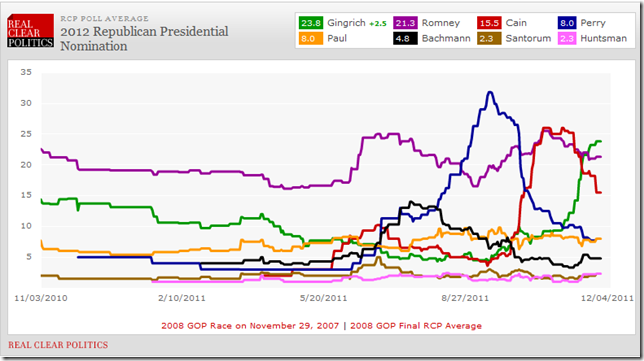 As such, the degree to which Cain's rise tells us all that much about the GOP base is questionable, although I think it does raise some questions worth considering as we watch the process unfold.  Still, his candidacy has truly been an odd exercise.