The Dumbest Generation: Does Technology Make Kids Dumb?
Has modern life robbed America's youth of their ability to think? Or simply caused them to think in different ways about different things?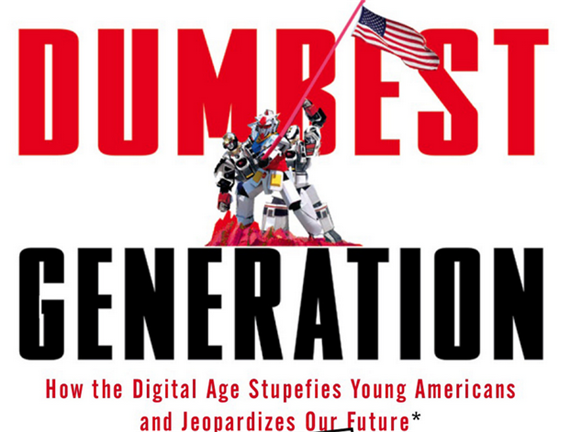 A new book, The Dumbest Generation:  How the Digital Age Stupifies Young Americans and Jeopardizes Our Future, has spawned an AP piece asking, "Are we raising a generation of nincompoops?"
Second-graders who can't tie shoes or zip jackets. Four-year-olds in Pull-Ups diapers. Five-year-olds in strollers. Teens and preteens befuddled by can openers and ice-cube trays. College kids who've never done laundry, taken a bus alone or addressed an envelope.

[…]

Susan Maushart, a mother of three, says her teenage daughter "literally does not know how to use a can opener. Most cans come with pull-tops these days. I see her reaching for a can that requires a can opener, and her shoulders slump and she goes for something else."  Teenagers are so accustomed to either throwing their clothes on the floor or hanging them on hooks that Maushart says her "kids actually struggle with the mechanics of a clothes hanger."

Many kids never learn to do ordinary household tasks. They have no chores. Take-out and drive-through meals have replaced home cooking. And busy families who can afford it often outsource house-cleaning and lawn care.  "It's so all laid out for them," said Maushart, author of the forthcoming book "The Winter of Our Disconnect," about her efforts to wean her family from its dependence on technology. "Having so much comfort and ease is what has led to this situation — the Velcro sneakers, the Pull-Ups generation. You can pee in your pants and we'll take care of it for you!"

The issue hit home for me when a visiting 12-year-old took an ice-cube tray out of my freezer, then stared at it helplessly. Raised in a world where refrigerators have push-button ice-makers, he'd never had to get cubes out of a tray — in the same way that kids growing up with pull-tab cans don't understand can openers.  But his passivity was what bothered me most. Come on, kid! If your life depended on it, couldn't you wrestle that ice-cube tray to the ground? It's not that complicated!

Mark Bauerlein, author of the best-selling book "The Dumbest Generation," which contends that cyberculture is turning young people into know-nothings, says "the absence of technology" confuses kids faced with simple mechanical tasks.  But Bauerlein says there's a second factor: "a loss of independence and a loss of initiative." He says that growing up with cell phones and Google means kids don't have to figure things out or solve problems any more. They can look up what they need online or call mom or dad for step-by-step instructions. And today's helicopter parents are more than happy to oblige, whether their kids are 12 or 22.
I share Ilya Somin's lack of concern.
In every generation, there are some mechanical skills that were essential in earlier times that are no longer useful because technology has created machines that perform the same functions more efficiently. When I was in high school in the 1980s, I learned how to use a typewriter. Very few teenagers have that skill today because word processors are both simpler to operate and more efficient. In the generation before me, many if not most schoolchildren knew how to use abacuses and slide rules. By my day, we were using the much simpler and more efficient calculators. Does that mean that we were "nincompoops" compared to those who grew up in the 1950s and 60s?

Harpaz and Mark Bauerlein worry that kids who can look up instructions on the internet or their cell phones won't learn how to "figure things out or solve problems." To my mind, learning how to access the knowledge of others is itself a very important ability, one that those skilled at using the internet have an important advantage in. As great social theorists such as F.A. Hayek and Edmund Burke pointed out, even the smartest and most capable individuals can benefit a lot from the vastly greater store of knowledge compiled by the rest of society. If Bauerlein is right, than 19th century Americans should have been concerned about the spread of mass literacy and the declining price of books caused by improved printing technology. After all, kids who can look up instructions in books where their parents had to use their own know-how couldn't possibly learn how to "figure things out" on their own!
Indeed, we could reverse all this.  Today's 4-year-olds are more technically savvy than their grandparents.  Is grandma an idiot because she finds her TiVo befuddling or doesn't know how to use the Google?  Of course not.
For that matter, I'm perfectly fine with people who are able to look things up and figure out how to do things rather than having to rely on "their own know-how."   The store of knowledge on the Internet vastly outweighs what any single individual could possibly learn in a lifetime. To be sure, there's something to be said for being able to look at something and intuit a solution.   But not having to do that is a net plus.
Further, Beth Harpaz (author of the AP piece) and Maushart are conflating the impact of technology with the effects of bad parenting.   There is no technology of which I'm aware that takes clothes that have been thrown on the floor and transforms them into fresh-folded laundry.  (If it exists, however, I want it.)   If you don't want your kid to be a slob, teach them to pick up after themselves.    If your kid looks befuddled when encountering a can without a pull top, show them how to use a can opener!  This ain't rocket science, people.
I am, however, concerned about a 12-year-old boy who can't figure out how to get ice cubes out of a plastic tray.  Whack the damned thing on the counter, son.