The End Of Tim Tebow's Career?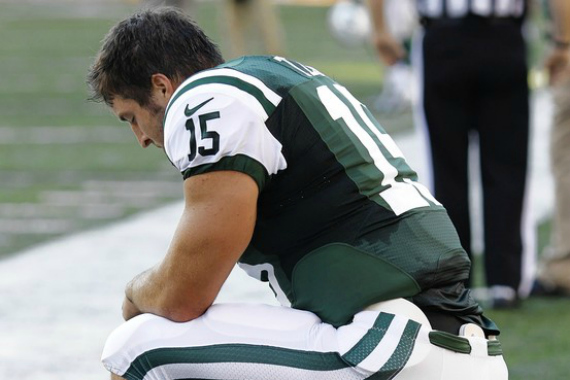 According to some reports, people close to Tim Tebow, recently released by the New York Jets after a season warming the bench, are speculating that his NFL career is effectively over:
DENVER (CBS Denver) – The NFL might have seen its last bit of Tebowing.

A new report claims that some of those closest to Tim Tebow have suggested that the unemployed quarterback's NFL career is likely done. ESPN's David Fleming reports that members of Tebow's own camp privately told him that his days in the league are "probably over."

"He's not a quarterback," one scout was said to have told Fleming. "When you look at his run two years ago, when you watch the tape and break it down, he wasn't really doing anything that impressive. He's a tough guy, a great leader, a great person. But he isn't a good enough quarterback to have all the distractions that come with him."

To date, no NFL teams have shown an interest in signing Tebow, who created a national stir when he led the Broncos to an unlikely playoff win in the 2011 season over the Pittsburgh Steelers. His career derailed, though, after Denver brought in future Hall of Famer Peyton Manning, forcing the Broncos to trade him to the Jets. After a disappointing and tumultuous campaign as Mark Sanchez's backup in New York, Tebow was released by the Jets.

Since then, he's cleared waivers and the only team that's shown any significant interest in his services is the Philadelphia Soul — of the Arena Football League.
Of course, as has been suggested numerous times since he left Denver, Tebow could give a shot at another position but, other than a couple plays for the Jets where he played Halfback, he seemingly expressed no interest in doing that. So, unless some NFL team decides to grab him up, or unless he gets picked up by the CFL or something, we may have seen the last of Tim Tebow on a football field.