The Flawed Nature of Representation in the US
Our representation problems are far, far more about structure than they are about the messaging of the parties.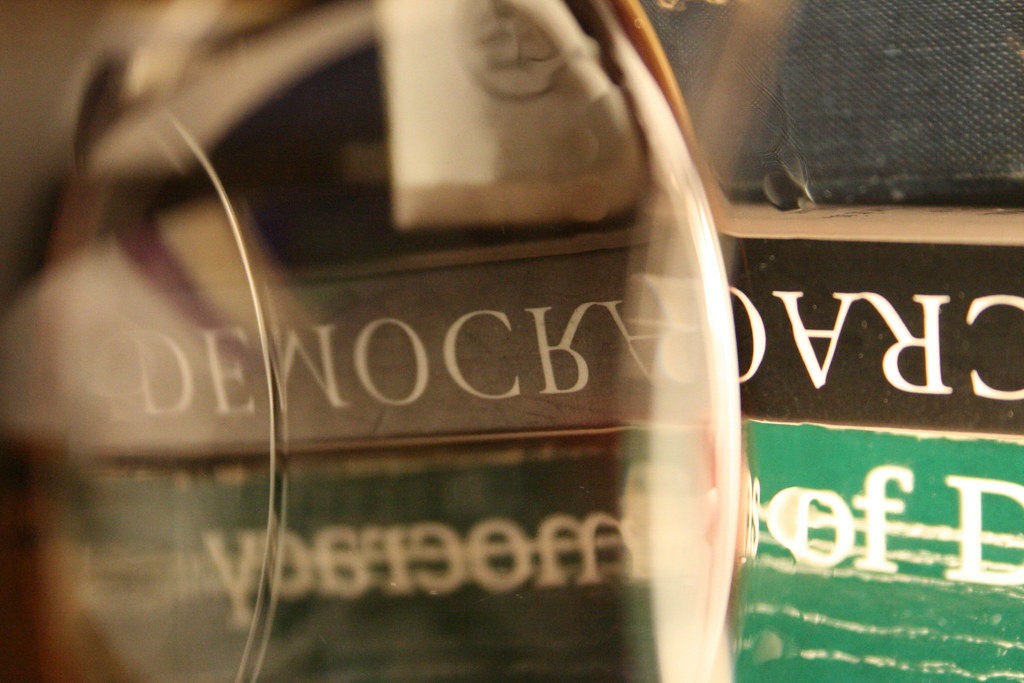 Over the years here at OTB I have tried to illustrate and explain what I think are deep flaws in the basic scheme of representation in US democracy. This often manifests, especially in the comments section, as me questioning critiques of Democrats based on messaging. For example (as in this thread), it is often posited that Democrats are losing/are going to lose because they keep talking too much about controversial social issues (e.g., CRT, trans rights, etc.). Likewise, it is frequently asserted (for example) that the progressive faction of the party creates too much controversy, thus allowing the Republicans and their media allies too much fuel for their rhetorical fires.
I have been thinking about this of late (and even started a very different post on this yesterday, and have more to say specifically on primaries at some point in the future) but the current revelations about Kevin McCarthy's dishonesty, and James Joyner's lament this morning, got the mental ball rolling this morning. James noted:
Still, I must confess that, even as a political scientist trained to be analytical about these things, I find it baffling that the sheer corruption of the opposition party seems not to be factoring in at all but is simply part of the background noise.
Indeed, it can be frustrating for persons like James, and myself, who are motivated, in large part, by a desire for good governance.
Enough preface, however.
Let me try and be as direct as possible: I am not saying the message/narrative does not matter, but I am saying that it matters far less than a number of other factors and that diagnosing a problem requires understanding the relative strength of differing inputs. Further, I am saying that the way we talk about message, narrative, and competition is a problem to the degree that we validate the flaws of our system and even sublimate, if not fully ignore, the factors that really do constraint representation.
To restate: by ignoring structure and focusing on messaging, we allow the structural problems to either be background noise or ignored altogether.
When we allow the narrative to be that the Democrats lose because they fail to get their message across, then we validate the notion that the system isn't the problem. Instead, we are saying that the flaws of American democracy are the Democrats' fault for not competing better (and in so doing, downplay or ignore structural issues that will never get fixed if most people don't see or understand them). Again, this is not to say that message is irrelevant, or that parties shouldn't try to convince voters to vote for them, but the main reason we will get the outcomes we get this coming November will be a combination of the size of the House, the way we draw congressional districts, the two-year cycle to re-elect the House, the two-year cycle to reelect only one-third of the Senate, and the way Senate seats are allocated. All of that is more important than message.
I am constantly amazed (and frustrated) at journalistic discussions, even by smart analysts, who talk as if there is a fair and open competition for the US House of Representatives when we know that the actual number of competitive seats is in the double-digits (it is currently projected to be 41 in November).
To me, if less than 10% of the seats in the US House of Representatives are up for real competition, it seems absurd to assume that the main variable is the messaging of the parties–unless we want to just focus on these seats to determine if messaging in those races determine their outcomes. Maybe if the political press talked about US politics only in terms of these seats, that might get people's attention. If we really are going to be governed a specific way based on 41 seats, let's stop pretending like the other 394 contests really matter.
In simple terms: discussing our elections as if they represent a real contest between two sides that have a roughly equal chance of winning based on their messaging on policy is incorrect.
It is incorrect because, as I note further below, policy preferences do not precede partisan preferences, rather it is the other way around for most people.
But, it is especially incorrect because the structure of House elections, Senate elections, and presidential elections all have a built-in advantage for one party (which definitionally means that message is less important than is often claimed).
If we know all of this, especially the part about structural advantages to one party (the Republicans), then we need to stop talking like there is fair competition with just results.
To that point, and this is also a key point of contention between my views of this and many of the readers, is that even when people say they understand the structure of the system, they still speak as if we have an open competition for control of government wherein the group that has the best message has the best chance to win and, again, that therefore the results of the elections are just based on fair competition and are, therefore, actually representative of the population.
Even as we understand that, for example, the Senate's representation is skewed towards Republicans, and only re-elects one-third of the body at a time, many people will still act like if the Democrats just said the right things, they would retain control/win the chamber.
And look, to be clear, there are real policies and policy preferences in all of this. Indeed, part of why many Republicans who may find Trump distasteful or McCarthy to be a liar, will nonetheless vote for the GOP is because of policy results. To wit: SCOTUS is heavily conservative now and is likely to overturn Roe and taxes were cut for upper-income earners, among other things. Also, don't tell me that a lot of Dems wouldn't vote for a lying populist if it meant, say, true universal healthcare or a more equitable tax system (or name your thing) because they would (and convince themselves that it really wasn't all that bad).
Even saying that, however, there is the unpleasant truth that message doesn't matter as much as partisan identity. I have argued this for years, usually with some level of pushback, but there is strong evidence that voters don't consider their policy preferences and then choose a party. Instead, voters identify with a party and that identification heavily influences their views on policy. This has been especially true since the 1990s (which I why comparisons to how things were in, say, the 1970s, aren't all that useful).
If anyone wants a highly readable political science treatment of all of this, I would highly recommend Lilliana Mason's 2018 book, Uncivil Agreement: How Politics Became Our Identity (which I plan to write about more extensively at some point–but keep in mind I plan to write about a lot of things more extensively as some point).
When we marry up the structural constraints with the power of partisan identity, we get outcomes that are substantially, although not completely, pre-determined. In simple terms: if you put enough voters with party ID X into a delimited space, party X is going to win given our electoral system regardless of almost anything else. Hence, the geographic distribution of voters is more important that the messaging from the parties. (Ironically, that's the TL;DR version of this post, but you had to read pretty far to get to it).
Some things, like Roy Moore's bizarre past, can lead to a Democrat winning a Senate seat in Alabama, but the full scenario that led to that outcome was a massive aberration.* (And, I would note, the outcomes in that special election were not the result of Jones having a better message than Moore on policy).
There is also a discussion to be had about the way in which primaries lead to political coalitions being built in the wrong order that substantially influences outcomes. Not only are there multiple posts to be written on this, but there is also really a book, at least, to be written.
And look, I am not saying that there aren't real constituencies in the United State for people like Trump and MTG, as there clearly are. I am just saying that their ability to have the voice they have owes a lot to structure and that the ability to counter their influence is hampered by structure. We are potentially heading into a 2024 election that will give the GOP full control of Washington again, despite the fact that the majority of Americans are likely to vote for the opposite. This outcome is far more about structure than it is about whether the Squad talked too much about progressive ideas, or whether woke cancel culture over CRT is being talked about too much.
---
A parting request of the reader: don't risk giving me an aneurism by telling me in the comments that reform is so hard as to be almost impossible (which, invariably, someone does). Trust me, I know.
My goal has long been to get as many people as possible to truly understand the problem, and part of my writing here is to try and think about and hone my approach. I believe in democracy with a small "d" as being the best option for human governance to promote as much human flourishing as possible. I know it is flawed (indeed, I am extremely fond of the quote attributed to Churchill that "democracy is the worst form of government, except for all the others that have been tried from time to time"), but I think the empirical evidence the life under democratic rule is better for people than life under authoritarianism is strong. I also believe that there are fundamental rights that human beings have that can only be protected under democracy (and, indeed, that the protection of those rights is an inherent part of democracy).
I have also studied the subject enough to know that there are profound flaws in American democracy and that, moreover, there are ways to fix them. I also know it will be hard, and may only occur after some profound crisis takes place. But I also know that unless more people can see the flaws and the pathways forward to increase representativeness, we will never get there.
I have some (very small) hope that this message can eventually resonate as I have watched us move from never talking about these issues as recently as a decade ago, to there being real conversations about reforms in the general discourse. The journey of a thousand miles starts with a single step and all that.
Like I said over a year ago (Our Political Reality):
Part of why I go on and on (and on) about reform, and especially electoral reform, is because I don't see a way out of these problems via the normal routes. Competitive pressure is what is needed to force politicians (both individually and in groups) to change behavior. If they are elected predominantly in basically fixed contests and/or where voters are basically forced to choose between only two viable options, where do those pressures come from?
And let me conclude by noting that while all of this sounds like I am just looking for ways to improve the fortunes of Democrats and diminish those of Republicans, let me stridently note that what I am looking for is a system that better represents the actual interests of the public of the United States. A system that privileges the votes of some citizens more than others undercuts basic democratic principles, and hence my preference for addressing those deficiencies. I seem to favor Democrats because the empirical evidence shows that Democrats are the party being short-changed by our structures in a way that is clearly anti-democratic (the easiest to understand example being the 2016 presidential election).
And, truth be told, if I really were to get my way reform-wise, the Democratic Party would likely break into pieces which is why Democrats also resist reform efforts, despite their disadvantages under the current rules–best for individual politicians to also hope that tweaking the message is all that is needed, instead of really thinking through the problem, since solutions could threaten their individual political power.
---
*I won't recount it all here, but first it was a special election, making it abnormal to start with. But, more importantly, Moore would never have been nominated had it not been for a scandal in the Governor's office that tainted the appointee who filled Session's seat. And had the Democrats not had a high-quality candidate, I don't think Moore would have lost (Jones was the highest quality Democratic candidate for the Senate that I can recall in my almost quarter-century of paying attention to Alabama politics). That race was like finding a unicorn.