The January 6 Hearings Are Over. Now What?
The investigation produced mounds of evidence. Will it matter?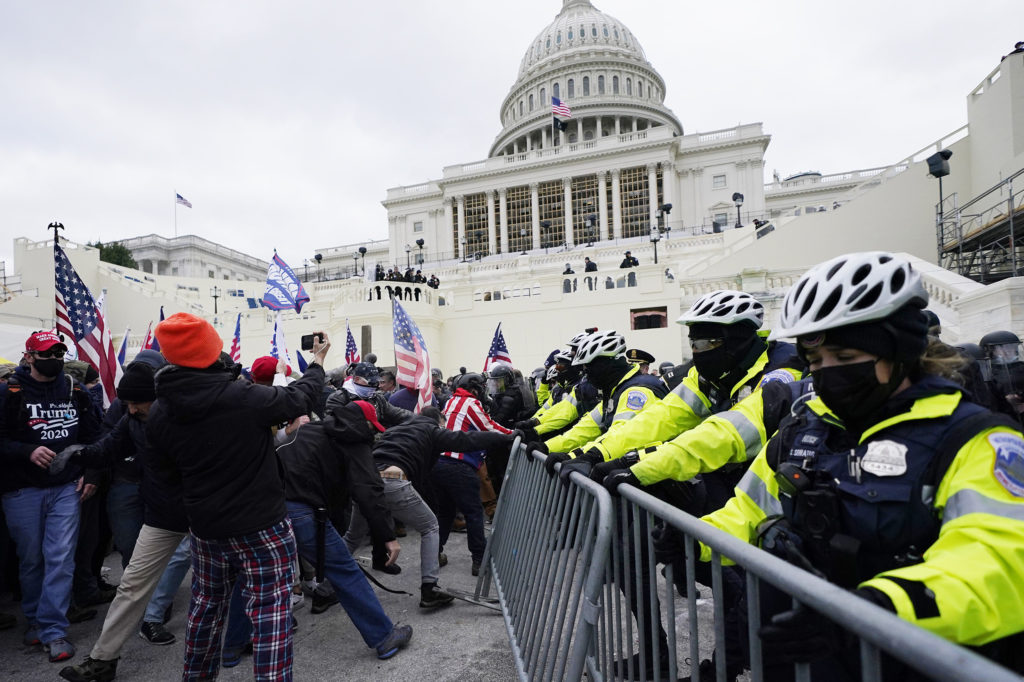 Brookings Institution scholars Norman Eisen, Danielle Brian and E. Danya Perry take to the NYT to proclaim "The Jan. 6 Hearings Are Over. These 3 Things Must Happen Now."
The added proof of Mr. Trump's involvement in the events of Jan. 6 renews the question of whether elections officials and courts can disqualify him from holding public office under the Constitution. Section 3 of the 14th Amendment provides for the disqualification from office of any person who has "engaged in insurrection or rebellion against" the United States or who has "given aid or comfort to the enemies thereof."

The prospect of Mr. Trump being disqualified may sound unlikely, but it is not fanciful — a New Mexico county commissioner who participated in the Jan. 6 insurrection was recently removed on just this basis.
Two key points, though. First, "Cowboys for Trump" founder Couy Griffin was actually convicted for crimes related to the Capitol riot. Second, given that he was not convicted under the Insurrection Act, it's quite possible the ban will be reversed on appeal. We simply don't know what Section 3 means outside the context of the Civil War.
Their second proposal is more promising, although I can't imagine they're not already planning to enact it:
The report could be modeled after the Watergate Road Map. That document laid out in painstaking detail the evidence of wrongdoing that an investigative body (there, a grand jury) had collected. It consisted of an inventory listing the evidence and then attached pieces of proof — whether it was a document, witness transcript or something else.

In that case a grand jury was sending evidence to the House. In this case, it is the House that would be making evidence available to others. But the principle is the same: The committee should compile all the relevant evidence upon which 14th Amendment decision makers can rely.

A similar road map may also be helpful to federal and state prosecutors. A formal criminal referral is less essential than laying out the relevant evidence for federal prosecutors to draw upon in their various investigations and for local ones like Fani Willis, the district attorney for Fulton County, Ga.

The committee's evidence on Thursday suggesting potential obstruction of justice by members of the Secret Service and White House staff will also be in the hands of federal prosecutors to resolve. In one of the more notable moments of the hearing, Representative Adam Schiff stated that evidence strongly suggested "certain White House and Secret Service witnesses" had falsely testified that they were not aware of the risk of violence.
The third is related:
One final handoff is perhaps most important of all: to voters. Well over 300 midterm candidates have embraced "the Big Lie" about the 2020 election being stolen. The committee has repeatedly warned of the danger this election-denial movement poses. As Ms. Cheney said on Thursday, "another Jan. 6 could happen again if we do not take necessary action to prevent it."

But the test of the committee's work and its political impact will not end with the midterms. Some "stop the steal" candidates will win their races, and the postelection season will quickly pivot to the 2024 election.

The baton is passing from the committee to others who have the power to take action on its work. That handoff is not only to election officials, prosecutors and judges. It is to all of us. Our democracy may well depend on what we do with it.
Alas, I'm not incredibly hopeful in the short term. I think most of the Republicans who were reachable were reached long ago—certainly by November 2020 or, at very least, 7 January 2021. If four years of Trump and a violent mob storming the seat of our democracy didn't convince those people, I can't imagine these hearings did.
Some 41 percent of Americans think Trump should face criminal charges. That's a plurality but it still means 59 percent do not. Indeed, given that Joe Biden got 51 percent of the vote in 2020, it means even a significant number of Biden supporters aren't persuaded criminal charges are in order.
Still, a sizable chunk of people who still self-identify as Republican (40 percent according to one recent poll) believe Trump had at least some role in the riot, which is more than thought so ahead of the hearings. The question, though, is whether that will translate into staying home or voting against candidates proclaiming that the 2020 election was stolen. All indicators are that it won't, at least in significant numbers.