The Junior Mints Are Too Damn High!
Movie theater snacks are expensive. This is not cause for a lawsuit.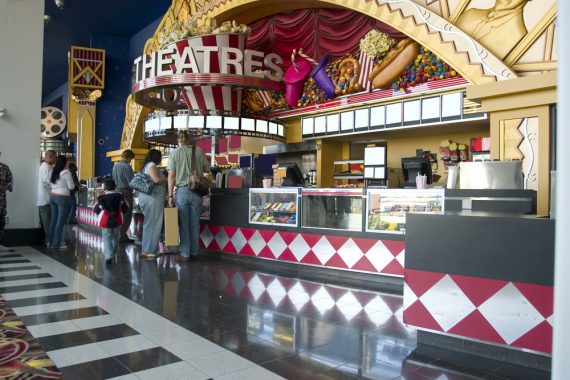 A Michigan man is taking a major movie theater chain to court over the high cost of its concessions:
Joshua Thompson loves the movies.

But he hates the prices theaters charge for concessions like pop and candy.

This week, the 20-something security technician from Livonia decided to do something about it: He filed a class action in Wayne County Circuit Court against his local AMC theater in hopes of forcing theaters statewide to dial down snack prices.

"He got tired of being taken advantage of," said Thompson's lawyer, Kerry Morgan of Wyandotte. "It's hard to justify prices that are three- and four-times higher than anywhere else."

American Multi Cinema, which operates the AMC theater in Livonia, wouldn't comment on the suit. A staffer at the National Association of Theatre Owners in Washington, D.C., angrily hung up the phone when asked about industry snack pricing practices.

Although consumer experts predicted that the case will be dismissed, it struck a chord Friday with area moviegoers, who said they're tired of being soaked on movie munchies.

"The prices are ridiculous," Rebecca Motley, 55, a self-employed Southfield physician, said while leaving the AMC Star Southfield 20.

Motley said she and her office manager spent $5 each for morning movie tickets and $11 each for soft drinks and popcorn.

"When I was a kid, $1 could get you into the movies and buy you a pop and popcorn. But not anymore," Motley said. "I don't know how kids can go on their own to a movie anymore."
Now in the grand scheme of things, this is hardly the most important issue in the world. It ranks right up there with reduced portion sizes at Applebee's on the priority list. But, it's also one that we can probably all relate to. Who hasn't gone to the movies lately only to be gouged on snacks? And, if you're bringing kids along, in which case snacks are pretty much mandatory, it can get pretty expensive. But, still filing a lawsuit over this? Really?
I'm not going to comment on the legal merit of the case since I'm unfamiliar with the Michigan statute at issue or the case law interpreting it, but it strikes me that it really shouldn't be the business of a court to decide what "fair" price is? How do you determine what's fair? The response of a lay person would likely be that you can just go down to the local drug store, or Wal-Mart for that matter, and see what they're charging for similar items there. Even if you could do that, though, it wouldn't be a valid comparison. The retail economics that govern pricing decisions by a drug store or a major big box retailer are far different from those that govern operation of a movie theater. Most importantly, one needs to be mindful of the fact that movie theaters get very little revenue from ticket sales:
Movie theaters make a lot of money from the concession stand, and some estimates put their profit margin at 85%. A $30 bag of raw popcorn could be worth as much as $3,000 to movie theaters, the Hollywood Reporter noted.

(…)

The movie industry has cause to be worried though, since theaters make most of their money from concession sales, not from tickets. The majority of money from ticket sales goes to the studios in the first weeks of a release, with first-week runs generating as much as 90% for the studio.

If Thompson's suit is successful, it could spur copycat suits across the country. Add into the equation that movie attendance in 2011 was at its lowest level in 16 years, and you can see why even the threat of a suit like this would make theater people squirm.

There's actually a theory that the high price of movie concessions is a benefit to the public. A study from Stanford Graduate School of Business and University of California Santa Cruz says the higher concession costs help keep ticket prices low, which means more customers in general come to the theater, and the smaller segment of that group buying concessions adds to the theater's profit.
Such is the bizarre economics of the movie theater industry, which in part goes back to the fact that some 60 years ago the Supreme Court sided with the government at the end of a long dispute which contended that direct ownership of theaters by the movie studios themselves was a violation of the Sherman Antitrust Act. In any case, the important question really is how you decided what a "fair" price is in this type of situation, or in the similar situation of concessions at a football and baseball stadium. One of the reasons that the prices are so high at these venues, as compared to what you'd pay elsewhere, is because you're part of a captive audience and there's only one supplier. Adam Smith would've understood it perfectly.
There is one solution to all of this, of course. Like Bruce McQuain, I don't really see many movies in the theater any more. For one thing, the closest theater to me is quite a drive away and sometimes just not worth the trouble. For another, in most cases the movies that Hollywood is putting out these days simply aren't worth the ticket prices they're charging these days (and don't even get me started about the price they charge for those silly 3-D movies). It's usually more convenient, and cheaper, to wait until the DVDs come out. A buck at RedBox versus seven at the theater? No-brainer really. But, if you do decide to go to the theater just remember they've got you there, and if you want one of those snacks they're going to gouge you. That's capitalism, and there's nothing wrong with it.
Movie Theater Food Bar image via Shutterstock