Avengers: Endgame Passes $1 Billion In Gross Receipts
Avengers: Endgame earned $1 billion worldwide in its first weekend, but it will take a lot more to become the biggest grossing movie of all time.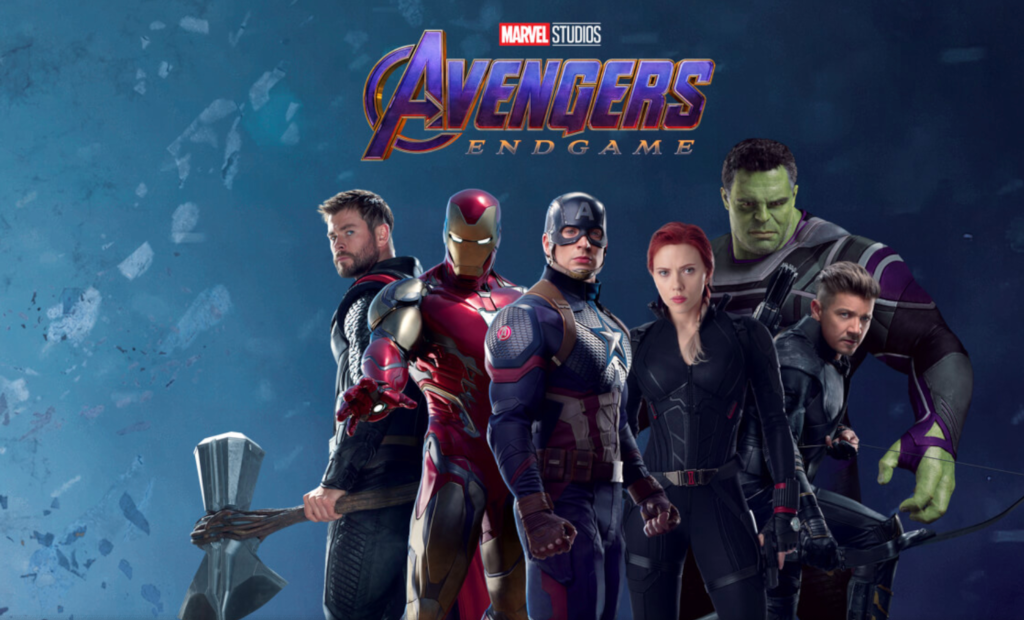 Avengers: Endgame has only been out for a week, but it's already become one of its biggest movies of all time. In just one week the movie has grossed some $365 million in the United States and over $1 billion worldwide, putting it on track to be the biggest grossing movie in Hollywood history. Even more amazing is the fact that it managed to do this over the course of just a few days, setting yet another record for Hollywood. As Business Insider notes, though, it will take some work for the movie to outperform some of its predecessors, once you factor in inflation:
In just a few days, "Avengers: Endgame" has become one of the biggest movies of all time.

The latest in the Marvel Cinematic Universe grossed $356 million domestically and $1.2 billion worldwide in its opening weekend, exceeding projections and shattering records left and right. It's the biggest domestic opening weekend and biggest worldwide opening of all time, for starters.

But can "Avengers: Endgame" rocket to the top? After its monumental debut, it's projected to be the first movie to crack $3 billion at the worldwide box office. That would finally beat 2009's "Avatar," the record-holder, with $2.8 billion.

But "Avatar" is the biggest movie only before inflation. "Endgame" has a much tougher hill to climb if it wants to beat "Gone with the Wind," the highest-grossing movie ever after adjusting for inflation.


"Gone with the Wind," originally released in 1939, grossed $189 million domestically (not counting its multiple re-releases) and $402 million worldwide, according to Box Office Mojo.
Just how big a gap is there once you adjust for inflation? A pretty big one it turns out:
The "Gone with the Wind" worldwide total today would be an astounding $7.4 billion, according to this consumer-price-index inflation calculator. The movie's domestic total would be $3.5 billion, based on the calculator.

Box Office Mojo calculates inflation by adjusting to a given year's average US ticket price — $9.01 this year — and doesn't calculate worldwide-box-office inflation. But according to Box Office Mojo, the movie's domestic total would be $1.8 billion with inflation.

Either way, "Avengers: Endgame" would have to perform beyond anyone's wildest dreams to beat "Gone with the Wind."
Here's how Box Office Mojo ranks the blockbusters of the past and present after adjusting for inflation. The list includes some 300 movies but I'll post just the top 25: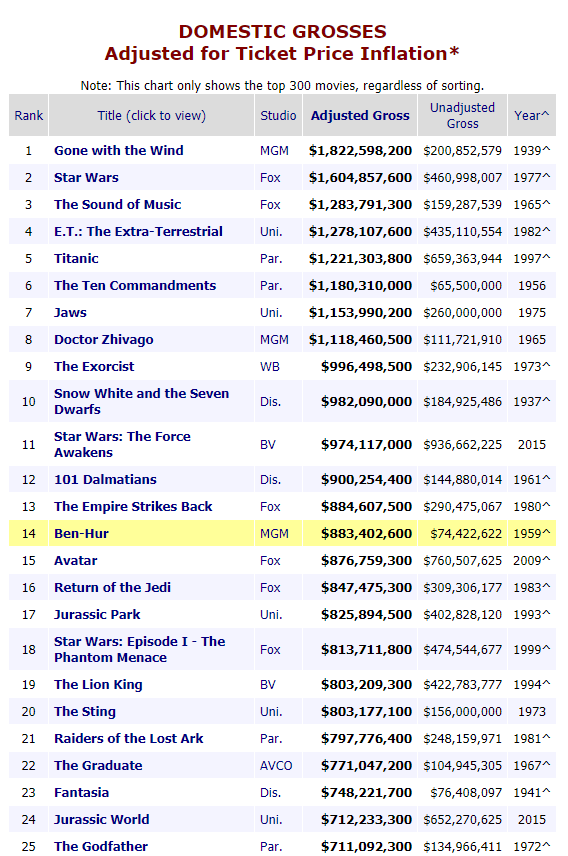 As you can see, there isn't a single movie from the 21st Century in the top ten notwithstanding the fact that we've plenty of incredibly high grossing movies during that time period. Additionally, the most recently released movie in the top ten, 1997's Titanic, was released some twenty-two years ago. To find a movie from the last 20 years you have to go to 11th place, which is currently occupied by the seventh movie in the Star Wars saga, The Force Awakens. In fact there are only three movies from the 21st century in the Top 25 list, The Force Awakens, Avatar, and Jurassic World.
This type of comparison is, of course, somewhat arbitrary. For one thing, the movie business has changed significantly since 1939 when Gone With The Wind was released. There are far more movie theaters today than there were 80 years ago, for example, and most of those theaters have more than one screen, meaning that the same movie can be shown in multiple theaters at the roughly the same time and more people can see it without having to wait for the theater to be available for the next showing. Last Friday night, for example, I saw several examples on social media of multiple-plex theaters where Avengers: Endgame was showing on all, or nearly all, of the theater's available screens at roughly the same time. This obviously meant that more people could see it opening weekend and the movie's gross box office receipts would reflect that. Additionally, the fact that there are now multiple formats in which a movie can be shown, such as 3-D, IMAX and other similar formats, and that many of these formats charge different prices from a "regular" screening means that a movie released in this era has a chance to make huge amounts of money just because of the format in which it was released. Finally, movies today are judged by their worldwide receipts, something that was not even a factor in the movie business until about the 1990s or so. Avengers: Endgame is, at least for the moment, at 101st place on the list.
Another factor to keep in mind is that Hollywood has strange rules that determine whether or not a movie is profitable. In some cases, this has led to litigation between studios and those who signed contracts that give them certain percentages of receipts net of expenses. To put it mildly, these lawsuits have shown that the accounting rules in Hollywood are a bit different than what you might find in the business world.
So when you hear about the records that Endgame is setting, remember that comparing those numbers to the money earned by Gone With The Wind, Ben-Hur, or The Godfather is like comparing apples and oranges.