Top Gun: Maverick Setting Records
Mild spoilers ahead.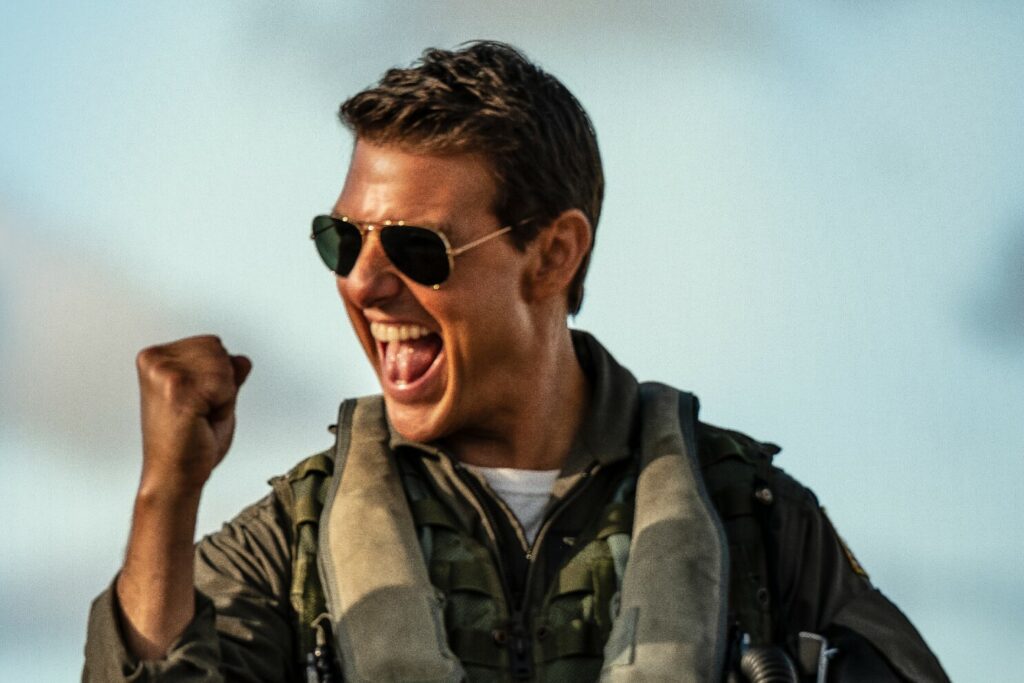 CBR ("Top Gun: Maverick Sets a Major Record No Marvel Film Has Been Able to Achieve"):
Top Gun: Maverick, Paramount Pictures' sequel to the original 1986 Top Gun, has crossed a milestone at the domestic box office that no Marvel Studios movie has been able to achieve.

According to box office analyst Gitesh Pandya on Twitter, Top Gun: Maverick earned $44 million at the domestic box office in its fourth weekend in theaters. Only three other movies in box office history have earned more than $40 million in their fourth weekends in theaters, including Avatar ($50.3 million), Star Wars: The Force Awakens (42.4 million) and Marvel Studios' Black Panther ($40.8 million). These earnings also make Top Gun: Maverick the second highest-earning fourth weekend in theaters of all time, just behind 2010's Avatar. Overall, Maverick boasts a domestic box office cume of $466.2 million.

Along with being ahead of The Force Awakens and Black Panther, Maverick also earned more than most Marvel Studios movies in its fourth weekend, including Avengers ($36.7 million), Spider-Man: No Way Home ($32.8 million), Avengers: Endgame ($30.0 million) and Avengers: Infinity War ($29.5 million). According to Pandya, other major franchises like every Marvel, Star Wars, Jurassic and Batman film earned less at the box office in their fourth weekends in theaters.

Top Gun: Maverick earned $160.5 million within its first four days of release after opening on Memorial Day weekend, setting new holiday weekend records and becoming Cruise's highest-earning opening in North America. Maverick became the highest-grossing movie of 2022 in the United States when it crossed the $400 million mark, surpassing Marvel Studios' Doctor Strange in the Multiverse of Madness, which earned $398 million domestically. With a global box office haul of $783.8 million, Maverick has not crossed the worldwide total for Multiverse of Madness. However, industry analysts also project that Cruise's legacy sequel could cross the $1 billion mark before the end of its theatrical run.
The usual caveats apply: it's really hard to compare apples to apples given that ticket prices have steadily increased and more recent movies have expensive variants (IMAX, Screen X, 3D, etc.) that further inflate the box office take.
Cruise insisted that this movie's release be delayed—and delayed and delayed—until it could be shown to packed theaters and enjoyed in the way the filmmakers—himself included—intended. The bet clearly paid off.
Indeed, this is the first movie that I've seen in a theater since the pandemic. We finally watched it yesterday afternoon. The combination of not wanting to fight massive crowds, a busy end-of-school-year schedule, a need to screen the original 1986 film for the girls, and a week's vacation in the Outer Banks delayed the viewing experience enough that I was aware of the hype surrounding the film. It didn't disappoint.
Both professional critics and various friends had proclaimed this better than the original, a rare feat, indeed, for a sequel, let alone one spread out so far from the first. In many ways, it was: the character arc made more sense, the action scenes were far superior, and even the romantic chemistry between Cruise and the female lead was better. Then again, it's an unfair comparison, in that so much of the movie is fan service. This film is designed to finish a story from almost forty years ago, so the audience came in already invested in the characters and well steeped in the backstory.
As with the original, one needs to suspend belief many times. If the film is set in 2022 (or even 2018-19, when most of it was filmed) the ages make little sense. Aside from the much-commented-upon fact that Maverick is far too old to still be in the Navy (captains are almost always required to retire at the 30-year mark and he would have something like 40 years in since he was a lieutenant in 1986), Goose's son would be something like 40 and Penny Benjamin would have been in her teens at the time the 20-something Maverick met her. Maverick continues to be a badass but, alas, would almost surely have been kicked out of the Navy multiple times by now, if not in the brig, for his constant destruction of his aircraft and disobeying of lawful orders. The central combat mission makes for fantastic movie drama—and, again, it's way more compelling than the original's—but none of the execution makes any sense at all. And don't even get me started on the admirals whose top ribbon is a Bronze Star and the fact that almost all of the senior officers have Purple Hearts, which would be odd, indeed, for Marine infantrymen, let alone fighter pilots.
Despite the format having been around for more than a decade now, this is the first film I'd seen in "Screen X." Our cineplex isn't designed to maximize the experience, so the surround projection was interrupted by stark lines where the front of the theater met the two square sides. And there were exit doors in the way of the projection. Still, while I think I prefer IMAX, the huge screen and occasional wrap for action scenes was really interesting.
The film does a great job of bookending the Maverick-Iceman rivalry/bromance and Miles Teller is well cast as Goose's son, now a Top Gun graduate in his own right. Again, the actors who played him were 4 in 1986 so he should be 40 now. And even a four-year delay in getting into the Naval Academy (another plot point that makes little sense but which sets up the necessary tension) wouldn't still have him as a junior lieutenant. Still, getting closure on the biggest emotional plot point from the original was satisfying.
Overall, an excellent movie and one well worth seeing in a theater rather than waiting for it to come streaming on Paramount+.