The Kyle Rittenhouse Trial Judge
He's controversial but consistent.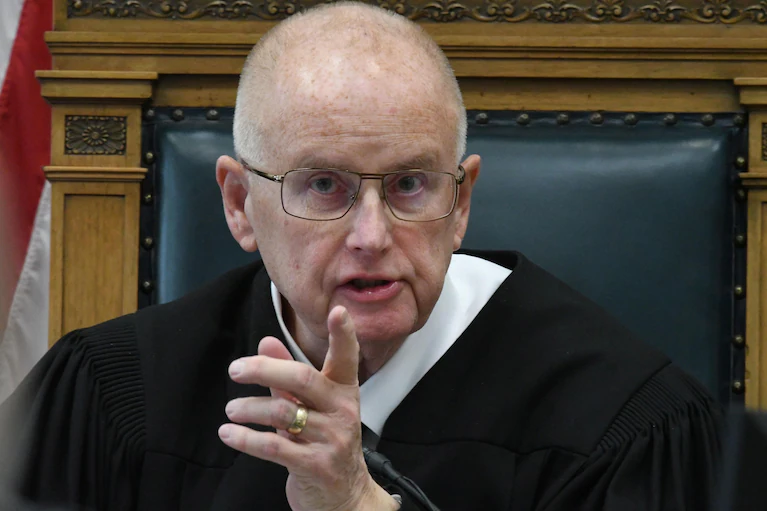 Bruce E. Schroeder, the judge presiding over the Kyle Rittenhouse trial, received national attention for defendant-friendly pre-trail rulings and has continued to receive scrutiny over how he has handled the trial. According to a WaPo report ("As Kyle Rittenhouse trial nears end, judge's decisions from the bench come under scrutiny") this is all typical behavior for the 75-year-old jurist.
Regardless of how he is viewed, Judge Bruce E. Schroeder is indisputably a man with fixed rules for how trials in his Kenosha County courtroom will be run. Some are basic, some unorthodox, and all reflect the experience of a jurist who believes trials can be too easily manipulated, particularly by the prosecution.

"For a jury trial, if you get him, you are happy as a defense attorney," said Michael Cicchini, a criminal defense lawyer in Kenosha, Wis., who has appeared before Schroeder numerous times, including earlier this year. In that case, he won an acquittal for his client, who was charged with battery.

Schroeder's reputation has some in Kenosha worried. The 75-year-old judge is running the trial of Kyle Rittenhouse, now in its second week, which will determine if the 18-year-old who brought his assault rifle to town in August 2020 is guilty of homicide. Rittenhouse fatally shot two people and badly wounded a third during unrest that followed a police shooting.

The defense has already logged some wins in Schroeder's courtroom. Gaige Grosskreutz, the man who survived Rittenhouse's gunfire, took the witness stand for the prosecution, but acknowledged that he was pointing his gun at Rittenhouse when the teenager fired at him — a boost for Rittenhouse's self-defense claim.

Then, as the prosecution rested its case on Tuesday, Schroeder dismissed a charge for his alleged failure to comply with curfew. The judge said he agreed with defense attorneys that the prosecution had not entered sufficient evidence to prove that a curfew was in effect the night Rittenhouse killed the two men.

And on Wednesday, Schroeder engaged in several sharp exchanges with Assistant District Attorney Thomas Binger as he questioned Rittenhouse, admonishing the prosecutor: "Don't get brazen with me!"
For those wanting to see Rittenhouse pay, this is obviously distressing.
"It seems like he's aiming to let this man out of this courthouse scot-free and we're not going to let that happen," said Justin Blake, whose nephew Jacob Blake was shot by a police officer last year, triggering the nights of unrest that drew Rittenhouse to Kenosha. "If it happens, we're not going to be quiet about it."

Justin Blake singled out one of Schroeder's rulings that has generated anger and confusion in many quarters, even though it long has been one of the judge's most steadfast rules: As the trial began last week, Schroeder forbade the prosecution from calling the three men Rittenhouse shot "victims," which the judge has long called a "loaded term." He prefers "decedents" or "complaining witnesses."
But, as I noted in my post about the pretrial rulings, it's a longstanding rule.
"That's been a rule in his courtroom since Day One," said Cicchini, who has been practicing law in Kenosha for two decades. "Whether the person is a victim is the very thing the prosecution has to prove."
Which strikes me as perfectly reasonable. Judges should, in my view, bend over backwards to ensure that defendants get a fair trial. Given that the state has every advantage—and is seeking to deprive the accused of life, liberty, or property—the defense should have considerably more leeway than the prosecution.
Several other rulings have gone the defense's way.

The judge prohibited the prosecution from entering evidence allegedly showing links between Rittenhouse and the Proud Boys, a White nationalist group. He also rejected the prosecution's request to be allowed to tell the jury about a June 2020 incident when Rittenhouse allegedly attacked a woman, who at the time was in a fight with his sister.

But Schroeder also prohibited the defense from describing the men he shot as "looters" or "rioters," unless the attorneys can prove they were involved in those acts.

Still, "I'd say he is more pro-defense than pro-prosecution in trial," said Chris Rose, a second-generation criminal defense lawyer in Kenosha who has appeared before Schroeder "hundreds of times." "The rulings he has made so far are consistent with what he has done in the past."
Mostly, though, Schroeder seems to be anti-nonsense more so than pro-defense.
Mainly, though, Schroeder is all business. As proof, defense attorneys point to the fact that Schroeder empaneled a jury for the Rittenhouse trial in one day, a process that in high-profile cases can often take weeks.

"He has a reputation for having good days and bad days — I've heard the word 'mercurial' used to describe him," said Dan Adams, a former prosecutor in Milwaukee County and now a defense attorney. "But he is old school, literally and figuratively."
The report shares an anecdote that I posted in the comments section of the previous discussion:
While no murder trial has generated as much attention for Schroeder's courtroom as this one, it is far from his first.

In December 1998, Julie Jensen was found dead in the Pleasant Prairie, Wis., home she shared with her husband. The marriage was an unhappy one, and Mark Jensen had been having an affair at the time of his wife's death.

He was charged with homicide four years later, accused of poisoning his 40-year-old wife with antifreeze, then smothering her in the garage. His trial did not begin until 2007, nearly a decade after the death, and following years of legal debate over evidence.

Schroeder was the trial judge. A key piece of prosecution evidence was a letter Julie Jensen wrote advising police detectives to investigate her husband should she be found dead. For safekeeping, the "letter from the grave," as it became known, was given to a friend with instructions to turn it over to police in the event of her death.

"I pray I'm wrong + nothing happens," Julie wrote in the letter. "But I am suspicious of Mark's suspicious behaviors + fear for my early demise."

Schroeder ruled the letter inadmissible. In his view, the letter did not meet the criteria to be categorized as a dying declaration, mainly because Julie Jensen was not in "imminent" danger of death when she wrote it. That meant Jensen had the right to cross-examine his accuser, who in this case was his deceased wife. She was obviously not available, so the letter was out.

The prosecution appealed the ruling, and the Wisconsin Supreme Court ordered the letter in as evidence. The defense followed with its own appeals.

In May of this year, the Wisconsin Supreme Court tossed out Jensen's guilty verdict and ordered a new trial in which the letter will not be allowed as evidence.

"I had it 100 percent correct in the first place," Schroeder said in court last week. "That was 20 years ago. The man is still in prison. And the case has again been reversed because of the evidence that the Supreme Court told me to admit."
I'm not a lawyer and have no strong view on the merits of that ruling. The letter was surely a key piece of evidence as to the state of the relationship. But I lean towards Schroeder's view that allowing the deceased to testify from beyond the grave, when cross-examination is not possible, is unfair to the defendant.
Regardless, Schroeder seems to be kind of a character.
While generally respected, Schroeder is not universally loved and has been accused of overstepping his authority.

He once ordered a woman convicted of shoplifting, as part of her sentence, to inform an employee of any retail store she entered that she was under supervision for theft. The Wisconsin Court of Appeals later voided that element of her sentence.

In another case from the 1980s, Schroeder ordered a babysitter accused of molesting a child to submit to an AIDS test. He began requiring sex workers who appeared before him to do the same. "There was no statutory authority for him to do that," said John Anthony Ward, who represented the babysitter and has appeared before Schroeder an estimated 500 times. "But he's been on the cutting edge with many of my cases."

But Ward added that Schroeder "believes in giving people a second chance if you admit to your wrongdoing."

A 31-year-old man who had a case in front of Schroeder as a juvenile said the judge let him off easy. "He said, 'I'll let you go this time. But if I ever see you again, I'll put you away for life,'" said the man, who spoke on the condition of anonymity for fear of legal repercussions. When he faced another charge, this time as an adult, his case was assigned to Schroeder. Mindful of the judge's warning, he successfully appealed for a different assignment. "He's a stickler. But he does what a judge is supposed to do," he said. "He'll laugh with you, and smile with you, and then he'll book you."
I gather anecdotally that this sort of thing is not uncommon but I prefer my judges to be more by-the-book. I'm especially unfond of creative sentencing. And, while it's perfectly reasonable to inform a guilty man getting leniency not to expect it a second time, threatening a specific outcome in a case that, by definition, hasn't happened and therefore no facts are known about it, is problematic.
Though Schroeder is generally perceived to be more friendly to the defense than to the state, he appeared to protect prosecutor Thomas Binger from what could have been a tactical error in the Rittenhouse case.

During pretrial motions, Schroeder ruled that the defense could not introduce Rosenbaum's history of mental illness, including the fact he was released from a psychiatric hospital just before showing up at the demonstrations in Kenosha. Allowing the evidence would have strengthened the defense's argument that Rittenhouse was acting in self-defense when he fatally shot Rosenbaum.

In his opening statement, Binger had mentioned that Rosenbaum had been in the hospital, although he did not say it was for mental illness — which could have opened the door for the defense to introduce his health struggles.
Another piece, in the NYT ("The judge, who has clashed with prosecutors, has been 'in this business for 50 years.'") adds a bit more context, including that Schroeder was once a prosecutor himself.
Bruce Schroeder, the longest-serving circuit court judge in Wisconsin, is presiding over the homicide trial of Kyle Rittenhouse.

At times during Mr. Rittenhouse's testimony on Wednesday he took a strict line with prosecutors, clashing with them over a reference to Mr. Rittenhouse's silence in the months before the trial and an attempt to introduce testimony on a previous incident that the judge had ruled inadmissible.

"The problem is this is a grave constitutional violation for you to talk about the defendant's silence," Judge Schroeder told prosecutors.

Judge Schroeder, 75, who has said he believes that he has seen more homicide trials than any other judge in the state, graduated from Marquette Law School in 1970, worked as a prosecutor and began serving as a circuit judge in 1983.

His longevity is a subject of frequent conversation in the courtroom. As he said during jury selection in the trial, he has been "in this business for 50 years."

In Kenosha legal circles, Judge Schroeder has a reputation for strictness in sentencing. He is known for delivering lectures to prospective jurors about their civic duty, which in this trial he likened to serving as an American soldier in Vietnam.
It may simply be that Schroeder wants to ensure that convictions are arrived at justly and, more importantly, that they stick.
Back to the WaPo report:
In Kenosha, Schroeder has won support from conservative AM radio hosts and callers, who have praised his decisions, his manner and his willingness to go after critics in the media.

But the judge's rulings have alarmed the small group of racial justice advocates who have gathered outside the courthouse during the trial. Primarily they cite Schroeder's ban on the word "victims" as the cause of their concern.

Among some Kenosha residents, as well, there is concern that Rittenhouse will be acquitted — and a suspicion that the judge's rulings will play a role. "I think Kyle Rittenhouse is going to get off," said Justine Tidwell, a 25-year-old Black resident. "They gave the case to the worst judge in town."
I'm pretty sure Rittenhouse will be acquitted, too, but it's mostly because the law is on his side.