The Latest TSA Outrage: Baby Subject To Pat-Down At Kansas City Airport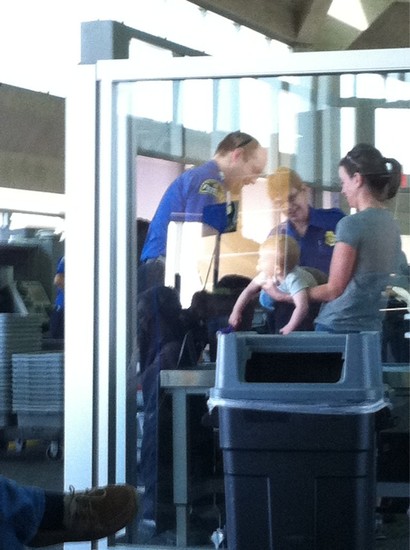 Another day, another TSA absurdity:
The Rev. Jacob Jester wasn't trying to start anything.

But when he saw security screeners at Kansas City International Airport patting down a baby — a baby — he took a picture. And then he shared that picture on Twitter.

It went viral, and voila: Jester's snapshot is the flashpoint of the day in the debate over who should be considered a threat to the flying public.

Not what he intended, Jester said Tuesday, after the image had been picked up by The Drudge Report and the Daily Mail in London, among others, and viewed nearly 300,000 times.

"I thought it was a curious situation," said Jester, a pastor at a youth ministry in Independence. "I have a son about the same age — 8 months old — and I thought that I would not want that to happen to my own child."

Jester had just cleared security Saturday afternoon on his way to Albuquerque, N.M., when he saw that the woman and young baby were about to be searched. The baby's stroller had "alarmed" during explosives screening.

Jester tweeted his picture with the message: "Just saw #tsa agents patting down a little baby at @KCIAirport Pretty sure that's extreme."

His wife retweeted it. Another local pastor did, too.

The picture spread across Twitter as others, many with no connection to him, shared the image through retweets.

"The picture took on a life of its own," Jester said.

The Transportation Security Administration, which has contracted with FirstLine Transportation Security to handle screening, issued a statement saying the officers followed proper procedures.

After the stroller set off the alarm, "officers followed protocol to conduct additional screening on members of the family, who were very cooperative," the TSA said.
I have a feeling that these agents may have taken Congressman Louie Gohmert's fears about "Terror Babies" just a little too seriously.