The Never-Ending Hunter Biden Saga
Yet more allegations.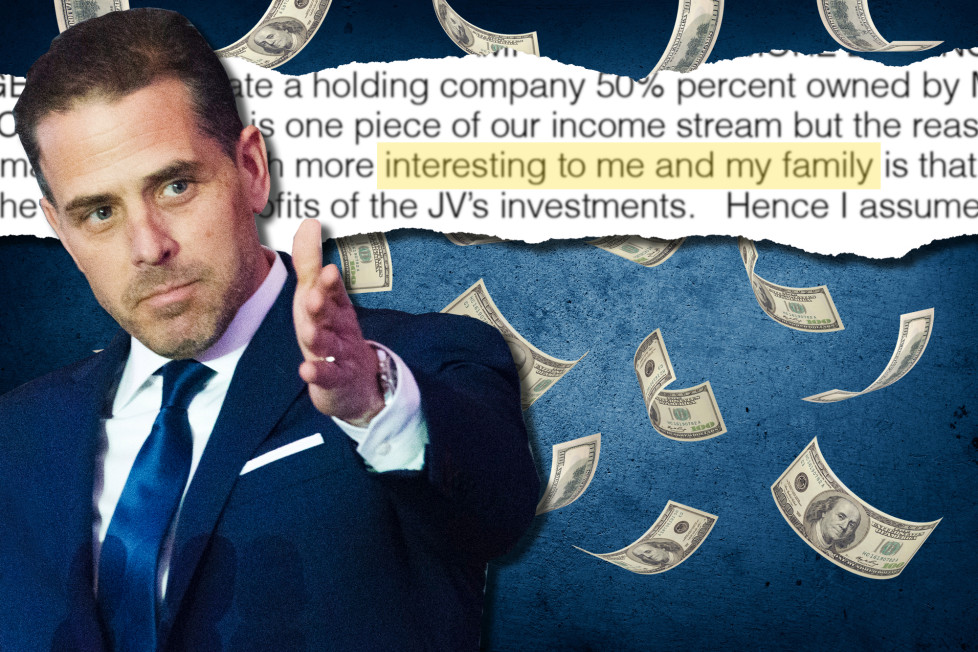 After five years of breathless coverage of his various peccadillos, Hunter Biden finally pled guilty to misdemeanor charges last week. This morning, the nation's two most prestigious newspapers have yet more coverage based on "whistleblower" testimony.
NYT ("I.R.S. Agent Told Congress of Hunter Biden Invoking His Father in Business Deal"):
The lead I.R.S. agent investigating whether Hunter Biden committed tax crimes told Congress his team uncovered evidence that Mr. Biden had invoked his father, who was then out of office, while pressing a potential Chinese business partner in 2017 to move ahead with a proposed energy deal, House Republicans said.

In testimony made public on Thursday, Gary Shapley, an I.R.S. agent since 2009 who supervised the tax agency's investigation into Hunter Biden, said his team used a search warrant to obtain a July 30, 2017, WhatsApp message from Mr. Biden to Henry Zhao, a Chinese businessman.

In a summary of the message, provided to the House Ways and Means Committee by Mr. Shapley, Mr. Biden told Mr. Zhao that he was sitting with his father and that "we would like to understand why the commitment made has not been fulfilled."

"Tell the director that I would like to resolve this now before it gets out of hand, and now means tonight," Mr. Biden wrote, referring to other participants in the proposed deal. "And, Z, if I get a call or text from anyone involved in this other than you, Zhang, or the chairman, I will make certain that between the man sitting next to me and every person he knows and my ability to forever hold a grudge that you will regret not following my direction."

Taken at face value, the message would undercut President Biden's longstanding claims that he had nothing to do with his son's international business deals.
WaPo ("IRS whistleblower says Justice Dept. slowed, stifled Hunter Biden case"):
An IRS agent who supervised the investigation into President Biden's son Hunter told lawmakers that Justice Department officials slowed and stymied the investigation, whittling away the most serious evidence of alleged tax crimes, according to a transcript of his account released Thursday.

The agent, Gary Shapley, offered a detailed and potentially damning account of prosecutors who were either timid or uninterested when it came to examining the financial misdeeds of Hunter Biden, which Shapley said includedinstances in which the president's son treated prostitutes and their travel costs as his business expenses.

The agent's account to the House Ways and Means Committee also directly challenged congressional testimony from Attorney General Merrick Garland, in which he said that Delaware U.S. Attorney David Weiss — a holdover from the Trump administration — had full authority to lead the investigation into Hunter Biden and could do whatever he wanted in the case.

A Justice Department spokesman stood by Garland's previous comments, and the lead Democrat on the House committee said the allegations should not have been released publicly while lawmakers are still vetting them.
There's quite a bit more, especially to the WaPo report, but those are the opening paragraphs of the stories. There's very little here that changes my mind about the whole affair.
Hunter Biden is, frankly, a rather horrible human being who has spent much of his adult lifetime leveraging his father's name to live a lifestyle he hasn't earned. He's the black sheep of the family. In fairness, though, he has endured more than his fair share of tragedy. To paraphrase the late Townes Van Zandt, he weren't his papa's favorite boy, but his only one it seems. His being severely messed up is hardly a surprise.
The evidence that his father leveraged his office, whether as Vice President in the original controversy or as President during this one, is, at best, circumstantial. My bias, because I find him generally decent and honorable, is that any such help was marginal and within the general bounds of propriety. And, ultimately, that's the much more important question than anything surrounding his wayward son.
Was Hunter Biden differently than if he had been Hunter Jones? Almost certainly. But, of course, that goes both ways. First, he probably wouldn't have been in the position to imply that his father could reward or punish in that instance. Second, and more to the point, Hunter Jones wouldn't have been subject to five years of intense public scrutiny and had anywhere near this level of Justice Department resources put into an investigation of comparatively minor crimes. But, third, of course the bar for charging the President's son with felonies is going to be higher than it would be if his father was just some rich businessman. Not because we live in some sort of aristocracy or the President's family is above the law but because the stakes are radically higher.
Because no conversation about Biden can be had without a "whatabout Trump," the same has obviously applied in the many cases surrounding him. In the two in which he's thus far been charged—the Manhattan business fraud case and the Federal Espionage Act case—prosecutors bent over backward to avoid prosecution. The Manhattan case appeared to be dropped entirely until a change of administration put in a new prosecutor with a different (and quite probably dubious) theory of the case. And the DOJ went out of their way to plead with Trump to simply give the stolen documents back, giving him months to do so, before finally issuing a subpoena and, after allowing it to be ignored for some time, finally raided the compound to seize them.