The New Red Scare
Fear of Chinese spies led to a bizarre and illegal operation within the Commerce Department.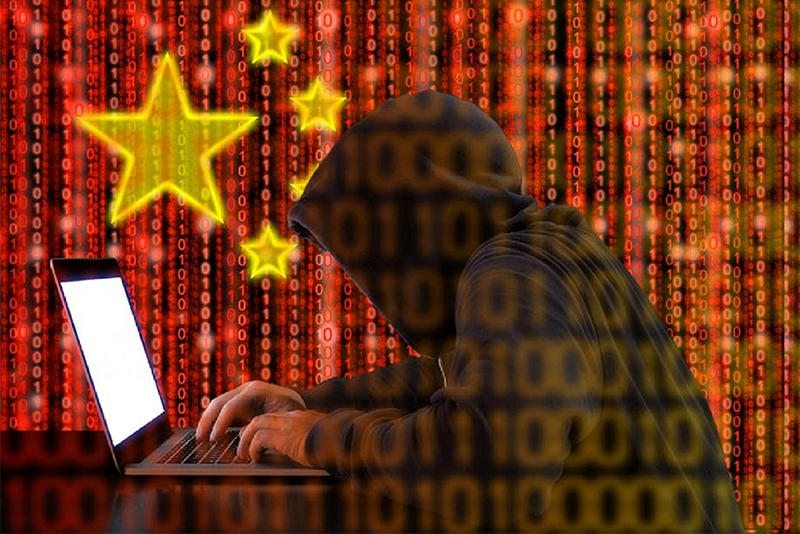 Catie Edmondson of the NYT reports that "An obscure federal office operated for more than a decade as an "unaccountable police force" inside the Commerce Department, using extreme and unauthorized tactics."
Officials in a little-known security unit within the Commerce Department conducted unauthorized surveillance and investigations into the agency's employees that targeted people of Chinese and Middle Eastern descent, Senate investigators said in a new report.

The report, informed by more than two dozen whistle-blowers and released this week by Senator Roger Wicker of Mississippi, the top Republican on the Commerce Committee, concluded that the Investigations and Threat Management Service functioned for more than a decade as "a rogue, unaccountable police force," opening thousands of unauthorized investigations into department employees, often for specious reasons.

It found that the work of the office — consumed by concerns about rampant Chinese espionage in the United States — sometimes veered into racial profiling, and that its leaders used extreme tactics, such as sending masked agents to break into offices to search for incriminating evidence.
I pay more attention to these things than most and must confess that I was completely unaware that a Investigations and Threat Management Service existed within the Commerce Department, let alone that it would have anything like the authority and resources to carry out this sort of operation. I am, alas, not all that surprised that an investigation bureau that flies under the radar went rogue, believing that the ends justify the means.
The unit, an internal security office inside the Commerce Department, became fixated on rooting out foreign espionage, according to the report, resorting to searching employees' email accounts for certain phrases in Chinese and flagging "ethnic surnames" for background checks through secure intelligence databases. In some cases, its agents would covertly search employees' offices wearing face masks and gloves, sometimes picking locks to gain entry.
While this sounds incredibly nefarious, searching employees' official email accounts and offices strikes me as well within the scope of reasonable investigation. I'm a DoD employee with no routine access to classified information and have to click a consent banner to the effect that essentially anything I do on my government-issued computer and/or official email account is subject to monitoring. It wouldn't surprise me in the least if Commerce Department employees were under similar strictures. Similarly, while I have a private office as a department head, the front office has a copy of the key and I assume they could search it if they wanted. And, if the purpose of the search is to find evidence of illicit activities, it strikes me as not only reasonable but prudent to wear gloves. The purpose of the masks eludes me; was it during COVID times?
The problem, then, would seem to be ethnic and racial profiling. Presumably, Commerce Department employees, especially those with access to sensitive information useful to adversary regimes, have security clearances and have thus been vetted. So it's not at all reasonable to assume that someone with "Chinese sounding" or "Middle Eastern" surnames is disloyal and worthy of heightened scrutiny absent suspicious activity.
In recent years, American law enforcement officials have become increasingly concerned that China is expanding its spying efforts in the United States and using visiting Chinese scholars for intelligence-gathering purposes. The Senate report laid out how those fears fueled an aggressive, unauthorized counterespionage effort inside a department that houses scientific agencies staffed by researchers from around the world. The result, it said, was a discriminatory effort to target and spy on people of Asian and Middle Eastern descent — many of them Chinese Americans, but some from Iran and Iraq — even in the absence of reasonable suspicion.
I would be shocked, indeed, if some significant percentage of visiting Chinese scholars weren't spies. I would be extremely leery of allowing them to access classified information. Further, it's not completely unreasonable to assume that naturalized citizens or even second-generation Chinese Americans are more likely targets of solicitation. Hell, that's baked into our annual counterintelligence training. But US citizens and, indeed, any employee or contractor, are entitled to fundamental civil liberties, including the presumption of good faith.
Further, while I at least sympathize with the goal of preventing Chinese and Middle Eastern espionage, if not the methods used here, it seems like something more was going on here:
Senate investigators painted a picture of a unit that routinely engaged in unethical or unsafe activities that were beyond the scope of its mandate and that its employees were not trained to do. The report indicated that the bulk of those efforts were driven over the course of multiple administrations by one official: George Lee, the unit's longtime director, who has since been placed on leave. Mr. Lee could not be reached for comment on Friday.

Investigators with the unit surveilled social media activity for commentary criticizing the census, and then would run the commenters' names through classified databases, "despite having unclear authority from the intelligence community to use these databases for this purpose," the report said.
People have a right to criticize the Census!
Much of the unit's focus was looking within the Commerce Department for perceived threats, often targeting "employees renowned in their professional fields," the report said, with many of those investigations targeting subjects with Chinese or Middle Eastern ancestry.

Investigators said that the practice dated back "as early as 2014," during the Obama administration, and that the unit specifically "targeted departmental divisions with comparably high proportions of Asian American employees."
If the practice began "as early as 2014," I'm not sure how it has been "more than a decade." Regardless, there seems to be no indication that it was initiated at a high level. And, rather obviously, it was not a Trump Administration initiative if it began two years before his election.
An internal document reviewed by The Times shows that unit employees were encouraged to search employees' email accounts for terms written in Chinese characters as broad as "fund," "government support" and "project lead," ostensibly to root out employees who were participating in a Chinese talent recruitment program. Any matching language found in an employee's inbox would prompt an investigation, two former employees said in independent interviews.
I'm trying to fathom an espionage program that's conducted using government email addresses and in Chinese characters. But, honestly, if the search itself were warranted, I see no obvious problem with targeting those Chinese characters.
In one instance, according to a whistle-blower, the unit conducted a covert search of an employee's office after such an inbox search revealed that the worker had received a certificate from a Chinese research partner designating the employee as an expert in their given field.

"If Commerce is serious about protecting U.S. equities, it can't be at the expense of American constitutional rights," Chris Cheung, a former investigator with the Investigations and Threat Management Service who reported the activity to his supervisors, said in an interview. Mr. Cheung described the conduct of the unit as if "someone that was haphazardly given a gun and a badge didn't receive training, so they operated based on what they saw in movies."

A former senior Commerce Department official interviewed by Senate investigators described the targeting of Asian American employees as a "fine line between extra scrutiny and xenophobia, and one that I.T.M.S. regularly crossed."
So, it certainly seems that the counterespionage operation was hamfisted and based on racial and ethnic stereotypes. But this particular example is odd: being designated an "expert in the field" by an adversary government is actually a well-known elicitation technique.
Regardless, it's bizarre that this program managed to run as long as it did without getting reported up the chain. Eventually, whistleblower(s) did just that.