The Party of Bob Dole is Now the Party of Rick Perry
Ooops.
Nate Silver sees Marco Rubio as a viable presidential contender because, "among the candidates who will be deemed reliably conservative by Republican voters and insiders, he may stand the best chance of maintaining a reasonably good image with general election voters."  It's a bit too early to interest me in speculation about 2016 but this graphic Silver compiled, an index of three widely used ideological rankings, struck me as worth delving into: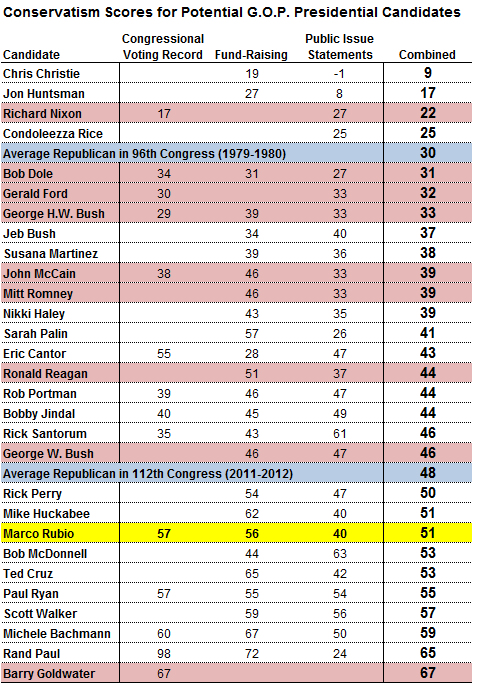 That Rubio is among the most conservative high profile Republicans is somewhat interesting, in that he's a moderate on immigration reform. I'd have thought him as less ideological than, say, Mike Huckabee, Bob McDonnell, or Ted Cruz; in fact, they're essentially tied.
What really jumped out at me, though, are the two blue lines: The average Congressional Republican at the time of Ronald Reagan's election was a 30. Which is to say, the average Congressional Republican was Bob Dole.  Contrast that with the caucus that just left office, which was a 48–halfway between George W.Bush and Rick Perry. Off the top of my head, I'd say that the current crop would be even more conservative, since the party lost seats in both swing districts and swing states—and tended to nominate ideological purists in places where they could be elected.
Interestingly, too, the two most recent Republican presidential nominees were both 39s on this scale–more conservative than the 96th Congress but less so than Ronald Reagan. All the 2016 nominees being widely touted are much more conservative than that–with the notable exception of Chris Christie, who's off the charts in the other direction. While less plausible, Rand Paul is to the other extreme.
Now, let's stipulate that these ranking schemas can be problematic. Taking a basket of goods, treating them as equally important, and assigning ranks based on them can sometimes give surprising results. For that matter, people disagree with the meaning of the label "conservative." Indeed, the indeces themselves do that, sometimes differing wildly on how they rank a given individual (see Rick Santorum and Eric Cantor for an illustration). But averaging the three should smooth out the variations and the overall rankings pass the smell test.