The PC Turns 30, Is It Over The Hill?
The IBM PC was introduced 30 years ago. Has its time passed?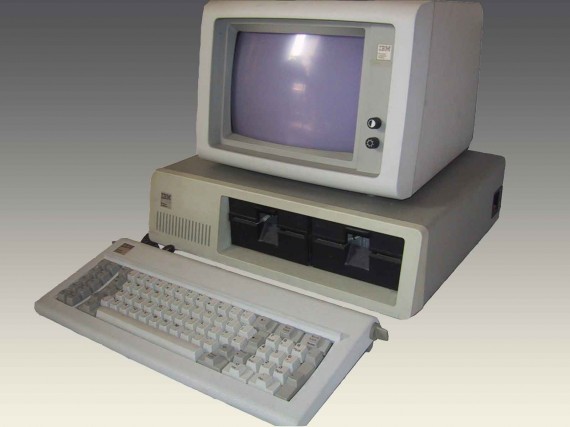 It was thirty years ago that IBM introduced the first true mass-market personal computer:
On August 12, 1981, IBM introduced its first personal computer known as the IBM PC.  I remember it well because I wrote the EasyWriter manual to accompany the word processing program that IBM sold along with that original PC.  I first saw the PC in April, 1981 after being hired as the "Director of Publications" at Information Unlimited Software, a small software firm in Kensington, California that IBM contracted to port the software from the Apple II to its as-yet-unannounced PC. I left the software company and became editor of PC Magazine during its first year of operation.

The PC wasn't the first personal computer. Apple was doing well with its Apple II and Radio Shack was on its second generation of PCs by the time "Big Blue" entered the market. There were also several PC makers in the business end of the market with machines that ran the CP/M operating system.

But it wasn't until IBM joined in that businesses and even most consumers started taking personal computing seriously.  Up until that time, personal computers were mostly for hobbyists and those willing to live on the "bleeding edge" of technology.

The first PC came standard with 16 kilobytes (KB) of memory at a bare-bones price of $1,265 without a monitor or a diskette drive.  A full-blown system with 64K of memory, two floppy drives, a display/printer adapter card and a monochrome screen cost $3,735 in 1981 dollars. Adjusting for inflation, that's $9,275 today.  IBM's dot matrix printer and its required cable added another $610 to the price tag for a grand total of $4,345. In November of 1981, I wrote an article for PC Magazine called "PC on a Budget" where I wrote about how to assemble your own PC for "only" $3,399.
By contrast, I am currently writing this post on a laptop with a dual core 2.4ghz processor, 2GB of internal memory, a 640GB hard drive, 32x read/write CD/DVD-ROM, Wireless and Bluetooth connections, a webcam, and more places to plug things in than I can figure out what to do with sometimes. The desktop at home is even more powerful. Heck, even my phone has a dual core 1ghz processor, 16gb of on-board memory, and two cameras. And all three were cheaper than even the least expensive version of the 5150. I don't have an iPad or other tablet but, if I did, the same would be true.
In short, the advances in the computer world over the past 30 years have been simply amazing, to the point where one wonders if we really need that big tower and screen anymore:
The days of the personal computer are numbered, a leading IBM designer has claimed. Dr Mark Dean, who worked on the original IBM PC, the 5150, wrote in a blog post commemorating its 30th anniversary, that "they're going the way of the vacuum tube, typewriter, vinyl records, CRT and incandescent light bulbs".

Dr Dean argued that PCs had created the environment for a new generation of devices, ranging across different form factors and uses. You only have to compare the 5150 with a top smartphone of today to see what he means.

Three decades of creativity has led, he claimed, to an environment in which technology allowed new ideas to flourish, without individual items being a barrier to between users and what they want to do.

He wrote that "PCs are being replaced at the center of computing not by another type of device – though there's plenty of excitement about smart phones and tablets – but by new ideas about the role that computing can play in progress. These days, it's becoming clear that innovation flourishes best not on devices but in the social spaces between them, where people and ideas meet and interact. It is there that computing can have the most powerful impact on economy, society and people's lives."

"While PCs will continue to be much-used devices, they're no longer at the leading edge of computing," he said.
It's hard to argue with Dean's conclusion here. When the PC first came out, the advances in computer technology took place almost exclusively in the world of personal computers. Partly, I would argue, this was because IBM had chosen early on to license its technology to other developers so that one could have an "IBM PC" without actually buying it from IBM. One pleasant effect of this decision was that PC developers, some of which don't even exist anymore, competed with each other to add new features to their PC's, while Intel helped the process along by developing faster and more powerful processors in a continual process that seems to establish that Moore's Law is a never-ending process.There will advances in the Apple world as well, of course, but the fact that Apple kept the production of Apple-type machines to itself meant that, for a time, it stayed at the edge of the PC market while IBM, Intel, and Microsoft continually pushed technology forward in an effort to give "new" things to consumers.
That's not so much the case anymore. Yes, processor development continues apace, computers continue to get faster, a d hard drives continue to expand to the point where having a 2 terabyte drive in your machine no longer seems very odd. The real developments now, though, are taking place in the mobile computing world. Led by Apple, but with other developers keeping pace, smartphones and tablets are where the exciting stuff is happening in technology right now, and people are finding the idea of being able to access the internet from a device that sits in the palm of their hand or rests in their lap to be a regular part of daily life.
That doesn't mean PC's will go away, of course. They'll still play a huge role in the business world for the foreseeable future, and in education as well. But for the average person looking for a computer that hooks them up to the Internet, lets them use word processing and other personal productivity software, and doesn't cost too much, a laptop is just fine. In a few years, some version of what we now call tablets may fulfill that world. Meanwhile, PC's will continue to be used by people who want something more powerful out of a computer, or who are into intense gaming or video editing. The days of the PC being the center of the computing world for the average household, though, seems to be fading.
It's been a good 30 years, though, hasn't it?