The Perils Of A Cashless Society
There are advantages to cash that electronic transactions cannot replicate.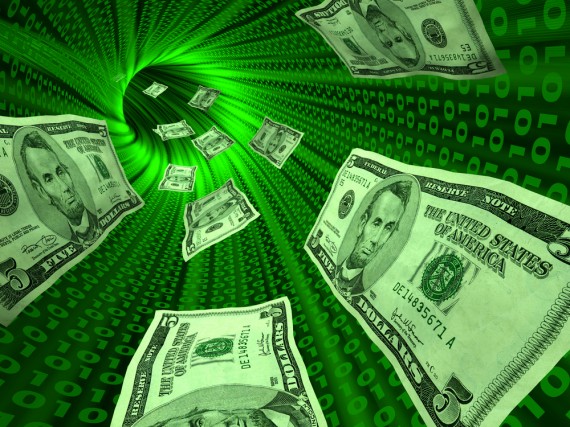 Zoe Pollack, one of the people filling in this week for Andrew Sullivan while he's on vacation, links to this interesting piece by George Mason University Professor Jerry Brito that argues that the idea of a cashless society brings with the loss of one of cash's greatest advantages, anonymity:
Moving away from paper notes and coins and toward a digital currency is a no-brainer, at least when it comes to cost and efficiency. But when it comes to privacy and freedom, cash can't be beat. We must ensure that we protect our civil liberties by preserving some untraceable payment method.

Cash is anonymous, which helps keep one's purchases private. Cash is also difficult to control: a $100 bill never gets "declined." In a cashless world, however, not only would it be easier for governments and corporations to spy on our transactions, but also they would gain greater control over which transactions to allow at all.

(…)

Imagine if the only way to support unpopular causes was with easily controlled e-money. Certain transactions could be disallowed by law, political pressure or corporate fiat, and anonymous giving would be impossible. Each of your transactions would be tied to your identity. One could not make a purchase at a gay bookstore or a pregnancy clinic without knowing that somewhere there's a permanent record of the transaction. And there might not be any transaction that couldn't be subpoenaed in a divorce or other legal proceeding.

Some consumers worry about online tracking by marketers. They should be just as worried about "Know Your Customer" laws that today require banks and other financial institutions to report to the government what they believe are "suspicious" transactions — a flexible standard.

If we do move toward a digital currency, we should ensure that we retain some type of digital cash that is anonymous — or at least pseudonymous — and that is not tied to a financial intermediary that can control transactions.
A few caveats to Brito's argument are worth noting. First of all, it's likely to be a long time before we move to a truly cashless society where everything from the car you buy next week to the Diet Coke you picked up at the 7-11 last week can only be paid for electronically. Yes, I can use my credit or debt card to buy that Diet Coke or for any other low-dollar transaction as long as the merchant allows it (some stores still seem to have a rule that transactions must be above a certain limit for credit card use, obviously to limit the fees they incur), and sometimes I do if it's convenient. Usually, though, it's just easier to throw out a couple dollar bills and get change in return (of course, then the change gets stuck in my pocket and ends up in a jar at home never to be used again except as a bank deposit at some point).  Second, it strikes me that for some kinds of transactions were unlikely to ever see the day where everything will have to be done electronically. What about garage sales for example? I doubt you'll see the Jones's putting out a credit card terminal on a Saturday morning. The same thing goes for flea markets and farmer's markets, where most merchants don't take credit cards. As long as that's the case, cash will continue to exist. Finally, a related point worth noting is that there is a cost involved for merchants who accept electronic payments and they are likely to be strongly opposed to any effort to move completely away from cash.
Keeping all of that it mind, Brito does raise some important points. There is an anonymity to cash transactions that simply does not exist with electronic transactions of any kind. When you pay or something in cash there (usually) isn't any way of tracing it back to you, and unless the seller keeps some kind of sales ledger with your name in it, no record of what you bought. Sometimes, that anonymity allows people to purchase a good or service that would prove potentially embarrassing if it were to be made public. In the case of politics, of course, donations to candidates cannot be anonymous by operation of law but there are potentially other situations where people might be deterred from helping out a controversial cause if they knew their donation would become public knowledge. When transactions are conducted electronically, that anonymity no longer exists. Whether its by credit  card, debit card, or bank wire transfer, there is a record somewhere of what was done, a record available not only to the government, but potentially to, say, a spouse's attorney in a particularly bitter divorce.
There are, as Brito notes, many things about a "cashless" society that would be convenient and far more efficient. However, it's also the kind of world that would allow a whole host of people to track our activities even more closely than they do today. We should probably think carefully before we jump headlong into this brave new world.
Electronic Remittance Through The Internet image via Shutterstock