The Coming End Of Checks
Once ubiquitous, checks are disappearing as a means of payment.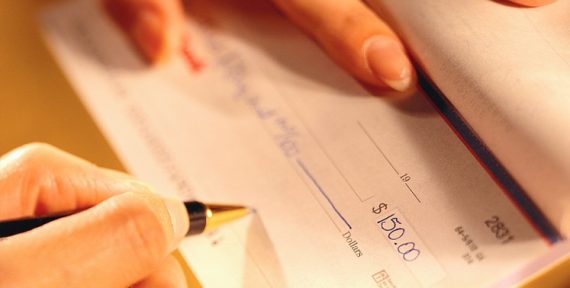 Matt Phillips at The Atlantic notes that the use of checks has declined precipitously in the last decade or so:
The usage of checks as a payment system has plummeted in the U.S. in recent years. In 2000, checks were used in more than 40 billion transactions, according to a recent report from the Federal Reserve's Cash Products Office. That number is down to less than 20 billion, according to the Fed's most recent numbers, which are based on a survey conducted in October 2012.

When it comes to American payment preferences, checks run a distant fourth. (At least when you measure the overall number of transactions. Checks are used for about 19 percent of the value of all purchases, slightly higher than debit or credit cards.)

There was a time when checks were the hot new payment technology. In the years after World War II, newly affluent American households adopted check writing like never before. The overall number of checking accounts in the U.S. doubled between 1939 and 1952, rising to 47 million. The number of checks written hit about 8 billion in 1952.
As this chart shows, the use of checks continued to grow until well into the 90s, but has been on a downward slant ever since: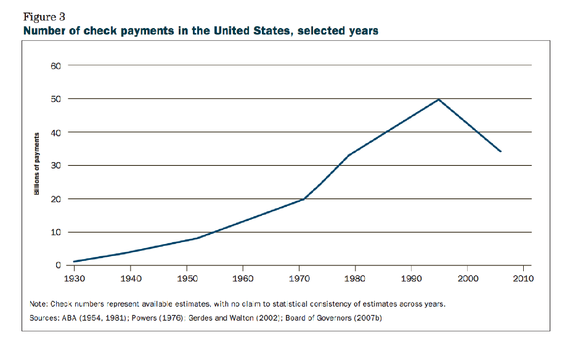 And this chart shows that, since the start of the century, checks have declined to third place on the list of non-cash methods of payment: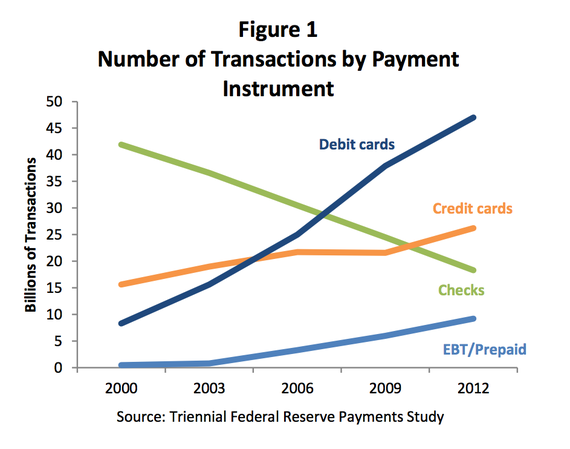 Of course, cash is still king, even in an era where electronic forms of payment are so ubiquitous: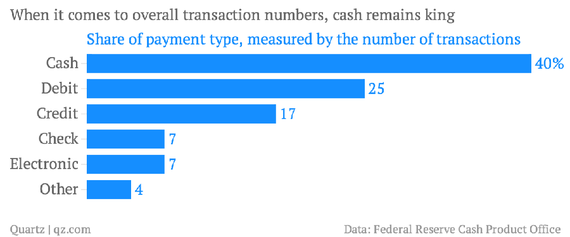 There's been a lot written about the coming of the so-called "cashless" economy, where electronic transactions in one form or another would constitute the majority, if not all of the spending that people do on a daily basis. For many reasons — convenience, the fact that small businesses don't always invest in the expense of credit card machines, and the lack of any easy way to pay electronically for things like a vending machine Coca-Cola or Girl Scout Cookies — that hasn't happened nearly as quickly as some people may have anticipated. Moreover, as I noted earlier this year, there are some good privacy reasons for not cheering for an era when every transaction we make can be tracked and traced electronically.
On the other hand, there aren't many reasons to bemoan the fact that checks are disappearing from the financial world. When they came into large scale use in the 50s, they were a convenient way for people to spend money without having to carry around large amounts of cash and, because charge cards and credit cards were largely unknown at the time, they became quite popular. With the rise of credit cards and, especially ATM Cards that can be used at the point of sale, though, there really isn't much reason to use them anymore. Speaking for myself,  there are at most a handful of transactions for which I would regularly write a check rather than using some other form of payment, and as soon as those move to some form of electronic draft payment, I'd likely move to that immediately. Indeed, while did have to order a new set of checks a few months back the 200 or so that are in that package are probably going to last me for a quite a long time.
This process seems to be further along in other countries. Great Britain announced back in 2009 that it was phasing out the use of checks, with a target date of October 31, 2018 for the end of the system that country uses to clear checks. That process seems to be moving forward. There hasn't been any discussion of anything similar here in the United States, though, and I would imagine that such a plan would be met with protest here even though check use has declined significantly in recent years. Even if the U.S. check clearing system doesn't get shut down like the British system apparently is, though, the trend is clear. Check writing will be as foreign a concept to future generations as the concept of making a "long distance" phone call.