The Republican Candidates And The Separation Of Church And State
The Republican candidates for President are blurring what should be a pretty clear line.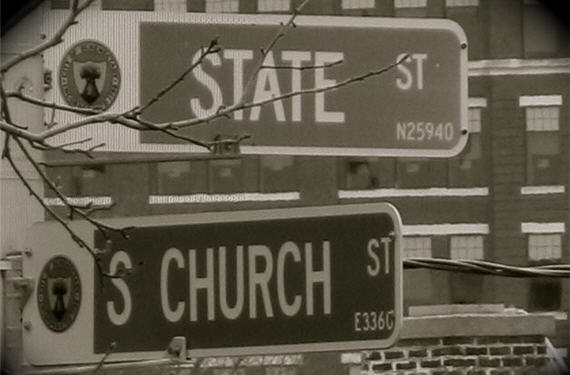 Reflecting mostly the heavy evangelical makeup of Iowa Republicans, we've seen religious themes, and the so-called "War on Religion" by unnamed secular forces, playing in a major role in the campaign over the last several weeks. Just last week, for example, Rick Perry released an ad in Iowa in which he decried the President's so-called "war on religion." That, however, was just the beginning it seems. This weekend, Perry was in the pulpit of a Charles City, Iowa church addressing the role of faith in government:
"In the world today we often get told, particularly people of faith, that you leave your faith at the door, or on the steps of the public arena, don't bring your faith into school, don't bring your faith into the council meeting, don't bring your faith into the capitol," Mr. Perry told the parishioners here, as he walked back and forth in front of them, talking into a microphone. "That separation of church and state that we have been led to believe is some clear, hard line."

He continued: "Isaiah was talking about taking your values into the public arena. As a matter of fact, you are biblically charged to take your values into the public arena."

He condemned what he called the "politically-correct police who say you can't bring your faith into the public arena."

"You will be criticized, but do not be intimidated."

He concluded: "Somebody's values are going to decide the issues of the day, whatever they may be. Somebody's values are going to be installed, if you will. The question is going to be, whose values? Is it going to be those of us of faith, or is it going to be somebody else's values?"
This is a canard that you often here from the religious right. To them, it seems, the idea of  "separation of church and state" means that religious politicians are required to leave their values at the door when they take office. I don't know anyone who actually believes this should be the case outside of the scaremongers who repeat that line pulpits on a weekly basis. Nobody is saying that values should not guide the decisions that a politician makes while in office, in fact one would hope that a leader is guided by values when making decisions like sending men and women to war, or deciding on the proper treatment of detainees. Valueless governing is what gives you places like Nazi Germany and North Korea. So, Perry's argument is a strawman and if this an example of his so-called "war on religion," then it is an even more ridiculous meme than I had thought it to be.
Perry isn't alone in hitting on this issue, of course, Newt Gingrich has said that it is the motivation behind his rhetorical assault on the judiciary:
"I got in this originally for two things: the steady encroachment of secularism through the courts to redefine America as a non-religious country and the encroachment of the courts on the president's commander-in-chief powers, which is enormously dangerous," Gingrich said.
Even Mitt Romney has gotten into the game, perhaps to shore up his bona fides among evangelicals who already have doubts about Mormons:
Mitt Romney discussed religion in the public square on Friday, advocating the right to public religious expression "particularly at this time of year."

"I know there are some people who would like to make this nation a secular nation, who want to take God out of everything that exists in this country. They try to say it's unconstitutional," Romney said. "I trust in God, and I know you do, and I believe it's appropriate for us to recognize in the public square that we do indeed have a creator and that we trust in our creator, particularly at this time of year."

Romney was responding to a question about celebrating Christmas as a religious holiday, particularly in schools. The question offered Romney a chance to contrast with fellow Republican presidential hopeful Rick Perry, who is running an ad on Iowa TV that accuses President Obama of waging a "war on religion." American children cannot "openly celebrate Christmas or pray in school," Perry says in the ad

"How do you take God out of America when the declaration points out it's God that gave us those rights in the first place?" Romney said. "I believe that we should be able to have religious ornamentation and celebration in the public square. Whether that's a manger or a menorah, or representatives of other faiths, it is important for us as a society to recognize that we look to God for many of our blessings."
As is typical when conservatives discuss this issue, Romney doesn't quite get the legal status of religious holiday displays correct, and it is far from the case that a government entity is forbidden in all cases from ever including a religious element as part of official Christmas decorations. The Supreme Court first dealt with this issue in Lynch v. Donnelly in 1984. In that case, Pawtucket, Rhode Island had a holiday display that included  a crèche, along with other items ranging from Santa and his reindeer, a Christmas tree, for some odd reason, cutout figures of a clown and an elephant. The Court ruled 5-4 in that case that the city's inclusion of an explicitly religious element in the display was constitutional. The only other Supreme Court case dealing with this issue is County of Alleghany v. ACLU, a 1989 case which dealt with two separate displays, a crèche that stood alone at the top of the steps of the County Courthouse, and a display outside a country office building that included a menorah sponsored by an outside group, and a Christmas Tree. The Court's opinion in this case was heavily divided but the basic result was the Court's ruling that the crèche was barred because its "principal or primary effect" of the display was to advance religion within the meaning of Lemon v. Kurtzman. The Menorah, however, was acceptable. Since then, the general rule for displays of this type has been that religious elements are permissible so long as they are part of a display that is not in and of itself religious. In other words, Mitt Romney gets it wrong.
This isn't Romney's first foray into the religion wars, of course. Four years ago, when his own faith was under attack by supporters of Mike Huckabee, he gave a speech on religion at the George H.W. Bush Presidential Library. Unfortunately, his speech presented a vision the proper role of religion in politics that seemed to exclude anyone who didn't believe in a divine being:
Romney has already declared war on secular America. In December 2007, you may recall, he delivered a speech in which he defended his Mormon religion at a time when he was under assault from evangelical Christians. It was, in many respects, a sensible plea for religious tolerance.

Except that Romney called for tolerance only among believers, explicitly omitting non-believers. "Any believer in religious freedom, any person who has knelt in prayer to the Almighty, has a friend and ally in me," Romney said. "And so it is for hundreds of millions of our countrymen: we do not insist on a single strain of religion – rather, we welcome our nation's symphony of faith."

As New York Times columnist David Brooks wrote the next day, "Romney described a community yesterday. Observant Catholics, Baptists, Methodists, Jews and Muslims are inside that community. The nonobservant are not. There was not even a perfunctory sentence showing respect for the nonreligious." Brooks – a conservative, though a secular one – warned that Romney was calling for "a culture war without end".
In that same speech, Romney also said that "Freedom requires religion just as religion requires freedom." A more untrue statement on this issue has never been uttered by a Presidential candidate. Freedom, in the sense of individual liberty, does not require religion and more than it requires one to believe in the existence of extraterrestrials. Individuals possess rights because of their nature as individuals, not because of doctrines established 1,000 years ago at a religious conference. And, more importantly, one can believe in individual liberty without believing in any god. Thomas Jefferson made that one clear 230 years ago:
The legitimate powers of government extend to such acts only as are injurious to others. But it does me no injury for my neighbour to say there are twenty gods, or no god. It neither picks my pocket nor breaks my leg
This is the problem with the Republican Party today. It has tied it's fortunes to the continued loyalty of a group of people to whom religion is not only important, but who believe that the lack of religion is an sign of moral defectiveness, it turns the idea of religious tolerance on its head. Under the new definition it doesn't mean that you're entitled to believe whatever you want regarding religion, including nothing, but that you are entitled to believe in something.
Perry, Romney and other candidates are right to argue that being a person of faith does not make him less of an American, but then nobody is really seriously suggesting that. It's clear, though, that they would not extend the same right to an athiest or an agnostic running for political office who believed in the American ideals of individual liberty and freedom of thought, but refused to believe in the civic religion that some Republicans wish to force on the rest of the country. Rather than prattling on about a non-existent "War on Religion," these candidates should consider again some other the words from America's 3rd President:
Believing with you that religion is a matter which lies solely between man and his God, that he owes account to none other for his faith or his worship, that the legislative powers of government reach actions only, and not opinions, I contemplate with sovereign reverence that act of the whole American people which declared that their legislature should 'make no law respecting an establishment of religion, or prohibiting the free exercise thereof,' thus building a wall of separation between church and State.
Or perhaps the words of America's 40th President will move them:
"We establish no religion in this country. We command no worship. We mandate no belief, nor will we ever. Church and state are and must remain separate."
It's time to extend that wall and separate religion and politics.