The Rise Of The Robots And The Decline Of The Middle Class
Technology continues to make more and more jobs unnecessary and irrelevant. And the consequences are going to be widespread.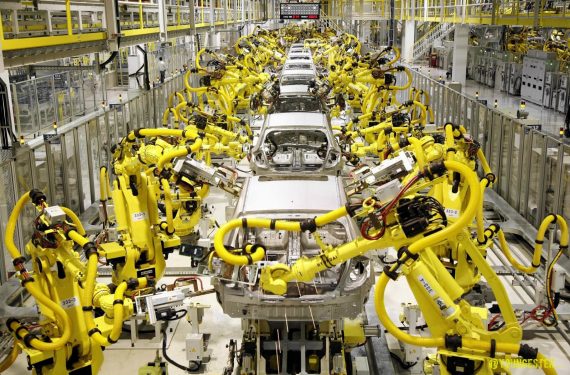 When you read about the dangers of artificial intelligence in the popular media, most of the writing focus on the dangers of superintelligent machines developed by man who decided on their own that they know better than humans how to run the world, or of something as simple as tiny single-celled artificial nanotechnology that becomes a threat to the environment that man simply can't control. Given the current state of AI, it seems as though we are fortunately far away from being able to bring about either of these dystopias, at least for now, given the current state of technology and the expected rates of growth in the field. To some extent, it seems clear that the risk of these dangers is most likely overstated. For one thing, as long as humanity continues to have the power to turn machines off the possibility of some all-encompassing global intelligence remains fairly low. In addition, researchers are working on safeguards that would hopefully prevent such things from happening. At the very least, it seems clear that these dangers will remain, for the time being, between the pages of a science fiction novel and may not be as realistic as many dystopian views of the future would have you believe. As a recent article in Wired notes, though, the more immediate concern is far closer in time and far more likely to happen, and in fact has been in the works for about the past thirty years now:
At a time when the Trump administration is promising to make America great again by restoring old-school manufacturing jobs, AI researchers aren't taking him too seriously. They know that these jobs are never coming back, thanks in no small part to their own research, which will eliminate so many other kinds of jobs in the years to come, as well. At Asilomar, they looked at the real US economy, the real reasons for the "hollowing out" of the middle class. The problem isn't immigration—far from it. The problem isn't offshoring or taxes or regulation. It's technology.

In the US, the number of manufacturing jobs peaked in 1979 and has steadily decreased ever since. At the same time, manufacturing has steadily increased, with the US now producing more goods than any other country but China. Machines aren't just taking the place of humans on the assembly line. They're doing a better job. And all this before the coming wave of AI upends so many other sectors of the economy. "I am less concerned with Terminator scenarios," MIT economist Andrew McAfee said on the first day at Asilomar. "If current trends continue, people are going to rise up well before the machines do."

McAfee pointed to newly collected data that shows a sharp decline in middle class job creation since the 1980s. Now, most new jobs are either at the very low end of the pay scale or the very high end. He also argued that these trends are reversible, that improved education and a greater emphasis on entrepreneurship and research can help feed new engines of growth, that economies have overcome the rise of new technologies before. But after his talk, in the hallways at Asilomar, so many of the researchers warned him that the coming revolution in AI would eliminate far more jobs far more quickly than he expected.

Indeed, the rise of driverless cars and trucks is just a start. New AI techniques are poised to reinvent everything from manufacturing to healthcare to Wall Street. In other words, it's not just blue-collar jobs that AI endangers. "Several of the rock stars in this field came up to me and said: 'I think you're low-balling this one. I think you are underestimating the rate of change,'" McAfee says.

(…)

In the end, no one left Asilomar with a sure way of preventing economic upheaval. "Anyone making confident predictions about anything having to do with the future of artificial intelligence is either kidding you or kidding themselves," McAfee says.

That said, these researchers say they are intent on finding the answer. "People work through the concerns in different ways. But I haven't met an AI researcher who doesn't care," Etzioni says. "People are mindful." But they feel certain that preventing the rise of AI is not the answer. It's also not really possible—a bit like bringing those old manufacturing jobs back.
Technology taking jobs away from human beings has been an issue throughout human history ever since automobiles displaced the horse-drawn carriage business and light bulbs turned candles and other forms of light from an essential item to a decorative one that was no longer as widely in demand as it once used to be. One of the largest such displacements occurred when agriculture became far more mechanized and sent people into the major cities looking for work in the emerging and growing factories that created everything from automobiles and appliances to the steel beams used to build many of the world's most majestic buildings and bridges. For the most part, though, when technology caused one industry to displace another, it led to the creation of new industries that in many cases employed far more people at far better wages than what it had displaced. As a result of this, advances in technology have historically been good for the economy and good for the American public. Thanks to the factory jobs that the Industrial Revolution created and then the office jobs that came about in the wake of the Great Depression and World War II, the American middle class came into existence and managed to live a pretty comfortable life for several decades starting in the 1950s.
At some point starting roughly in the 1980s, though, technology went from something that expanded opportunity for jobs to one that made more and more jobs unnecessary. Robots have replaced human beings on assembly lines for automobiles, appliances, and so much more, and they are able to do their jobs faster, more accurately, and less expensively to such a great extent now that it takes far fewer people to make something like a car than it did 30 or 40 years ago, and the cars themselves are safer, more environmentally friendly, and provide more value for the dollar than the automobiles built primarily with human labor. The same is true in a whole host of other industries. Additionally, technology has increasingly made many jobs once held by human beings less necessary, if not eliminated them entirely. These technological advances are far more responsible for the loss of manufacturing and other jobs than the off-shoring that Donald Trump and his supporters complain about, and even if Trump does succeed in his efforts to get companies like Ford to forgo plans to move plants to places like Mexico and China, the truth of the matter is that the majority of those manufacturing jobs are gone and not coming back. The same is true for the office jobs that have displaced by technology, the jobs in the fast food industry quickly being displaced by the use of self-order kiosks at places such as McDonald's (and even now coming to your local Applebees, T.G.I. Fridays, or Red Robin thanks to the rise of similar table-side devices in the casual dining industry), and of jobs for taxi drivers (already threatened by the rise of Uber and Lyft) and truck drivers thanks to the impending rise of driverless vehicles.
Sooner rather than later, America and the rest of the world is going to have to figure out how to deal with the fact that technology has made human labor far less necessary and that only promises to expand in the future. To some extent, of course, the jobs that are lost are being replaced by jobs in high-technology that are needed to build and develop the machines that are replacing the things people used to do. Those jobs usually require specialized training and knowledge, though, and are far less numerous than the number of jobs they are displacing. The service industry is another avenue for people to pursue, of course, but even there technology is taking the place of human beings in a variety of ways that make it possible for fewer people to do the same amount of work more efficiently and at a quicker pace. Some industries will remain immune to the rise of technology for a while longer, but even in areas such as medicine and the law, technology is having an impact on how many support personnel are needed to maintain the level of service that people have come to expect. These are trends that are only going to continue, and they are going to have profound effects on the lifestyles of the middle class across the world. That's something that no amount of bluster from the likes of Donald Trump will be able to fix.