The State Of North Colorado?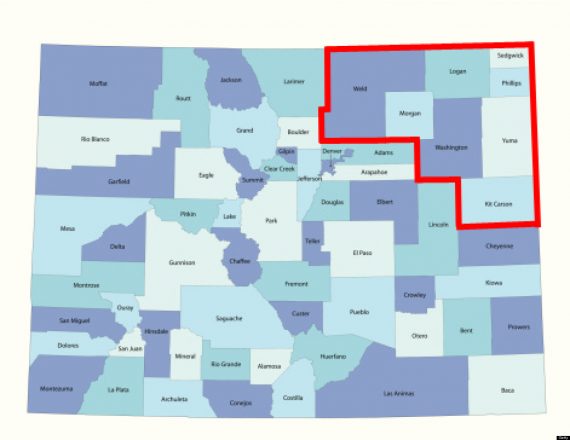 Political conflict and cultural clashes have led some in the northern parts of Colorado to talk about forming a new state:
There's a growing effort to create a 51st state out of parts of northeast Colorado and southwestern Nebraska.

Ten counties started talking about seceding last month. Now some people in Lincoln and Cheyenne counties say they want to join a new state they'd call "North Colorado," reports CBS Denver station KCNC-TV.

Organizers of the secession effort say their interests are not being represented at the state Capitol. Representatives from the 10 counties held a meeting on Monday in the town of Akron in Weld County to begin mapping the boundaries for the new state they say will represent the interests of rural Colorado.

The secessionist movement is the result of a growing urban-rural divide, which was exacerbated after this year's legislation session, where lawmakers raised renewable energy standards for rural electric co-ops, floated bills increasing regulations on oil and gas and passed sweeping gun control.

The creation of a new state comes with risks. A new state would have to draw up new water agreements, which are critical to agriculture and uses 85 percent of Colorado's water. Supporters say it also comes with new opportunities.

"I say 80 percent of the oil and gas revenue in the state of Colorado is coming out of northeastern Colorado – Weld, Yuma County and some of other counties," Weld County Commissioner Sean Conway said. "Seventy percent of the K-12 funding is coming off the state lands in Weld County alone. I'm telling you, we are economic drivers."

But not everyone is in favor of the plan.

"I don't want be in a 51st state. I don't want any part of their fracking that they're doing in Weld County," Washington County resident Steve Frey said.

(…)

In addition, organizers say three other Colorado counties and two in Kansas have said they may join the secession movement. Previously, officials said parts of Nebraska also expressed interest in joining in on what would be a new state. They hope to put the idea to voters as early as this November.
This would be far from an easy prospect, to create a new state out of the territory of an existing state, the Constitution requires the consent of both Congress and the legislature of the existing state. Add in parts of other states and it just becomes more complicated, which is why this is really nothing more than talk.
It's also not very new. There have been many proposals throughout the years to create new states by carving up existing states including California, New York, and Texas.  However, the only time a state has actually been created from the territory of another state was in 1864 when the far western counties of Virginia formed the State of West Virginia. At this point, we are at the point where the logistics of doing so are just far too expensive to make it practical in almost any situation. What were' seeing here, then, is evidence of the political/cultural clash between the urban and rural areas of Colorado and its neighboring states. It's far more likely that this will be worked out politically than that we'll be sewing a 51st star to the U.S. Flag at any point in the future.
Hypothetical Map via Huffington Post