The State You Live In Could Decide How Good Your Thanksgiving Is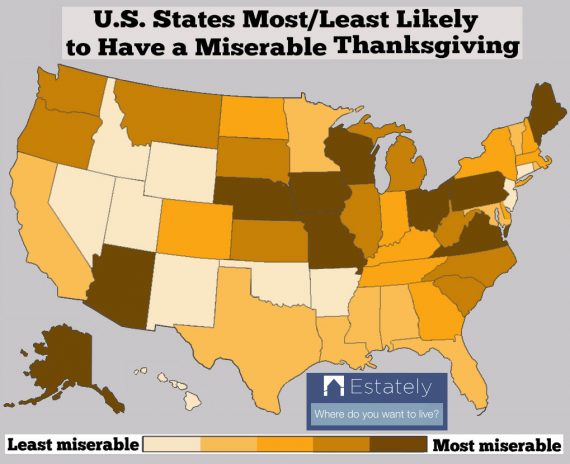 Depending on the state you live in, you may be more likely to have a miserable Thanksgiving:
Amid the toasts and good times, there's also the Thanksgiving disasters. There's more that can go wrong on Thanksgiving than undercooking the turkey and sending everyone home with food poisoning.

There's all that drinking, arguing about politics, watching a favorite football team lose and worrying if your vegetarian niece and gluten-intolerant in-laws will find something to eat or storm away from the table.

The likelihood of any – or all – of those things happening may be determined by in which state you choose to celebrate the holiday, according to the the number crunchers at real estate app Estately.

They looked at salmonella and binge drinking stats from the Centers for Disease Control, game results from the National Football League and other figures such as Facebook user data on dietary preferences and enthusiasm for Black Friday sales to come up with their list.

Where does where you're having Thanksgiving rank?

Happiest states


Hawaii

New Mexico

Arkansas

Utah

New Jersey

For those who choose happiness, it will be better to make a beeline this Thanksgiving for sunny Hawaii, where there's a very low chance of getting salmonella; Utah, which has a few picky eaters; Arkansas, which ranks low for binge drinkers or New Mexico, where salmonella, binge drinking and folks with dietary restrictions all appear to be at minimum.

Most miserable states


Ohio

Iowa

Pennsylvania

Arizona

Wisconsin

Steer clear, if you can, of states at the top of the misery index: Ohio, the number 1 state for citizens with
dietary restrictions; Iowa, which ranks 5th as the state with the most binge drinkers; and Pennsylvania, the 7th on the list of states split between republican and democrat voters.
Of course Hawaii's one of the happiest states. Isn't that generally true of any day ending in a y? In any case, you can check out the map at the top of the post to see where your state ranks and, hopefully, avoid being miserable even if you are spending it in the Buckeye State, Pennsylvania, Iowa, Wisconsin, or Arizona.