There's No Generational War Brewing Over Coronavirus
Young people acting selfishly is a fact of life.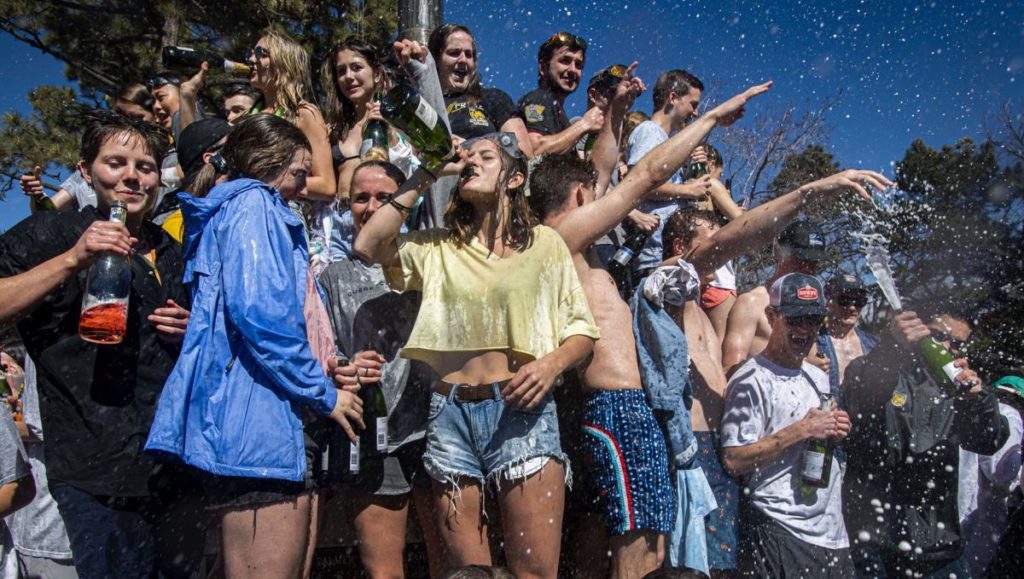 The Wall Street Journal claims "A Generational War Is Brewing Over Coronavirus." The support for this shocking thesis is some anecdotes of the sort we all saw over the weekend.
Scientists and government officials fighting the coronavirus epidemic say they have a problem: Carefree youths.

As authorities moved to restrict social gatherings last week, bars and restaurants from New York to Berlin filled up with revelers, illegal "lockdown parties" popped up in France and Belgium, and campuses in the U.S. lit up for end-of-the-world dorm parties.

So far, most young Covid-19 patients have experienced mild or no symptoms from the virus, while more severe cases are concentrated among those aged 50 and over. Data released last week by the National Health Institute in Italy, currently the world's worst-hit country, shows mortality rates starting at 0% for patients aged 0 to 29 and edging up to peak at 19% for those over 90.

Yet scientists say tests have shown children and young adults are no less likely than older people to get infected and transmit the virus.

Epidemiologists are growing concerned that the millennial pushback against social-distancing measures—and an emerging generational divide about how the disease is perceived—could undo all efforts to slow the spread of the virus and put vulnerable people at high risk.
How so?
After Princeton University said last week it would move classroom instruction on-line on March 19 and send most of its students home, the campus saw an explosion in gatherings and parties, according to students and staff.

"People were not ready to give up their lifestyle without one last hurrah," said Ben Weissenbach, a Princeton undergraduate English major who was critical of some of the partying. "At a really privileged place like Princeton, we don't tend to even consider the possibility that our bubble could be popped."
So, we have people of all generations still eating in restaurants and going to bars, forcing government leaders to order shutdowns. And a few kids at Princeton behaving like, well, college kids.
What else?
In a display of juvenile gallows humor, the hashtag #BoomerRemover, a nickname for the novel coronavirus, briefly trended on Twitter last weekend.
People are using dark humor during a crisis? Shocking.
What else?
Across Europe, where social life is shutting down faster than in the U.S., a divide is spreading between the young, many of whom say they don't fear the virus, and their elders, including politicians and scientists, whose alarm about the illness is growing by the day.
Young people are more cavalier about their mortality than older people? Shocking.
What else?
In Berlin, a European clubbing hot spot, authorities ordered the closure of all bars and clubs on Saturday. Yet many establishments ignored the decree, forcing police to forcibly shut down some 63 establishments across the city.

That night, the Ernst basement bar in the trendy district of Kreuzberg was packed with patrons enjoying loud electronica. "Beware: Coronavirus" was sprayed on a bench near the entrance.

Inside the stylish Wagemut cocktail bar, a young woman pretended to sneeze in someone's face, unleashing thunderous laughter.

On Sunday, Berlin health officials said 42 people were thought to have infected themselves in Berlin clubs. Some of those were club-hopping, spreading the virus as they went.

"This is the attitude of people who are part of this nightlife," said Lutz Leichsenring, a director of the association of Berlin club owners. "So what? You get the flu, you're not going to die."
Germans not following orders is somewhat unusual. But, otherwise, we have anecdotal evidence of one person being an asshole and quite a few being whiny punks. But, still, this ain't exactly a "generational war."
Despite the pointed fingers and occasional excesses, many young people bristle at the accusation of selfishness, saying the new social constraints are disproportionate and unfairly target their generation.

"They're preventing us from living," said Timothée Thierry, a 30-year-old statistician at France's health ministry. He spoke on Sunday, after the government shut down bars but before it locked down the entire country.

In Italy, which has been on lockdown for days, young people, especially students, face a choice between returning to their parents' homes or remaining cooped up in small apartments, desperate for a social outlet.

One student in the Piedmont region of northwestern Italy said she sneaked out of her apartment to attend a dinner party because she was feeling depressed from days of isolation. The party was only a 10-minute walk away. Once there she joined four other people, drinking wine and eating around the dinner table.
Again, more anecdotes about people taking modestly stupid risks.
"If I get sick, I will spend some days at home to avoid spreading it to others," said Monica Rubio, 19, who was having a late breakfast with three friends late last week in Barcelona, Spain, one of Europe's most heavily affected countries.

"Otherwise I won't change my life because of it. I can't imagine people would stop shaking hands, kissing or hugging. It is deeply entrenched in our society."
Another short-sighted 19-year-old. But my 19-year-old stepson, who moved in with us this summer to go to college (which is now going virtual) went to visit friends where he grew up over the weekend. Granted, we're not at the same stage in the crisis as Italy and haven't ordered shutdowns. But, regardless, it's young people wanting to be social, not a war against the elderly.
And, from my anecdotal observations—and, hey, anecdotes are apparently the singular of data in this conversation—plenty of middle-aged and older people are still out and about more than they ought to be. It's evidence that it's really hard to get people to sacrifice the freedom which is their birthright in the face of a vague risk. (And, until the last couple of days, an extreme downplaying of the threat from the President.)
John Cole figures that, if the young are in fact being cavalier about the safety of their elders, it serves them right.
On one hand, wtf. On the other, maybe keeping generations of people at subsistence living at slave wage gig economy jobs was a bad idea. We've told them to be thrift, they're just taking advantage of the bargains and living their lives.
But, as his commenters have already pointed out, most of these examples are coming from countries with much more generous social welfare policies than we have here. German students selected to attend university go free of charge. In France and Italy, it's not free but it's quite inexpensive compared even to the UK, much less the US. And, surely, a 30-year-old statistician at France's health ministry has no right to be upset by the gig economy.
And John adds,
I should note that I personally know NO young adults with this attitude. All the people I know are staying inside. So who knows how overblown this report is.
Pretty damn overblown, I'd bet.