This Budget Cutting Thing is Hard
To borrow a phrase: budgeting is the science of muddling through (with an emphasis on the "muddling" far more than the "science."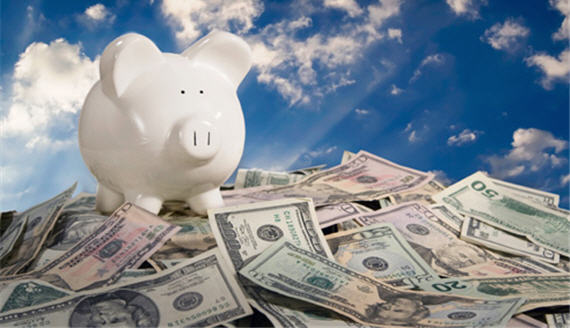 James Joyner has already noted an AP piece (at WaPo) on the CBO's scoring of the budget deal cut last week.    The piece notes that not only is the deficit reduction agreed to far smaller than advertised ($352 million instead of $38 billion) but, in fact, if one includes off-budget military spending, we are actually $3.3 billion further in the red ink.
All of this underscores a view that I have had since the start of the current Congress:  that all of this deficit reduction stuff is harder than it looks.  More specifically, I always found the Tea Party attitude (that cuts are easy and that all it takes is the will to cut) to be a bemusing combination of naiveté and magical thinking.
It is also why I always considered the promises to cut $100 billion from the get-go to be a fantasy.  As Peter Suderman noted earlier in the week:
The numbers just keep getting smaller, don't they? Republicans started the year demanding $100 billion in cuts. But it quickly turned out that when they said $100 billion, they were just talking hypothetically. Instead, they meant $100 billion on an annualized basis. The next we heard, Republicans were aiming to trim $61 billion. And not one penny less! Eventually, they agreed to a deal that they claimed cut $38 billion. But of that $38 billion, it turns out, the real cuts only add up to about $14 billion. Any bets on how many days before the cuts disappear entirely?
As Suderman notes today in response to the AP story noted above:  "I didn't intend the question to be taken literally."  And yet…
All of this sparks a couple of thoughts:
1.  The Budget Process is Complex. The discussion of the budget in the press (and by many politicians) seem predicated on the idea that all you have to do is stop going to the ATM and no more money will be spent (we are about to see a flood of this when the debt ceiling "debate" is unleashed).  It is nowhere near that simple.  This is a machine with a lot of moving parts.  Not only is there the whole authorization/appropriations process, but also the fact that it is impossible know with precision exact outlays (for example, there is no way to know exactly how many food stamp recipients there will be in a given year, nor do we know how many cruise missiles we will launch).  Additionally, all spending is not contained in a single fiscal year, but often is spread out over several.  As such, the treatment of a cuts as though they are taking place in a static circumstance ignores the actual dynamic nature of governing.
2.  We Have to Reassess our Military Commitments. From the above-linked piece at WaPo:
When war funding is factored in the legislation would actually increase total federal outlays by $3.3 billion relative to current levels.
Yes, the single most significant long-term issue for the federal budget is that of health care costs.  But, let's not ignore the fact that two near-decade-long wars and now an additional military action is part of the problem.  Further, we have to consider what other temptations will present themselves to future presidents in terms of military action.  That is to say:  even if Afghanistan, Iraq, and Libya all end soon we  have to consider what we are going to do about future military commitments (not just wars, but military bases and so forth).  This is about assessing our global role, as these things cost money.  (And yet the cries of "gutting" the military have already started, even before a cut of significance is made.  See John Guardiano at the FrumForum).  This all reminds me of Doug Mataconis' post:  Operation Odyssey Dawn Price Tag Hits $600,000,000 (that was for the first week).
At a minimum, we cannot pretend that a substantial part of our fiscal problems at the moment isn't our general willingness to expend massive amounts of money on military operations.
3.  Real Change is Going to Take Time. One of the things that keeps coming to mind for me is that real change is going to take time (not to mention require compromise—which means both cuts and increased revenues).  Further, getting back to the aforementioned magical thinking, some of these changes are going to have to be phased in over time.  A simple example:  it might actually be possible to phase out funding for CPB to allow the organization to adjust to a future without federal funds.  This might be politically viable.  However, just saying "to the budget guillotine right now!" is going to create  political backlash.  Plus, I am not sure that it is fair to make radical and immediate changes that effect jobs and lives if such drama isn't actually in service of an immediate need.
Bottom line here:  it has taken us (contra the claims of some) decades to get to the situation we currently find ourselves in.  Further, we are actually not yet in crisis (that is something projected for the future).  So:  if the problem took a long time to construct and if the real impact of said problem is in the future, perhaps a more measured approach is warranted.