Three Memos and a Little EO
To mix cultural references: less than meets the eye.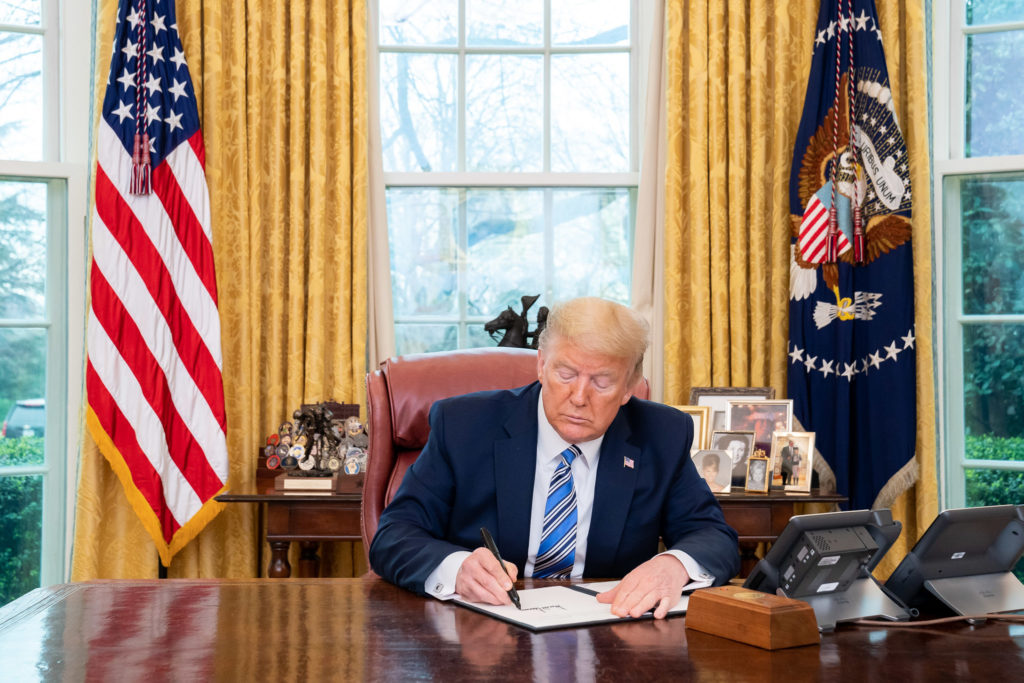 Yesterday, at an event at one his golf courses, Trump announced the signing of executive actions ostensibly designed to provide additional relief to the country as is suffers from the effects of Covid-19. These unilateral actions were deemed necessary by the administration due to the lack of action in the Congress, even though the main roadblock to negotiation was the Republican-controlled Senate.
There does not appear to be a lot of there, there, save an unfortunate attempt, yet again, for Trump to behave in a unilateral fashion that further erodes the constitutional order (which, apart from the lack of serious policy outcomes, is no small thing).
In terms of what was signed, I will turn to the WaPo write-up of the event, which notes the following:
Trump also mischaracterized the legal stature of the measures, referring to them as "bills." Congress writes and votes on bills, not the White House. The documents Trump signed on Saturday were a combination of memorandums and an executive order.
That last sentence is of interest, because much of the press coverage keeps calling all of the documents "executive orders" or, in an acknowledgement of the vagueness of what was actually done, "executive actions."
The four actions are as follows:
In sum total, there isn't a whole lot here. The extension of unemployment benefits is at a $400/week rate instead of the previous $600 and it assumes that states will pony up 25% of the benefit. Where the state's share will come from or how this memorandum has any legal weight to it are their own questions. The memo simply says:
I am calling on States to use amounts allocated to them out of the CRF, or other State funding, to provide temporary enhanced financial support to those whose jobs or wages have been adversely affected by COVID-19.
Beyond where the state-level funds come from (or if the memo can compel state action at all–spoilers: it can't) is the question of by what mechanism the federal funds would be allocated and when. As the WaPo write-up linked above notes:
The federal contribution would be redirected from disaster relief money at the Federal Emergency Management Agency. Those funds are not likely to last more than two months, and Trump would not say when the benefits would kick in.
This strikes me as easier said than done, even in regards to the $300 he is trying to commit from the federal side.
The payroll tax deferal is a terrible policy for at least two reasons. One, it doesn't help the people who need help. By definition payroll taxes are only paid by people on a payroll. The problem right now are the millions of newly unemployed who can't pay their bills.
Second, it is a deferral which means the tax bill will come due at some point. Won't that be fun? There is also the question of whether it is enforceable or not. Back to WaPo:
Another document signed by Trump on Saturday attempts to defer payroll tax payments from September through December for people who earn less than $100,000. The impact of this measure could depend on whether companies decide to comply, as they could be responsible for withdrawing large amounts of money from their employees' paychecks in a few months when the taxes are due.

The president said that if he wins reelection, he would seek to extend the deferral and somehow "terminate" the taxes that are owed. He also dared presumptive Democratic presidential nominee Joe Biden to try to recoup those tax dollars if elected in November. The payroll tax funds Social Security and Medicare benefits, and it's unclear where those programs will get funding if the taxes are deferred.
Emphasis mine.
Also: the man is POTUS right now. If he can't get legislation passed now, why in the world would anyone think his odds of doing so in the future will improve? It is the emptiest of empty promises, not to mention having a massively negative impact on Social Security and Medicare (which I know some Reps will see as a feature).
I am sure that student loan relief will be of some solace to those facing economic hardship and who still have debt, but this is the weakest of weak sauces for this current moment.
And, speaking of weak sauces, the deferral of evictions (the only actual executive order) really doesn't do much. From the order:
my Administration, to the extent reasonably necessary to prevent the further spread of COVID-19, will take all lawful measures to prevent residential evictions and foreclosures resulting from financial hardships caused by COVID-19.
If you read the whole thing, it boils down to: we will do what we can.
Awesome!
As the title of a NYT news analysis notes: Trump's Go-It-Alone Stimulus Won't Do Much to Lift the Recovery.
The executive actions President Trump took on Saturday were pitched as a unilateral jolt for an ailing economy. But there is only one group of workers that seems guaranteed to benefit from them, at least right away: lawyers.

Mr. Trump's measures include an eviction moratorium, a new benefit to supplement unemployment assistance for workers and a temporary delay in payroll tax liability for low- and middle-income workers. They could give renters a break and ease payments for some student loan borrowers. But they are likely to do little to deliver cash any time soon to Americans hit hard by the recession.
Indeed. It was executive theater, and not much else. It will fool some folks for a while, but anyone actually expecting to get much help from these actions is going to be sorely disappointed.
I stand by my post yesterday: Trump has blown a chance to get a pretty good deal out of Congress and has traded it for the handful of not-so-magic beans of pretending to be acting on his own, but without actually accomplishing anything.