Time To Get Rid Of Summer Vacation For Schoolchildren?
Does it still make sense to give kids a 10-12 week break every year?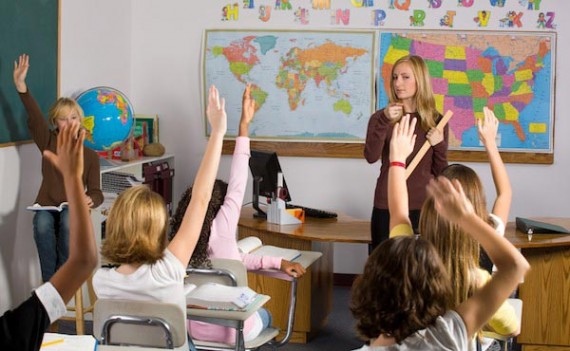 Writing at Politico Magazine, Bridget Ansel makes an argument that has been quite common among education policy advocates in recent decades, namely that a school calender that includes two months or more off for summer vacation doesn't make sense anymore:
The nine-month, 180-day school year is not a relic of our agrarian past — as many wrongly assume — but rather the legacy of a bygone era when spending hours inside a sweltering, air-conditioning-free classroom (or office, for that matter) was implausible. Although most industries eliminated the summer furlough with the advent of temperature-controlled buildings, school boards have retained schedules that are stuck in the past, with serious consequences for America's children.

Once school is out for the summer, the opportunity for children to engage in educational activities of any kind decreases. Studies show that, on average, students lose about a month's worth of instruction, as measured by standardized test scores. But not everyone is average and, as a 2011 RAND Corp. report finds, summer learning loss disproportionately affects poor students, who already begin school behind their more affluent classmates. Research shows that any high-quality summer program that keeps children engaged — whether that is a traditional camp, summer school or even frequent trips to the museum — can mitigate summer learning loss.

The problem is, not everyone can afford to send their kids to a fancy summer program. That means low-income children (exactly the children that could benefit most from such programs) cannot afford to participate. Meanwhile, in a world in which most children grow up in a household without a full-time caregiver, low-income parents not only struggle to find full-time care but also must divert large a large fraction of their limited salaries to pay for it.
Worst of all, this loss is cumulative, with serious consequences as the achievement gap widens every summer. Karl Alexander, a Johns Hopkins University sociologist, tracked 650 children in the Baltimore public schools, recording their scores on the California Achievement Test in June and again in September, after summer break had ended. Alexander found that the poorest kids "outlearn" their wealthier peers in terms of knowledge gained during the academic year, but during the summer months they fall further behind. In contrast, the wealthier children, aided by a home full of books, organized summer camps and "concerted cultivation"-type parenting, continue to develop their skills.

Efforts to help low-income students overcome these summer losses are not enough. By the time these children reached the ninth grade, Alexander found, more than half of the achievement gap between lower- and higher-income students can be explained by unequal learning loss.
As I said, this isn't really a new argument. There have been education policy experts talking about eliminating summer vacation in the American school calendar for decades now. For the most part, their arguments are similar to the ones that Ansel makes in her piece, and they are hard to argue wih. It's undeniable that there is at least some 'learning loss' that occurs during the two months that students are away from school. Any one of us who went to school can likely attest to that, and to the fact that it wasn't uncommon for at least some portion of the early parts of the new school year to focus on things that had been taught in the previous year, if only so that teachers can make sure that students have in fact mastered old material before moving on to something new. As Ansel notes, this loss seems to be greater among lower income students whose parents cannot afford to send them to summer programs or camps with educational themes; although I'm not certain that the practice of doing so is as common among middle and upper class parents as she implies that it is.
In response to these criticism, there have been some limited experiments with some form of "year round" schooling. In general, these experiments take the tradition 180-day school year, which is another issue entirely, and break it up across the space of an entire year with breaks of no more than six weeks in between sessions. This obviously means a much shorter summer break, but it also means longer breaks around the holidays and other times of the year when families are likely to travel.  For the most part, though, these are very limited experiments in various school districts across the country, comprising about 10% of all American public school studentsalthough there has been an increase of more than 500% in the number of districts following such a calendar since 1987.  While this sample size is obviously pretty small,the evidence on whether or not it actually helps when it comes to student performance seems to be mixed:
Research on whether learning improves in year-round schools is mixed, with some year-round schools reporting gains and others finding that kids on traditional schedules do better. Esther Fusco, a professor at Hofstra University's School of Education, Health and Human Services, says that overall, "research suggests that students in high-needs districts and those who have disabilities do better in year-round learning situations. This is logical because these students do not have the down time that occurs over the summer. But the results are not very significant. I have not seen any study that shows students greatly improve."

(…)

Salt Lake City ended its year-round schools in 2011 after an analysis showed that comparable local schools with traditional calendars had better test scores, according to Jason R. Olsen, spokesman for the Salt Lake City School District. Going back to the regular calendar also saves the district money, Olsen said.

(…)

Billee Bussard, who runs an organization in Florida called Summer Matters, says there's another piece to the argument against year-round schools. "The year-round calendar limits the window of opportunity for parents to give their children learning experiences outside the school walls," she says, echoing many parents who cite the importance of extended family time, opportunities for summer camp or travel, and summer jobs that help teens earn money and build resumes.
As I said, the mixed statistics may be as much a reflection of the fact that year-round schooling has been a very limited experiment in the United States as anything else. Additionally, its worth noting that, for the most part, this new calendar seems to usually only be implemented in "better" school systems rather in the ones where the lower income students that Ansel talks about are attending school, so its unclear if this kind of calendar would help these types of students in the way that she suggests. In the end, though, the mixed results are just one of the reasons why its unlikely that we'll see year-round schooling adopted nationwide any time soon.
For better or worse, the summer vacation has become a part of American culture and an important part of the American economy. Amusement parks, beach destinations, and other venues make a great deal of money based on the fact that American families take their vacations during the summer months, and they are likely to be strong opponents of any effort to change school calendars in a way that would make summer vacations less likely. Here in Virginia, for example, it is against state law for school districts to even consider opening prior to Labor Day, a law that has been dubbed the "Kings Dominion Law" after the large theme park located just north of Richmond.Every effort to change that law has failed miserably, even though several school districts have expressed an interest in starting school earlier, such as the last week of August. There are, no doubt, similar pressures from vacation industry interests in other states, although it is worth noting that several states in the Deep South start school far earlier than Labor Day.
In the end, the advocates for year-round schooling have a point. A ten to twelve week break makes no real sense in the modern world. Ideally, school calenders would have the same sort of staggered schedule that some of these experimental programs have adopted. Additionally, it is clearly long past time to reconsider the idea of the 180 day school year, a calendar that is far shorter than those in most other advanced nations. Given that we rarely deal with issues like this rationally, or quickly, though, its likely that we're just going to keep doing things the way they've always been done even when there potentially better alternatives out there.