Tom Price, Trump's HHS Secretary, Resigns Amid Private Jet Scandal
Trump loses his HHS Secretary amid a growing scandal involving the use of private and government jets by Cabinet officials.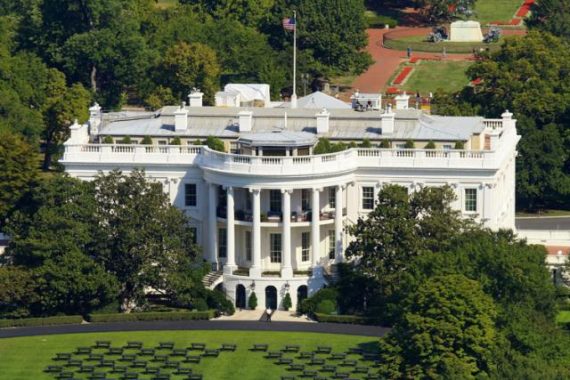 Former Georgia Congressman Tom Price, who has been serving as Secretary of Health and Human Services since February, resigned late yesterday amid a scandal regarding his use of private jets for official business:
WASHINGTON — Tom Price, the health and human services secretary, resigned under pressure on Friday after racking up at least $400,000 in travel bills for chartered flights and undermining President Trump's promise to drain the swamp of a corrupt and entitled capital.

Already in trouble with Mr. Trump for months of unsuccessful efforts to repeal and replace President Barack Obama's health care program, Mr. Price failed to defuse the president's anger by offering regret and a partial reimbursement. His departure was the latest from an administration buffeted by turbulence at the top, and capped a week of setbacks for the president.

"I'm not happy, O.K.?" Mr. Trump told reporters who asked about Mr. Price as the president prepared to leave for his New Jersey golf club for the weekend, barely an hour before the resignation was announced. "I can tell you, I'm not happy." He called Mr. Price "a very good man" but added that the secretary's offer to pay back the government for just part of the cost of the private flights "would be unacceptable."

Mr. Price ran afoul of one of the president's most consequential campaign pledges. While some of Mr. Trump's advisers privately make light of his vow to drain the swamp of Washington privilege, to many of his voters, it was a threshold promise. The firestorm over Mr. Price came as the president was already on the defensive with his base, as the incumbent mainstream Republican senator he backed in an Alabama primary race lost to an insurgent channeling Mr. Trump's election movement.

"It's hard to see how a cabinet secretary can drain the swamp from 42,000 feet in the plush interior of a taxpayer-funded Gulfstream 4," said Laura Ingraham, a conservative talk show host and Trump supporter who, like others, defied the president by backing Roy Moore, the insurgent Senate candidate who won in Alabama.

Mr. Trump berated Mr. Price in the Oval Office on Friday afternoon for about two hours before heading out to meet with reporters, according to people informed about the meeting. All cabinet travel requests now must be cleared by the White House, they said.

The White House's announcement of Mr. Price's departure was sparse, with none of the customary thanks for his service; it said simply that he had "offered his resignation earlier today and the president accepted."

In his resignation letter to Mr. Trump, Mr. Price said: "I have spent 40 years both as a doctor and public servant putting people first. I regret that the recent events have created a distraction from these important objectives. Success on these issues is more important than any one person. In order for you to move forward without further disruption, I am officially tendering my resignation."

Mr. Trump tapped Don J. Wright, a deputy assistant secretary for health and the director of the Office of Disease Prevention and Health Promotion, to serve as acting secretary. Possible candidates for a successor include Seema Verma, the administrator of the Centers for Medicare and Medicaid Services, and Scott Gottlieb, the commissioner of the Food and Drug Administration.

Mr. Price's job was on the line since the first of a string of reports by Politico, on Sept. 19, about his extensive use of chartered aircraft. The president has fumed privately and publicly about Mr. Price's actions. Hoping to assuage Mr. Trump, the secretary offered on Thursday to reimburse the government $51,887 — which he said represented the cost of his seat on the trips — of the at least $400,000 spent. But it was not enough to save his job.

Mr. Price, a physician and a former Republican congressman from Georgia who had long opposed Mr. Obama's Affordable Care Act, served as a point man on Mr. Trump's drive to scrap the law. In July, Mr. Trump said he would fire Mr. Price if he did not get the votes for the legislation.

"He better get them," Mr. Trump told an audience with Mr. Price at his side. "Otherwise, I'll say, 'Tom, you're fired.'"

He said it in a jocular fashion, and his audience took it as a jest, but in fact the president has been privately simmering about Mr. Price over the unsuccessful efforts to pass health care legislation in the Senate. While a bill passed the House, the latest effort collapsed this week when enough Senate Republicans defected to deprive Mr. Trump of a majority.

Mr. Price had been under fire from the start. During his confirmation hearing in January, Senate Democrats pressed him on the more than $100,000 in pharmaceutical and medical stocks he owned. Democrats said that Mr. Price had understated the value of his 400,613 shares in an Australian company, Innate Immunotherapeutics. He defended himself, saying, "Everything that I did was ethical, above board, legal and transparent."
After a week's worth of revelations regarding his use of private jets, paid for with taxpayer dollars, for trips as many as twenty-four different trips over just the eight months that he served in Trump's cabinet. It began on September 19th, when Politico reported that Price had made use of private jets for official travel on five separate occasions in just the previous week alone. These included trips from Washington to locations in Maine and New Hampshire that included a luxury resort where Price participated in a Q&A session regarding health care policy, and a trip from Washington to Philadelphia, a destination that could easily have been reached via either car, commercial aircraft or Amtrak's Acela train for prices far less than what it cost to use the private jet. Later that same week, it was reported that Price had traveled via private jet at least twenty-four times since May, often to locations easily reachable by commercial jet. By last Saturday, Price was trying to deal with the controversy, first by stating he would immediately halt the use of private jets and, later, by offering to pay for the cost of his travel on the jets. Several reports indicated, though, that the amount that Price intended to pay was a small fraction of what it had actually cost the Federal Government to charter the private planes to carry not only him but also staff and guests who joined him on the flights. Even if he had offered to pay in full, though, it's clear that his job was on the line, and that the President was visibly irritated by the growing controversy. So, the fact that his "resignation" was announced at the end of the day yesterday came as no real surprise at all.
This wasn't the only issue that has been dogging Price in recent months:
As Vox previously explained, Price bought and sold stock in more than 40 health care companies, stocks worth more than $300,000, as a Congress member. Despite appearances, most of those sales and purchases seemed to comply with House ethics rules.

However, there were a number of specific transactions and accompanying actions by Price that raised eyebrows
In March 2016, according to CNN, Price bought up to $15,000 worth of stock in Zimmer Biomet, a medical device company that specializes in hip and knee implants. Two days later, he introduced legislation to delay a regulation that would have hurt the company's business by changing how Medicare and Medicaid reimburse those procedures. Zimmer Biomet then donated to his campaign. (Price says he was not aware of the purchase, which was made by his broker.
Price also bought shares in six pharmaceutical companies a week after a federal regulation was proposed that would lower reimbursements for doctors who prescribe expensive drugs for cancer and arthritis, according to Time magazine. The regulation was meant to help control health care costs by encouraging doctors to prescribe generic drugs and cheaper alternatives instead, and would have hurt pharmaceutical companies' bottom lines. The companies lobbied against the regulation, and Price sponsored legislation to block it. It was never enacted
Price was able to take advantage of a special deal in another biotech firm, Innate Immunotherapeutics, an Australian company developing a multiple sclerosis drug, according to Kaiser Health News. He was offered discounted shares for "sophisticated investors" in summer 2016 after making a smaller investment in the company in 2015. (A fellow member of Congress, Rep. Chris Collins, is on the company's board; members of the Collins family own about 20 percent of the company.)
Price is not the only member of the Trump Administration to be caught in a scandal related to their travel on private or government-owned jets.
Treasury Secretary Steve Mnuchin, for example, has been under fire for his use of government jets since entering office, including one incident in August where he used a government-owned jet to travel to Kentucky with his wife on the day of total solar eclipse and a report earlier this month that Mnuchin had requested a government-owned jet to travel to Europe for his honeymoon in the spring. While that request was ultimately withdrawn and Mnuchin and his wife flew via commercial jet, Mnuchin's travels are presently under investigation by the Treasury Department's Inspector General. Additionally, The Washington Post has reported that Interior Secretary Ryan Zinke chartered a private jet for official travel on several occasions, including a trip from Las Vegas to Montana, where he has a home, and another flight to the Virgin Islands in the summer, both of which were paid for out of taxpayer dollars. To date, Zinke has not reimbursed taxpayers for the costs of these flights.  Scott Pruitt, the Administrator of the Environmental Protection Agency, has also taken noncommercial and military flights on at least four separate occasions at taxpayer expense. Again, Pruitt has not reimbursed taxpayers for the costs of his flights, although it's worth noting that it's possible that the flight from Vegas to Montana may have been proper due to the lack of readily available commercial flights to the area of Montana where Pruitt was headed. Finally, Veteran's Administration head David Shulkin, who is actually a holdover from the Obama Administration, took several chartered flights during a ten-day trip to Europe that his wife accompanied him on. It's worth noting, though, that Shulkin apparently did reimburse the government for the cost of his wife's travel, although it's not clear exactly how much he paid.
There have also been reports that Education Secretary Betsy DeVos and Small Business Administration head Linda McMahon have used private jets for official business. In those cases, though DeVos and McMahon used jets owned or leased by either them individually or their family and the taxpayers were not charged for the cost of travel. So far, there's no indication if Mnuchin, Zinke, or Shulkin will find their jobs are in any danger. In any case, this seems to be a marked departure from Trump's ccampaignpromise to "drain the swamp."
Price is the eighth high-ranking member of the Trump Administration to leave office and the first Cabinet Secretary. Additionally, his resignation under fire means that there are now two Cabinet Departments that lack a Secretary that has been appointed by the President and confirmed by the Senate. The other department, of course, is the Department of Homeland Security, which lost its head when retired General John Kelly left to become Trump's Chief of Staff. That position has now been vacant for two months and it's unclear when Trump will name a replacement. The situation appears to be similar for Price's position, which could be important given that we're headed into another enrollment period for the Affordable Care Act, a process that is administered by the Department of Health and Human Services. While there will be an Acting Secretary until Price's replacement is named and confirmed, that's hardly the same thing.