Top Democrats Call On Weiner To Resign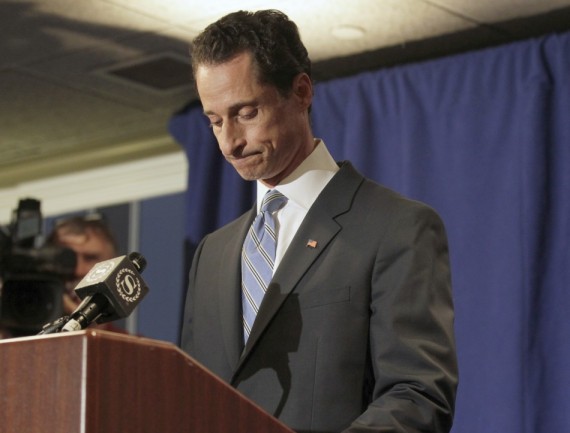 It's not just Debbie Wasserman-Schultz. In the wake of the revelations about contact with a 17 year old girl, the top leaders in the Democratic Party are calling on Anthony Weiner to resign:
The top leaders in the Democratic party called on embattled Rep. Anthony Weiner (D) to resign Saturday, a potential tipping point in the two-week long scandal involving the New York Democrat's online liaisons.

"Congressman Weiner has the love of his family, the confidence of his constituents, and the recognition that he needs help," said House Minority Leader Nancy Pelosi (Calif.). "I urge Congressman Weiner to seek that help without the pressures of being a Member of Congress."

Of Weiner, Democratic National Committee Chair Debbie Wasserman Schultz (Fla.) said "the behavior he has exhibited is indefensible and Representative Weiner's continued service in Congress is untenable."

Democratic Congressional Campaign Committee Chairman Steve Israel (N.Y.) also called on Weiner to step aside.

Weiner, who has acknowledged "inappropriate" online conduct with at least six women, has insisted he has no plans to resign.
On Tuesday I said this:
If it turns out that there's more to this story — if, for example, Weiner actually had a physical relationship with one of these women after he was married or one of the women was underage without his knowledge — then it's likely to be the final nail in his coffin.
In this case, he was knowingly communicating with an underage girl. Both he and the parents say it was innocent, but on top of everything else that  doesn't matter. It's just another log on the woodpile, so to speak, and I think this may be about all Congress and Weiner's fellow Democrats can bear. I don't see how he survives now.
(Above paragraph edited from original content to correct grammatical error –DM)
Update: Politico's Ben Smith reports on Twitter that Chris van Hollen, who held Steve Israel's job at the DCCC up until 2010 and is how ranking member on the House Budget Committee, has joined in the calls for Weiner to resign.
Drip. Drip. Drip.