Top GOP Donor In Ohio Quits Party Over Trump
Ohio billionaire Les Wexner was a top Republican donor and fundraiser in Ohio, but not anymore.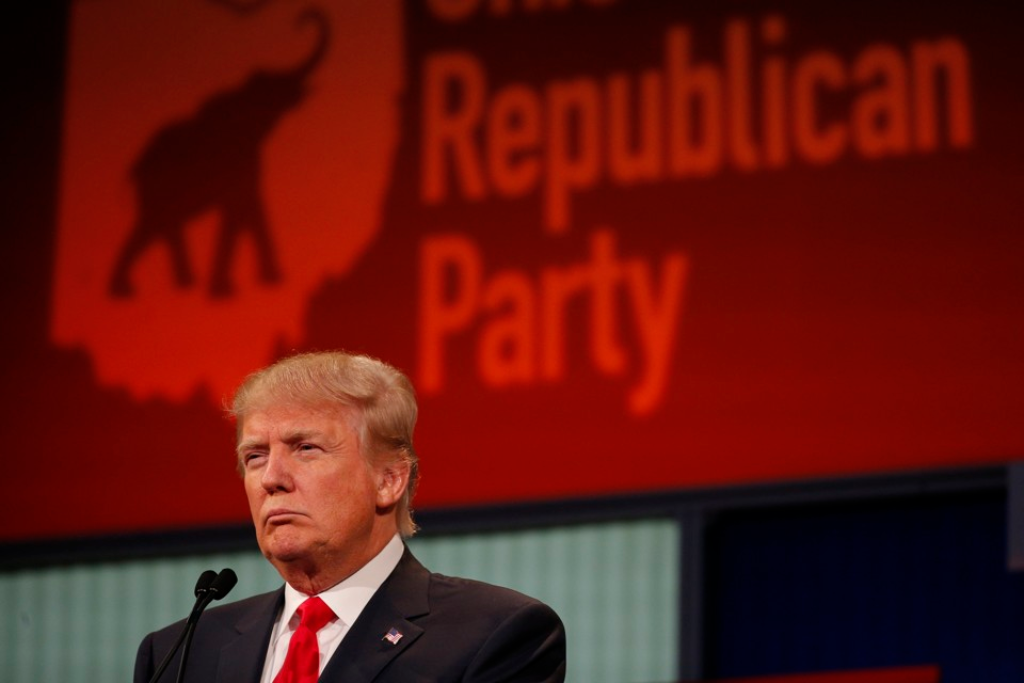 The wealthiest Republican donor in Ohio, who has raised money for a number of top candidates over the years, is no longer a Republican:
The wealthiest supporter of the GOP in Ohio said Thursday that he is no longer a member of the Republican Party.

"I just decided I'm no longer a Republican," L Brands CEO Leslie Wexner said during a panel discussion at a leadership summit, according to The Columbus Dispatch.

Wexner, who said he's been a Republican since college, added that he is now an independent, before saying that he "won't support this nonsense in the Republican Party" anymore.

"I haven't run an ad in the newspaper that said, 'I quit,'" he said.

The Columbus Dispatch noted that Wexner said he's instead been writing notes to friends who are lawmakers and telling them that he's no longer a member of the GOP.

The development came just a day after former President Obama slammed GOP lawmakers during a rally in Ohio for Democratic gubernatorial candidate Richard Cordray.

"What you're seeing is Republicans in Congress who are bending over backwards to try to shield and deflect oversight of this behavior and accountability and consequences," Obama said.

"This is serious. You know it is. And frankly even some of the Republicans know it is. They will say it, they just don't do anything about it. … [They say,] 'we'll put up with crazy' in exchange for tax reform and deregulation."

Wexner called Obama's visit to Ohio this week a "great moment for the community," according to the Dispatch.

"I was struck by the genuineness of the man; his candor, humility and empathy for others," Wexner said.

The newspaper noted that the comments stand in stark contrast to what the GOP supporter has said about President Trump.
More from The Columbus Dispatch:
After former Democratic President Barack Obama made a quiet stop in Columbus on Thursday night, the wealthiest Republican supporter in the state told a small audience at a Downtown event that he is fed up and has quit the Republican Party.

"I just decided I'm no longer a Republican," said L Brands CEO Leslie H. Wexner, speaking during a panel discussion about civility at Miranova's Ivory Room billed as a "Columbus Partnership and YPO Leadership Summit."

"I'm an independent," he said. "I won't support this nonsense in the Republican Party. I've been a Republican since college, joined the Young Republican Club at Ohio State.

"I haven't run an ad in the newspaper that said, 'I quit,'" he told the gathering on Thursday. Instead, he's been writing notes to his friends in elective office who are Republicans, telling them, "I want you to know that now I'm an independent."

The event was jointly sponsored by the Columbus Partnership, a group of central Ohio's most influential business leaders that Wexner chairs, and YPO (formerly Young Presidents' Organization), a group of under-45 business leaders.

Obama stopped in Columbus before a rally in Cleveland Thursday night to support Democrat Richard Cordray's run for governor.

The former president spoke on stage in Columbus with Alex Fischer, president and CEO of the Columbus Partnership, during a portion of the event that was closed to reporters.

The panel on which Wexner later spoke was moderated by political commentator David Gergen, a former adviser to presidents Nixon, Ford, Reagan and Clinton. Panelists also included Mayor Andrew J. Ginther and Nancy Kramer, chief evangelist at IBM iX. It was attended by approximately 140 people.

When asked for her reaction to Wexner's statement after the event, Kramer, a member of the Partnership, referred back to Obama's comments. The former president urged listeners, she said, to focus on what they will do rather than who they are. Wexner, she said, was "making a statement about his belief systems."

(…)

Wexner spoke warmly about Obama and about the theme of bipartisan civility, something he has been promoting in recent months. "It's a great moment for the community," he said of Obama's rather secretive visit to Columbus before his Cleveland rally for Cordray. "I know he came here because of the Partnership and the things we have done, and the knowledge that civility is a priority for our community. He wanted to touch it and feel it for himself.

"I was struck by the genuineness of the man; his candor, humility and empathy for others," Wexner said of Obama.

Those comments presented a stark contrast to Wexner's comments about Republican President Donald Trump. A little over a year ago, the billionaire CEO said in a speech to L Brands employees that he felt "dirty" and "ashamed" following Trump's response to violence that erupted at the Unite the Right rally that left one dead in Charlottesville in 2017.

Trump had said there were "very fine people" among the white nationalist protesters at that rally. On Thursday, Wexner recalled that incident, which he said caused him to lose sleep. "I have to do something because the leader of our country is behaving poorly," Wexner recalled thinking.

During the past year, Wexner has poured money into bipartisan civility. In late 2017, he made a $300,000 donation to With Honor, a PAC that supports military veterans from both parties who are running for office and who agree to a pledge not only to conduct themselves with civility but also to meet one-on-one with a member of the opposing party once a month. In February 2018, Abigail Wexner, a Democrat, followed up her husband's gift with a $2.5 million gift to With Honor.
Wexner isn't exactly America's most well-known billionaire, but you've probably shopped in at least one of the retail establishments that he has established over the year, which include well-known companies the he continues to have an interest in and several that have since been spun-off from his empire such as The Limited, Abercrombie & Fitch, Bath & Body Works, Gaylan's (which has since merged with Dick's Sporting Goods), Express, and, perhaps his best known creation, Victoria's Secret. In addition to being a marketing whiz, though, Wexner has long been one of the most prominent Republican fundraisers in the crucial state of Ohio, having previously backed candidates such as Governor John Kasich, Senator Rob Portman as well as the national Republican Party.
Wexner's departure from the Republican Party is only the latest example of a top fundraiser who has either walked away from the GOP completely or broken with party orthodoxy as it now exists under Donald Trump. Many of these people include some of the most prominent names in Republican Party fundraising on the national level, including several people who were behind Mitt Romney two bids for the Presidency in 2008 and 2012. Other top fundraisers have not left the party completely, but have become far more selective in who they are supporting while others, such as the Koch Brothers, have chosen to concentrate their spending on issues-based advocacy rather than specific candidates or the Republican Party in general. Whether this will have an impact on the GOP's ability to raise money in the future is unclear, but if other wealthy donors follow Wexner's lead then the GOP could find itself in serious trouble heading into 2020.