Ohio Special Election In National Spotlight
A Special Election tomorrow in suburban Columbus, Ohio could tell us a lot about where the midterm elections might be headed.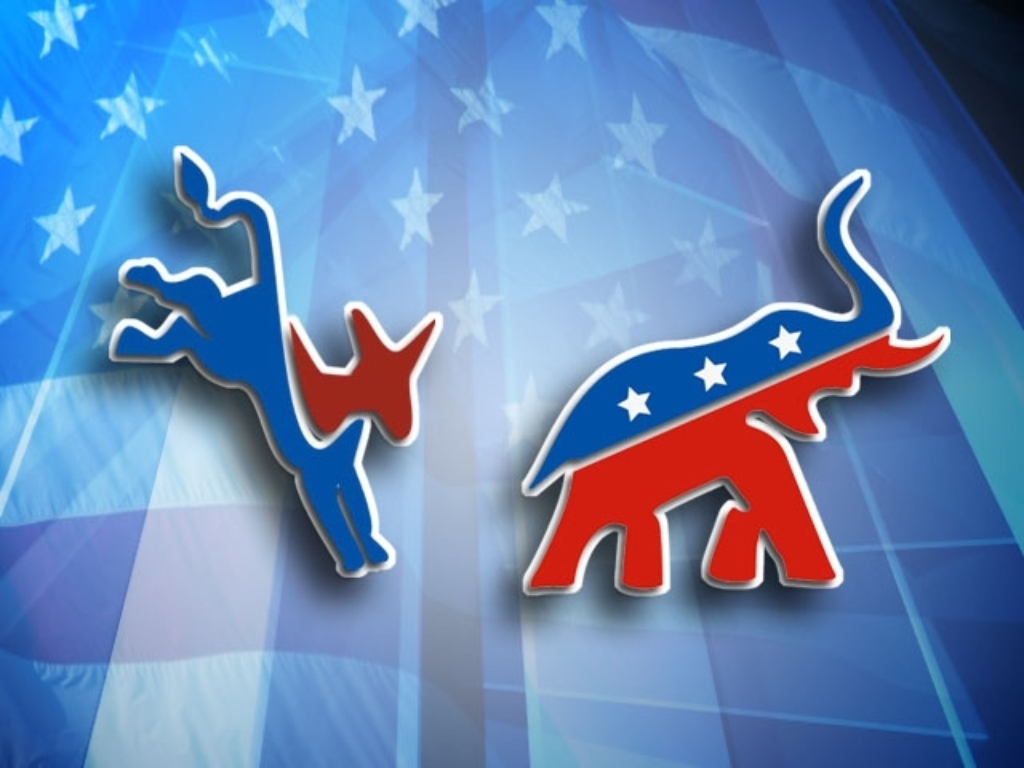 Republicans are facing another potentially crucial test in a Special Election tomorrow in a District in suburban Columbus, Ohio that has been held by the GOP for at least the past twenty years:
WESTERVILLE, OHIO — The entire Republican Party machinery has converged on this suburban Columbus district for a furious 11th hour campaign aimed at saving a conservative House seat and averting another special election disaster.

But in the final days of ahead of Tuesday's election, signs were everywhere that Democrats are surging — from recent polling to the private and public statements of many Republicans, including the GOP candidate himself. The district has been reliably red for more than three decades, but the sheer size of the Republican cavalry made clear how worried the party is about losing it.

At a Saturday evening rally, President Donald Trump tried to juice conservative excitement for mild-mannered Republican candidate Troy Balderson while foisting a Trumpian nickname upon 31-year-old Democratic hopeful Danny O'Connor: "Danny boy." Earlier in the week Vice President Mike Pence made the trek, while Trump's son, Donald Trump Jr., recorded a robocall, and Gov. John Kasich endorsed Balderson in a TV ad.

The Republican National Committee has opened two offices in the district, launched a $500,000-plus get-out-the-vote effort, and dispatched one of its top officials, Bob Paduchik, who ran Trump's 2016 Ohio campaign. And outside conservative groups, led by a super PAC aligned with House Speaker Paul Ryan, have dumped more than $3.5 million onto the TV airwaves, far outpacing Democrats.

The all-out push underscores the GOP's trepidation about the final special election before the midterms. A loss, following startling Republican defeats in Pennsylvania and Alabama, would offer more evidence that a blue wave is on the horizon. And it would further fuel fears of what's becoming evident: That Democrats are simply more amped up, even in areas that have long been safely Republican.

As he addressed volunteers gathered in a campaign office on Friday afternoon, Balderson, a 56-year-old state legislator, hinted at the enthusiasm deficit that was plaguing his party. A Monmouth University poll last week had him ahead of O'Connor by a single percentage point, 44 to 43.

"You all know, it's a tight race. And everybody wants to know, why is it tight? Why is it tight?" he said. "Because this race is all about turnout."

With Ohio Sen. Rob Portman and Paduchik at his side, Balderson told the volunteers that "there's been some talk about us not really getting out there and not working," though he assured them their efforts were not being overlooked.

"We know what you're doing, we know the doors you're hitting, we know the phone calls you're making," he said.

Republicans contend that their mobilization headaches are being compounded by the unusual timing of the race. Many voters are on vacation or going about their summers and unaware of the special election.

With that in mind, White House officials, who have been watching the contest with growing worry, dispatched Trump to the district in the hope he can fire up conservatives who might stay home on Tuesday. The president, who advisers said was eager to jump into the special election, lavished praise on Balderson while also offering up a greatest-hits like collection of attacks on the media, political rivals, and the Russia investigation.

"I think what it does, perhaps most importantly, is it raises the profile of the race," said Portman, who bemoaned the timing of the August election. "If you were to walk over to the Kroger here and ask people, 'Is there a race? You know, is there a congressional race going on?' Ninety percent of them would say, 'What are you talking about?'"

The event was also designed to unify Republicans around Balderson, who narrowly survived a bruising primary fight against Melanie Leneghan, a Trump-aligned local official. Ohio Rep. Jim Jordan, a conservative House Freedom Caucus member and Leneghan backer, was in attendance, and the rally was held in Delaware County, where Leneghan is from.

(…)

Fearful of losing critical suburban voters turned off by the president's rhetoric, Balderson has worked to cultivate the support of Kasich, a moderate figure and fierce Trump critic seen as a potential 2020 primary challenger to the president. During a recent phone call aimed at securing Kasich's endorsement, Balderson assured the governor that he shared his opposition to Trump's tariffs and family separations at the border, and told him that he'd be willing to buck leadership, said a person familiar with the conversation.

Unlike many other Republicans running this year, Balderson has avoided mentioning the president in general election TV ads; he has, however, highlighted work he's done with Kasich. The governor, who formerly held the House seat, did not attend the Trump rally.

Jay Hottinger, a friend of Balderson's who serves alongside him in the state Senate, described Trump as "one of the most divisive presidents and political figures we've ever had," but said his visit was crucial for generating conservative interest in the contest.

"What we are seeing in polling, both nationally and in the 12th Congressional District, is that Democrats are more motivated to go out and vote," he added.
It's because of these polls that Trump showed up in the District on a Saturday night to deliver one of his trademark campaign rally speeches that only tangentially mentioned either the race or either of the candidates:
President Donald Trump on Saturday implored his supporters to turn out for Republican congressional candidate Troy Balderson, as the party raced to fend off an embarrassing special election loss that could portend a November wave.

During an hourlong rally in a sweltering high school auditorium, the president repeatedly lavished praise on Balderson, a state legislator who suddenly finds himself in a neck-and-neck contest for a House seat that Republicans have held for over three decades.

"Troy Balderson, he's the guy," Trump said before calling the candidate onto the stage.

Looking to gin up the packed crowd, the president described Balderson as "really smart" and a "really hard worker." And he tore into Balderson's 31-year-old Democrat opponent, Franklin County Recorder Danny O'Connor, calling him a pawn of Democratic leaders and giving him a Trumpian nickname: "Danny boy."

"You got to get out, because they want to take away what we've given them," he said, adding that House Minority Leader Nancy Pelosi "controls Danny O'Connor, whoever the hell that is."

Trump's appearance comes amid mounting GOP fears that they could lose Tuesday's race for the suburban Columbus seat. While it has long been safe Republican territory, the district — like many others that are filled with higher-income and upper-educated voters — has trended away from the party during the Trump era.

By dispatching Trump, Republican officials are making a dramatic gamble: that the number of supporters the president will energize into casting ballots for Balderson will more than offset the number of critics he'll jolt into voting for O'Connor.

Ahead of the Saturday evening rally, some party strategists worried that it would do more harm than good for Balderson, who has campaigned as a mainstream figure. Their concerns were illustrated by a Monmouth University survey released earlier this week showing Trump's approval at just 46 percent in Ohio's 12th District, which stretches from the traditionally moderate Columbus suburbs to more conservative rural areas.

Indeed, at many points at Saturday, Trump seemed more focused on revisiting his greatest hits than on Tuesday's special election. He slashed the media ("MSNBC is so corrupt, is so disgusting"), went after political rivals (recently ousted South Carolina Rep. Mark Sanford, he joked, "likes flamingo [sic] dancers from Argentina") and ripped the Russia investigation.

But with Trump's visit, GOP officials said they hoped to address a major problem heading into Tuesday: a voter enthusiasm deficit. As in many other districts this year, Republican strategists fret that Democrats are more motivated to turn out.

Further intensifying their concern is the date of the special election. Many Republican voters, party officials fear, are on vacation or unaware that there is a late-summer election.

Trump, who has sky-high approval ratings among Republicans, remains the party's best weapon in turning out the conservative base. Much of his speech was geared toward amping enthusiasm for Balderson, a mild-mannered 56-year-old state senator.

"Get your friends, get your neighbors, and get your family" to vote for Balderson, Trump said, adding he was "always my first choice" in the race.'
In addition to Trump's visit, national Republican organizations such as the Republican National Committee and Congressional Leadership Fund, a SuperPAC linked to House Speaker Paul Ryan have been pouring money into the district, as have national conservative PACs and other third-party organizations eager to keep the seat in Republican hands. National Democrats, meanwhile, have been pouring resources of their own in the race in the hope that a victory, or a closer result than would otherwise be expected even in a Special Election scheduled at an odd time like the middle of August, would help to spark voter enthusiasm across the country as we head into the start of the General Election campaign, and in many states the start of early voting, in September after Labor Day. Indeed, if the polling ends up being close to accurate it's likely that both parties will claim a victory for their side. Republicans will hail a win as a sign that the blue wave that many are fearing in November may not materialize at all, while Democrats would hail a closer-than-expected showing by O'Connor, which seems to be the least of what the available polls are showing as s sign that Democrats are revved up ahead of November. A Democratic win, of course, would be the best possible outcome for Democrats and a particularly embarrassing defeat for the GOP given the fact that they chose to give the race national attention in the form of a Presidential visit, and it would likely be interpreted by analysts as a potential sign that November could go very badly for the GOP.
At CNNPolitics, Harry Enten runs with this question of what the potential outcomes tomorrow could tell us about November, meanwhile, Alexander Burns at The New York Times sees the race as a test of the GOP plan to save itself in November, which consists largely of increased political polarization:
The hook-shaped district, long dominated by business-minded Republicans, might appear an unlikely arena for harsh rhetoric and dystopian commercials about gun confiscation and migrant gangs. Mr. Trump and his party have repeatedly wielded those themes in close elections, but with uneven results in areas like this one — an overwhelmingly white but highly educated slice of Ohio where two in five residents have college degrees.

But Republicans say their messaging is intended to polarize the electorate and exploit the national Democratic Party's leftward shift, jolting complacent conservatives and denying Mr. O'Connor, an easygoing 31-year-old official in Franklin County, the chance to win over disaffected Republicans.

(…)

Corry Bliss, the chief strategist for the Congressional Leadership Fund, a massively funded group aligned with House Speaker Paul D. Ryan, said its attacks on Mr. O'Connor were a model for Republicans' national campaign.

"We've shown in this race the contrast that candidates have to run on," Mr. Bliss said. "If the choice is, 'Do you want to raise middle-class taxes? Do you want to abolish ICE? Do you want Nancy Pelosi as speaker?' that's a debate we'll win."

That there is uncertainty about Tuesday's election to begin with is a source of grave anxiety for Republicans, and even victory might not allay it. The district has elected Republicans to Congress for decades and favored Mr. Trump in 2016 by 11 percentage points, surpassing his powerful margin statewide. If Mr. Balderson prevails, it could offer scant comfort to scores of Republicans in more closely-drawn districts, where firing up Trump-applauding conservatives would likely not be enough to defeat a Democrat.

Democrats must pick up 23 seats to take control of the House.

Republicans appear sensitive to Mr. Trump's limitations even in a right-of-center area like this one. Besides attack ads, the Congressional Leadership Fund is also airing commercials showing Gov. John Kasich, one of Mr. Trump's most implacable Republican critics, praising Mr. Balderson. The message, aimed at white-collar centrists, was late in arriving: Mr. Kasich waited weeks to endorse Mr. Balderson, despite urgent pleas from Republicans including Representative Steve Stivers, the Ohioan who chairs the National Republican Congressional Committee.

And on Sunday, Mr. Kasich argued on national television that the election should be supremely unsettling for his party.

"Suburban women in particular here are the ones that are really turned off," Mr. Kasich said on ABC's "This Week," adding: "It really doesn't bode well for the Republican Party because this shouldn't even be close."
As is always the case with these Special Elections, the outcome will depend largely on the turnout in the race, and that is particularly hard to predict. Typically, turnout in these types of elections is generally lower than in a General Election or even a primary, and they often tend to bring out a different sort of electorate than you see in either of those types of elections. This is likely to be especially true given the fact that, as noted above, this election is taking place in the middle of August just weeks before schools will be reopening in the area, meaning that many people are taking one last chance for a summer getaway and may not even be in town to vote. While it's always possible that these voters will vote absentee, and Ohio is a state where it's become increasingly easier to do so, it's likely that many people will just skip the election entirely. This is especially true given the fact that there is going to be another election in this same district in November to determine who will hold the seat beginning in January. Given this, the outcome is largely going to depend on which candidate has the better ground game and is better able to get their supporters to the polls.