Republican Leads In Too Close To Call Ohio Special Election
Republican Troy Balderson holds a narrow lead in a Special Election in Ohio. Even if he wins, though, the way this election played out does not bode well for the GOP in November.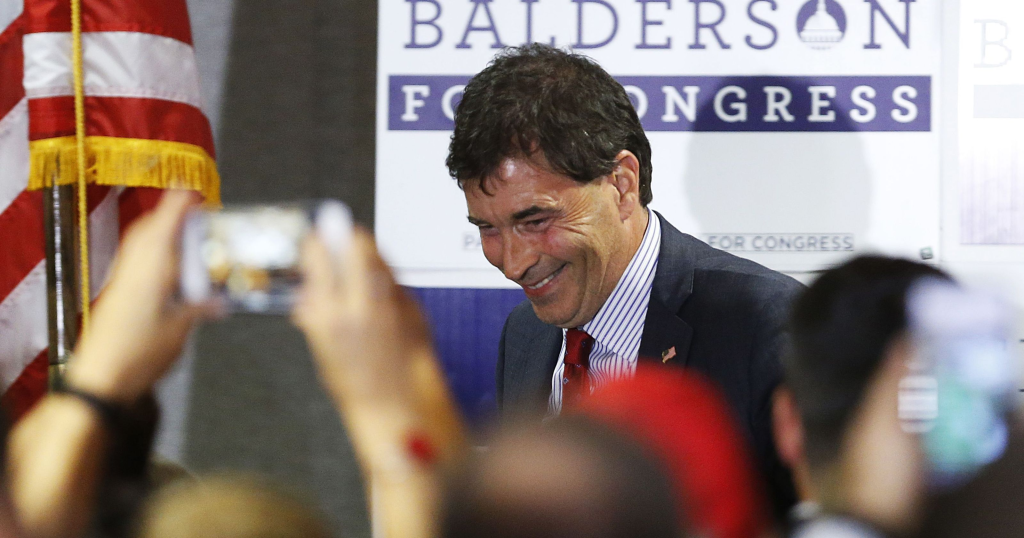 Yesterday's Special Election in Ohio's 12th Congressional District to succeed former Congressman Pat Tiberi, who retired in January to accept a job in the private sector, is too close to call but the Republican candidate, Troy Balderson, is holding on to a slim lead at this hour:
WESTERVILLE, Ohio — Republicans spent millions of dollars on scorching television ads, pried a reluctant endorsement from Ohio's moderate governor, used the Democratic leader Nancy Pelosi as a foil and enlisted President Trump in a last-minute turnaround effort in a special election for Congress in Ohio.

And after all that, in a conservative-leaning district outside Columbus, the Republican candidate clung to the narrowest of leads on Tuesday night.

The Republican, Troy Balderson, a state senator who ran a plodding campaign, led his Democratic challenger, Danny O'Connor, by less than 1 percentage point with all precincts reporting. But an unknown number of provisional ballots are yet to be counted, and Ohio law provides for an automatic recount if the two candidates are ultimately separated by less than half a percentage point.

National Republicans declared victory before midnight, but it could be days or weeks before there is a conclusive result in the race. And regardless of the outcome, Mr. Balderson and Mr. O'Connor will face each other again in three months, in the regularly scheduled November election.

But already, Republicans' brush with catastrophe in Ohio has deepened the party's gloomy mood, highlighting the massive political mobilization among Democrats and the comparative demoralization of the Republican base. The district that Mr. Balderson may have barely won voted for Mr. Trump by 11 points less than two years ago, and routinely elected Republicans to Congress by landslide margins before that.

And on the Democratic side, the Ohio vote is likely to reignite debate about the cost of keeping Ms. Pelosi as party leader, and whether her declared intention to try to become House speaker again could limit their gains in November — or even cost them a chance to win the majority.

Mr. Trump claimed credit for Mr. Balderson's apparent survival, pointing out that the former auto dealer had trailed badly in early voting and fared better on Election Day, just days after the president visited the district. "After my speech on Saturday night, there was a big turn for the better," he boasted on Twitter.

Even as Mr. O'Connor appeared to fall short, however, he significantly improved upon Hillary Clinton's performance in the district's suburban precincts, and he overwhelmed Mr. Balderson in the sort of high-income enclaves Republicans must perform better in to hold their 23-seat majority in the House.

As ominous for Republicans was the sizable gap in turnout between the most heavily populated suburban counties and the more rural reaches of the district. A higher percentage of voters from Franklin and Delaware Counties, the two largest jurisdictions, cast ballots than in the other, far smaller five counties.

"We are in a tied ballgame," Mr. O'Connor said at his election night party, refusing to concede. He then repurposed his speech into an appeal for the general election in November; he and Mr. Balderson have both been nominated to face off again then.

"We're not stopping now," he said. "We must keep fighting through November."

Mr. Balderson spoke for only about three minutes in a Doubletree Hotel ballroom filled largely with men, who briefly broke into a couple of chants of "Trump, Trump" that soon died out. Mr. Balderson alluded just briefly to Mr. Trump's visit to support him.

"Over the next three months I'm going to do everything I can to keep America great again," he said. "Danny O'Connor ran a hard race and I look forward to campaigning against him again this fall."
More from The Columbus (OH) Dispatch:
Troy Balderson apparently overcame a huge deficit among early voters to narrowly beat Democrat Danny O'Connor in Tuesday's nationally watched 12th Congressional District special election.

However, the results won't become official until more than 8,500 additional ballots are tabulated in 10 days: those from provisional voters and absentees mailed in from overseas and the military. Once that final total is calculated, Ohio law requires a mandatory recount if the margin is with 0.5 points.

Several media organizations were holding off calling the race, and O'Connor did not concede.

"We always knew this was going to be a close race, and while we don't know the results quite yet, I know that this campaign left it all on the field," he said in a statement.

"No matter what happens next, I'm proud to stand beside the thousands of volunteers who have made this campaign possible."

President Donald Trump took credit for the apparent 0.9 percent win by the Zanesville state senator, tweeting:

"When I decided to go to Ohio for Troy Balderson, he was down in early voting 64 to 36. That was not good. After my speech on Saturday night, there was a big turn for the better. Now Troy wins a great victory during a very tough time of the year for voting. He will win BIG in Nov."

In his victory speech, Balderson credited O'Connor with running a good race, and said he looked forward to running against him again in November.

Ohio Republican Chairman Jane Timken said in a statement: "Tonight Troy Balderson and the constituents of Ohio's 12th Congressional District have sent a message to Democrats and media pundits across the country. America is on the right track under President Trump and Republican leadership, and the so-called 'blue wave' is nothing more than wishful thinking."

Upper Arlington Rep. Steve Stivers, head of the GOP's congressional campaign committee, said, "Nancy Pelosi and her liberal donors flooded this district with money and ads in an attempt to buy this seat. However, Troy's focus never wavered from the issues central Ohioans care about like fighting opioids, creating jobs, and lowering taxes."

Balderson won by roughly 1,700 votes, or 0.8 percentage points.

The the night has progressed just as forecast: The Democrat would roll up a big margin from votes cast before Election Day, and Balderson would draw closer throughout the evening.

The final pre-election polls had showed the race virtually a dead heat.

Ohio native Kyle Kondik of the University of Virginia Center for Politics said the district should have been an easier win for the GOP. The district, he said, "contains some of the most bedrock Republican turf in the state and this basically could have went either way."

"The GOP likely keeps the seat but the result is very much in line with what we've seen all over the country in special elections this cycle: Democrats often running well ahead of Hillary Clinton's 2016 performance," he said. "I don't think this was a particularly impressive showing for Republicans."

(…)

The two major parties spent nearly $8 million on the campaign, with the Paul Ryan-affiliated super PAC the Congressional Leadership Fund dumping some $3 million into the race, including deploying a shadow campaign operation that knocked on 500,000 doors.

And in a demonstration of GOP nervousness about the district, Trump, Vice President Mike Pence, House Speaker Paul Ryan and Majority Leader Kevin McCarthy campaigned and/or raised money in the district

Absentee votes are always counted first. O'Connor took home 80 percent support from Franklin County voters who cast ballots before Election Day, giving him an immediate 8,300-vote lead out of the box over Balderson.

A gathering of roughly 100 Balderson supporters at the DoubleTree Hotel in downtown Newark was generally upbeat, but a big deficit in early returns somewhat muffled the enthusiasm level. They picked up as results going across the Fox News ticker showed the race virtually tied.

Balderson "worked his tail off," said Rep. Scott Ryan, R-Newark, but so many outside groups bring their messages into the race. "A candidate's campaign can't control all that. It makes it a little different animal than what I'm used to," said Ryan, who runs the Ohio House Republican campaign committee.
Not surprisingly, President Trump was eager to take credit for Balderson's apparent win:
When I decided to go to Ohio for Troy Balderson, he was down in early voting 64 to 36. That was not good. After my speech on Saturday night, there was a big turn for the better. Now Troy wins a great victory during a very tough time of the year for voting. He will win BIG in Nov.

— Donald J. Trump (@realDonaldTrump) August 8, 2018
…..Congratulations to Troy Balderson on a great win in Ohio. A very special and important race!

— Donald J. Trump (@realDonaldTrump) August 8, 2018
Trump's last-minute decision to campaign for Balderson over the weekend likely did help with turnout among Republicans to some extent, but it's likely that Balderson was equally helped by the last-minute endorsement he had received from Ohio Governor John Kasich, who had represented the district for more than twenty years before retiring in 2000. Kasich remains tremendously popular in the district, and especially in the suburban areas around Columbus that make up a majority of the district, so that endorsement was likely quite helpful in motivating longtime Republicans in getting out to vote and arguably played a larger role in Balderson's narrow win than Trump's endorsement did.
The latest unofficial results from the Ohio Secretary of State show Balderson with 101,574 votes (50.15%). O'Connor with 99,820 votes (49,29%), and the Green Party candidate with 1,127 votes (0.56%). This leaves a difference between Balderson and O'Connor of 1,754 votes, representing 0.87% of the votes cast. If this margin holds, then O'Connor will fall short of the .5% difference that would set in motion an automatic recount under Ohio law. As noted above, though, there are apparently some 8,500 absentee ballots, provisional ballots, and military ballots that remain to be counted. Those must be counted within the next ten days and, that will be the point at which Ohio's recount rules will kick in. If the margin after these other ballots are counted is within 0.5% then there will be an automatic recount initiated by the Secretary of State. If it isn't then the losing candidate still has the option of requesting a recount. It's worth noting, though, that recounts seldom result in a change in the outcome of an election except in circumstances where the difference between the two candidates is much smaller than it is at the moment. In any case, it's unlikely that the outcome of the race is officially certified until the end of this month. In the meantime, both of these candidates will end up facing each other again in November as they have both won the nomination of their respective parties for that race as well.
Even if Balderson does end up pulling off a win here, the fact that Democrats have come this close to winning this seat is significant, and potentially portends big headaches for the Republican Party in the fall. While the borders have changed over the years, this district has been represented by a Republican nearly continuously from 1939 through today, with the only exception to that rule being the period from 1981 to 1983 when the seat was held by Democrat Bob Shamansky. Shamansky was defeated in his first bid for re-election in 1982 by John Kasich, who held the seat from 1983 until he retired at the end of 2000, at which point he was succeeded by Pat Tiberi, who as I noted above retired earlier this year. Even taking into account the fact that this is a Special Election in the middle of August, the fact that a Democrat has done as well as O'Connor appears to have done here is something that Republicans ought to be concerned about.
The Washington Post's Mike DeBonis argues that the outcome of this race ought to raise concern among Republicans:
The tight race between Democrat Danny O'Connor and Republican Troy Balderson in a deep-red Ohio House district Tuesday reinforced a trend that has been developing for more than a year: Democrats are routinely beating their 2016 performance by double digits — putting the House and perhaps even the Senate within their grasp in November.

In Ohio's 12th Congressional District, which encompasses the northern suburbs of Columbus and rural expanses to the east, voters preferred President Trump by 11 points and GOP Rep. Patrick J. Tiberi by 37 points in 2016. But with the race too close to call late Tuesday night, those voters showed a marked shift away from Republicans.

The war for control of Congress has been, for a year and a half, fought in a series of such skirmishes — their names ringing in the ears of Washington political operatives like famous battlefields: Georgia 6. Arizona 8. Pennsylvania 18. And Alabama — never forget Alabama.

The battle moves now to a broader tableau, away from one-offs marked by floods of outside spending and heavy national media coverage to a 435-district scramble where any one contest will have difficulty standing out.

In race after race, national Republican groups have intervened with spending to offset strong fundraising from Democratic candidates. More than $6 million was spent to benefit Balderson, according to pre-election campaign finance reports, versus the $1.2 million spent in support of O'Connor.

(…)

Now, with the battlefield expanding to dozens of House districts and a handful of key Senate races, those particular advantages stand to be diluted. Instead, political strategists say, the fundamentals will become more salient.

"It makes what's happening organically more important," said Zac McCrary, a Democratic pollster who worked on special elections in Alabama and Georgia and is advising numerous midterm campaigns. "There's a Democratic intensity advantage. Organically, independent voters are tilting Democratic in most places. . . . Everything else being equal, the playing field advantages the Democrats."

Democrats need to win 23 Republican-held seats to claim the House majority. A net gain of two seats will flip the Senate, but many more Democrats are vulnerable to Republican challengers this year.

Republican campaign officials acknowledge the head winds but say they are confident that a strong economy, smart campaigns and targeted spending by national GOP groups will mitigate the Democrats' advantage. They point to an overall 7-2 record in the special elections for GOP-held congressional seats before Tuesday.
In The New York TimesFrank Bruni agrees:,
[T]he vision presented by Ohio's 12th District on Tuesday night should give Democrats considerable joy.

True, the race was too close to call early Wednesday morning, and the Republican, Troy Balderson, had a definite edge over the Democrat, Danny O'Connor, in the vote count. But even if O'Connor loses, Democrats will move on from this contest with formidable energy and every reason to believe that Donald Trump is vulnerable, that Republicans are spooked and that the Democratic Party is poised to pick up the 23 seats it needs to reclaim the House majority.

This should have been a Republican cakewalk. The district hadn't been represented by a Democrat in more than three decades. The Republican incumbent, whose retirement is why the special election was necessary, won in 2016 by more than 35 points. In that same year's presidential election, Trump won the district by 11.

(…)

Republicans threw their entire negative arsenal at O'Connor, blaring that he favored "amnesty for illegals," wanted to abolish the Immigration and Customs Enforcement agency and was tight with Nancy Pelosi, their beloved bogeywoman. The Times's Alexander Burns recently noted that when Pence stumped beside Balderson, he linked O'Connor to Pelosi no fewer than "five times in a roughly 20-minute speech." And in a shockingly misogynistic ad, Republicans placed an image of O'Connor in a huddle of three supposedly nightmarish mascots of liberalism, all women: Pelosi, Elizabeth Warren and Hillary Clinton. O'Connor absorbed all of this and still turned the race into a nail-biter.

Is the Republicans' preferred playbook as effective as they need it to be? It's only going to look more frayed and tired as the weeks zoom by.
Finally, The Daily Beast's signs of a blue wave in last night's results:Matt K. Lewis sees
This is a district Mitt Romney won by 10 points in 2012 and Trump won by 11 in 2016.

If Balderson's narrow win holds up, that's a horrible sign for Republicans this November, not evidence that Trump has the Midas touch. Keep in mind, this district is almost 88 percent white. Keep in mind that Republicans spent millions to win this race. Keep in mind that this race is rated an R+7 by the Cook Political Report, which means the district performs seven points more Republican than the national average. If Republicans can't win an R+7 race, how can they win, say, an R+5 race?

This all suggests a massive wave is coming. That's because, as NPR's Domenico Montanaro explains, "There are 69 R-held districts that Trump won by LESS or Clinton won." And Democrats need to net just 23 seats in order to retake the House. For Republicans, a win here is like dodging a bullet and then realizing that a runaway train is barreling toward you.

To be sure, observers tend to make too much out of any given race. But this is the last special election of 2018. For Trump, the takeaway is not helpful. The lesson he seems to have learned is that he is the secret ingredient for Republicans. He will want to travel around the nation, campaigning for Republican candidates. We already know that he finds this cathartic and fun, but now he will see it as the cavalry, never mind that many of these races are toss-ups because his presidency is causing Republicans there all kinds of headaches. In some places, a Trump visit will make perfect strategic sense. But in suburban areas, it will do more harm than good.

(…)

Republicans are in deep trouble. Areas that have been voting for Republicans since Ronald Reagan are now turning their backs on them. Everybody sees it. Everybody knows it. Except Donald Trump.
Absent a significant change in the numbers, it seems likely that Balderson will end up winning this Special Election. As I stated, though, the fact that it has come even this close portends potential problems for Republicans heading into the fall. Based solely on the level of turnout in places such as heavily Democratic Franklin County, Democrats are clearly more excited and engaged than Republicans at this point. Additionally, races like this show the extent to which an endorsement from the President could prove to be a double-edged sword for Republicans. It may help to bring Republicans out to the polls, but it also seems likely to motivate anti-Trump voters to come out as well. Additionally, it's worth noting that the national GOP and its surrogates spent $3.5 million on this race and brought in people from out of town to help Balderson. They're not going to be able to do that in November when there are dozens of House seats on the ballot that will be heavily contested by the Democrats. Depending on the district, this could be a problem for the GOP come November.