Trump Announces 2024 Run
Covering the coverage.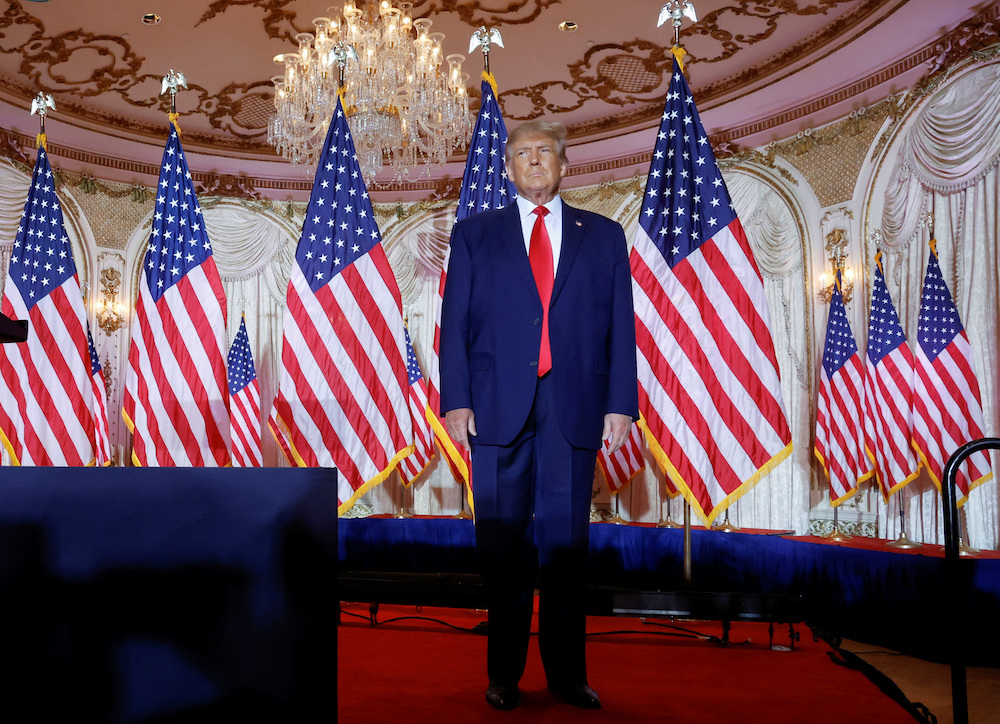 In 2016, many rightly accuse the American press—particularly CNN and other non-Fox television networks but also the prestige print outlets—of treating Donald Trump's campaign for President as a lark, giving him tons of free coverage to spread his lunacy. As he announces a third bid for the office, some outlets are going comically overboard to avoid accusations of normalizing the former President.
WaPo ("Trump, who as president fomented an insurrection, says he is running again")
Donald Trump, the twice-impeached former president who refused to concede defeat and inspired a failed attempt to overturn the 2020 election culminating in a deadly attack on the U.S. Capitol, officially declared on Tuesday night that he is running to retake the White House in 2024.

The announcement at his Florida Mar-a-Lago Club came in a moment of political vulnerability for Trump as voters resoundingly rejected his endorsed candidates in last week's midterm elections. Since then, elected Republicans have been unusually forthright in blaming Trump for the party's underperformance and potential rivals are already openly plotting challenging Trump for the nomination.

Trump has been eager to reclaim the spotlight and pressure Republicans to line up behind him, inviting prominent party leaders to his launch event and keeping track of who attended. Advisers spent much of the year lobbying Trump to hold off announcing until after the midterms, arguing that he might motivate Democratic voters or get drowned out by election news. He finally agreed to promise a "very big announcement" for Tuesday, and stuck with that plan despite further efforts to convince him to wait until after next month's runoff for a Georgia Senate seat.

A defeated former president running for election again while facing potential criminal indictment is unprecedented in U.S. history. Trump becomes the first former president to run again since Theodore Roosevelt, and the first since Grover Cleveland to do so after losing reelection. He is the only president to be impeached twice, and the only one impeached by a bipartisan vote.
NPR ("Donald Trump, who tried to overturn Biden's legitimate election, launches 2024 bid"):
Donald Trump, who tried to overthrow the results of the 2020 presidential election and inspired a deadly riot at the Capitol in a desperate attempt to keep himself in power, announced he is running again for president in 2024.

"I am announcing my candidacy for president of the United States," Trump, 76, said flanked by massive American flags, at his Mar-a-Lago club and home in Palm Beach, Fla.

The announcement — and official filing — comes just a week after the 2022 midterm elections, which saw a lackluster performance from Trump-backed Republican candidates in key Senate races and competitive House elections. As a result, Democrats were able to retain control of the Senate.

"America's comeback starts right now," Trump said, claiming, "Your country is being destroyed before your eyes."

The dark vision hearkened back to Trump's inauguration speech of a country suffering "American carnage" and in need of him to fix it.

Trump running sets up a potential rematch against President Joe Biden, who will turn 80 on Sunday and says he intends to run for reelection in 2024.
NBC News ("Trump, whose lies about the 2020 election inspired an insurrection, announces third White House bid"):
Donald Trump, the only president impeached twice, launched a campaign to reclaim the Oval Office on Tuesday, two years after voters ousted him and a week after they rejected his hand-picked candidates in several pivotal Senate races.

"America's comeback starts right now," Trump said from the ballroom of his Mar-a-Lago resort, where he was joined by members of his family and prominent supporters such as political operative Roger Stone, MyPillow CEO Mike Lindell and former Rep. Devin Nunes, R-Calif.

"We have always known that this was not the end. It was only the beginning of our fight to rescue the American dream," Trump said, adding a twist to his trademark slogan: "In order to make America great and glorious again, I am tonight announcing my candidacy for president of the United States."

Trump promised the future would resemble the past if he is elected, and his speech rehashed scores of old grievances and conspiracies: The FBI is corrupt and out to get him; the voting system is rife with fraud. He littered his address with inaccuracies, some old, some new.

He also vowed to repeal President Joe Biden's initiatives to address climate change and immigration. He credited himself with creating a strong economy and ripped Biden over inflation.
Others are more subdued.
AP ("Trump seeks White House again amid GOP losses, legal probes"):
Former President Donald Trump on Tuesday launched his third campaign for the White House just one week after a disappointing midterm showing for Republicans, forcing the party to again decide whether to embrace a candidate whose refusal to accept defeat in 2020 sparked an insurrection and pushed American democracy to the brink.

"In order to make America great and glorious again, I am tonight announcing my candidacy for president of the United States," Trump said before an audience of several hundred supporters in a chandeliered ballroom at his Mar-a-Lago club, where he stood flanked by American flags and banners bearing his "Make America Great Again" slogan.
CNN ("Former President Donald Trump announces a White House bid for 2024"):
Former President Donald Trump, aiming to become only the second commander-in-chief ever elected to two nonconsecutive terms, announced Tuesday night that he will seek the Republican presidential nomination in 2024.
ABC News ("Trump announces 3rd bid for White House"):
Former President Donald Trump has officially announced he is running for president in 2024, marking his third bid for the White House.

Saying "We are a nation in decline" and "America's comeback starts right now," Trump made the announcement Tuesday night in an address from his Mar-a-Lago estate in Palm Beach, Florida.

The announcement, which Trump had been hinting at for months, comes as the embattled former president faces multiple criminal and civil investigations and as his party is grappling with a worse-than-expected showing in the midterm elections, raising questions about the former president's power over the GOP.
NYT, oddly, doesn't seem to have a straight up report on the announcement at all and instead offers a live blog and a montage of commentary.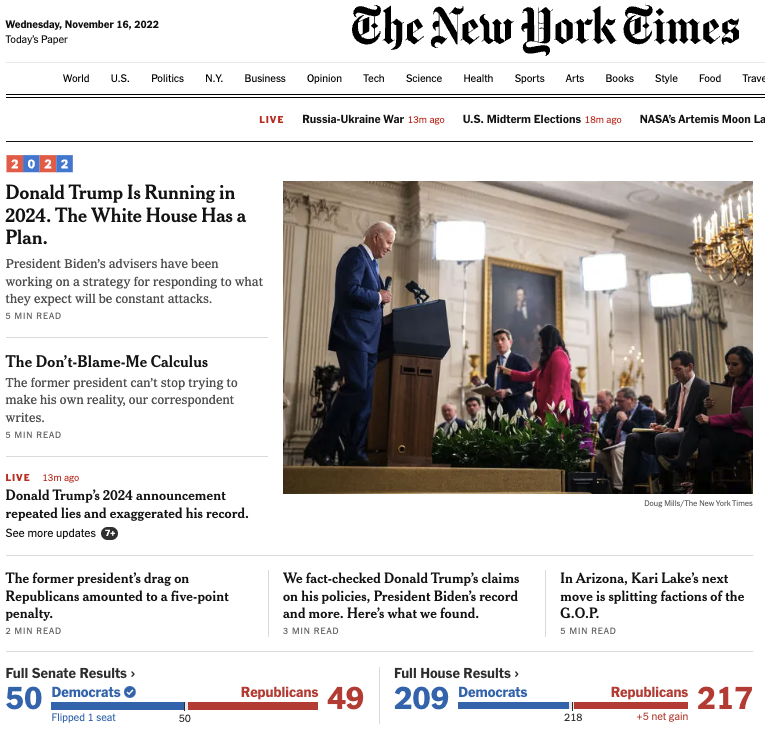 The press are in a tight spot. Even by the standards of far right governors like Rick DeSantis, Trump is not a normal politician and treating him as though he were ill serves the public. But there's still a line between reporting and editorializing that many of the above story cross. If every story about Trump over the next two years seeks to remind readers that he tried to steal the 2020 election, I suspect that it will have the opposite of the desired effect, simply turning that fact into background noise.