Trump Arouses Controversy By Returning Salute Of North Korean General
President Trump is at the center of controversy again after video emerged of him returning the salute of a North Korean General.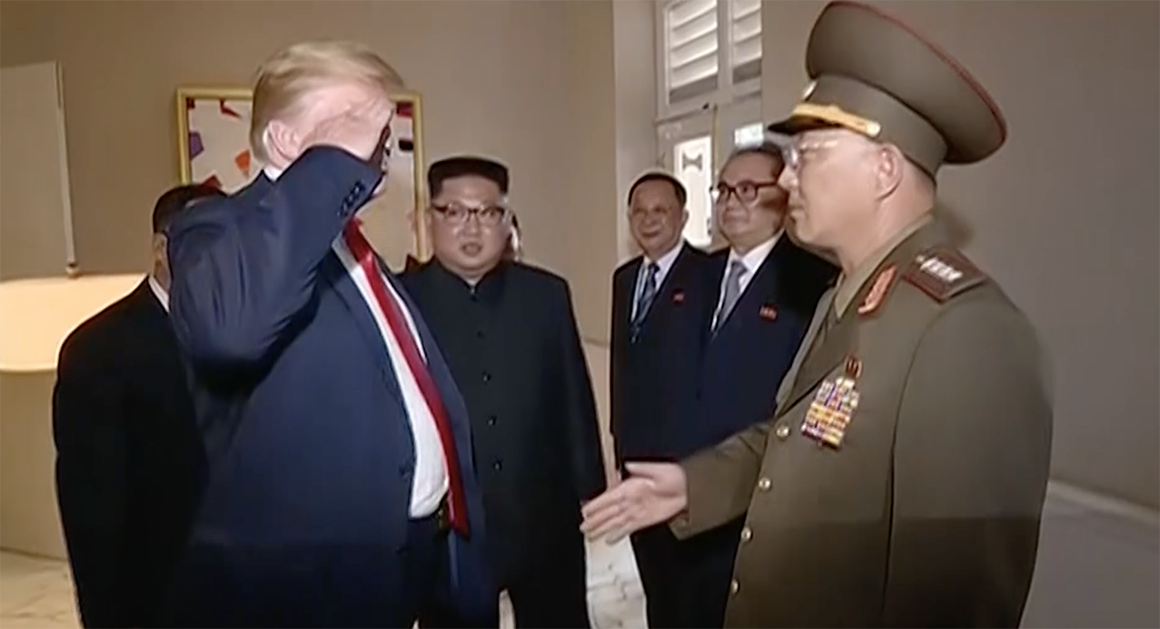 A new controversy has arisen in the wake of President Trump's Singapore Summit when footage emerged of the President returning the salute of a North Korean General:
Footage of President Trump saluting a top North Korean general during this week's summit meeting with the North's leader, Kim Jong-un, set off debate on Thursday over military and diplomatic protocol.

The scene was part of a 42-minute documentary that aired on state television two days after the two leaders met in Singapore, offering another window into the historic encounter.

While greeting North Korean dignitaries after his initial handshake with Mr. Kim, Mr. Trump proceeded down the line shaking hands, the video shows. When Mr. Trump offered his hand to Gen. No Kwang-chol, who was recently promoted to defense chief, the general saluted instead.

Mr. Trump quickly raised his own hand and saluted back.

Maj. Gen. Paul Eaton, a retired United States Army general, criticized the gesture in a statement.

"It is wholly inappropriate for the commander in chief of our armed forces to salute the military of our adversary, especially one which is responsible for a regime of terror, murder and unspeakable horror against its own people," General Eaton said.

Others pointed out that with North and South Korea still technically at war (a formal peace treaty was never signed), it was inappropriate for Mr. Trump to salute the general of an adversary.

But some defended the salute, pointing out that General No had initiated it and saying that Mr. Trump was being polite in return.

The documentary, which included scenes not previously broadcast, appeared on the state-run KCTV and was enthusiastically presented by the North Korean television mainstay Ri Chun-hee. Much of the program, which followed Mr. Kim throughout his trip, was overlaid with soaring patriotic music and breathless narration.
Here's the video of the incident that was broadcast on North Korean state television:
For its part, the White House dismissed the criticism:
White House press secretary Sarah Huckabee Sanders on Thursday defended President Trump's decision to salute a North Korean military officer, calling it "common courtesy."

"It's a common courtesy when a military official from another government salutes that you return that," she said.North Korea's KCTV news channel aired footage from Trump's recent summit with North Korean leader Kim Jong Un. The video shows Trump shaking hands with Kim and another North Korean official.

The president then reaches out to shake the hand of a North Korean officer standing in uniform next to Kim. The officer, apparently confused, salutes Trump instead, prompting the president to salute back.

Reports identified the North Korean military officer as No Kwang Chol, a three-star general.

CNN reported that Trump was briefed on U.S. protocol, which is to not salute military officers from other countries.

Democrats have criticized the gesture as a show of respect for an authoritarian regime. That criticism has compounded scrutiny the president has received for his repeated praise of Kim earlier his week. Trump called the North Korean leader "very talented," a "great negotiator" and someone who "loves his people."

Social media users were quick to note that Trump had previously chided former President Obama for bowing to Saudi Arabia's King Abdullah.

"The Amateur! First @BarackObama was caught bowing to the Saudi King but now the President of Mexico!" Trump tweeted in 2012.
As Politico notes, conservatives, many of whom are now defending the President, attacked former President Obama over similar incidents:
ome conservative pundits quickly came to Trump's defense.

Jack Posobiec, a prominent Trump promoter on Twitter, tweeted photos of President Barack Obama giving a thumbs-up to the Cuban military and "giving a bro shake" to then-Venezuelan President Hugo Chavez.

Indeed, conservatives lambasted Obama several times early in his presidency when he bowed to two foreign leaders.

First, Obama faced blowback in 2009 after he bowed to Emperor Akihito during his first visit to Japan. Conservatives said the move displayed weakness from the U.S. on the world stage.

Obama was also criticized later that year for bowing to King Abdullah of Saudi Arabia.

Trump in 2012 tweeted about Obama's interaction with Abdullah: "do we still want a President who bows to Saudis and lets OPEC rip us off?"

On Thursday, many on the left pointed to these incidents as evidence that Obama faced a double standard, and that conservatives are hypocritical for defending Trump's salute.

However, Ned Price, an Obama-era White House official and CIA analyst who left government work shortly after Trump's inauguration, argued that these situations shouldn't be compared. A president should always know the proper protocol when interacting with foreign military officials, he said.

"We can be outraged that Trump saluted a North Korean general without invoking the 'if Obama did it' argument," Price wrote on Twitter. "Here's the truth: Neither Obama nor any other American President would've done this. Like so much else today, it's uniquely Trumpian and abhorrent."
On some level, one can make the argument that the President of the United States should not be returning salutes to anyone, including members of the American military. Saluting, after all, is a military practice that is governed by rules regarding when, how, and by whom salutes must be given and returned. It is a tradition based on the idea of acknowledging the chain of command and showing the proper respect to superior officers. The President, however, is not a member of the military. Yes, he is the Commander in Chief of the U.S. military, but that does not make him a member of the military. The President, however, is a civilian and his role in that position is intended to emphasize the fact that, in the United States, the military is ultimately under civilian control. While it is appropriate for members of the military to salute the President in recognition of his role as Commander in Chief, it isn't required that the President return that salute and, at least at some level, one can argue that it shouldn't be done at all even though it's relatively harmless.
The entire idea of the President returning the salute of a member of the military appears to have begun with President Reagan, who got into the habit of returning the salutes he received from the Marine guard at the steps of Marine One as he departed the helicopter or the Marines who guarded White House entrances when the President is present. Prior to that, it doesn't appear that it was a regular practice for Presidents to do this, even when they were former Generals such as President Eisenhower or former members of the military who served in World War Two such as Presidents Kennedy or Nixon. Since Reagan, it has become something of a custom that other Presidents have followed and, at times, been criticized for if they appear to not do it properly. As I said, as a tradition, it is relatively harmless and not really something to worry too much about.
The situation is different, though. The President isn't returning the salute of a Marine guard or a member of the Joint Chiefs of Staff. He's returning the salute of the leader of the military of a regime that is, technically at least, still an enemy. Indeed, while protocol apparently does state that it is appropriate to return the salute of a member of the military from a friendly nation, I would argue that it's entirely inappropriate for a President to do so under any circumstance. This would seem to be especially true in the case of a nation like North Korea which, technically speaking, is still an enemy nation and which is responsible for countless human rights atrocities. Admittedly, this is not a major scandal, but it is yet another example of how this President continues to ignore political norms and protocol. As Mr. Price noted in the article quoted above, any other President would have known not to return the salute of a North Korean officer. Trump either doesn't know, or he doesn't care, and in the process, he has once again demeaned the office of the President.