Trump And Kim Stage Another Photo Op Summit At The DMZ
President Trump and North Korean dictator Kim Jong Un met at the Demilitarized Zone for what amounts to their third summit in a year. As with the previous two, there was nothing of substance accomplished.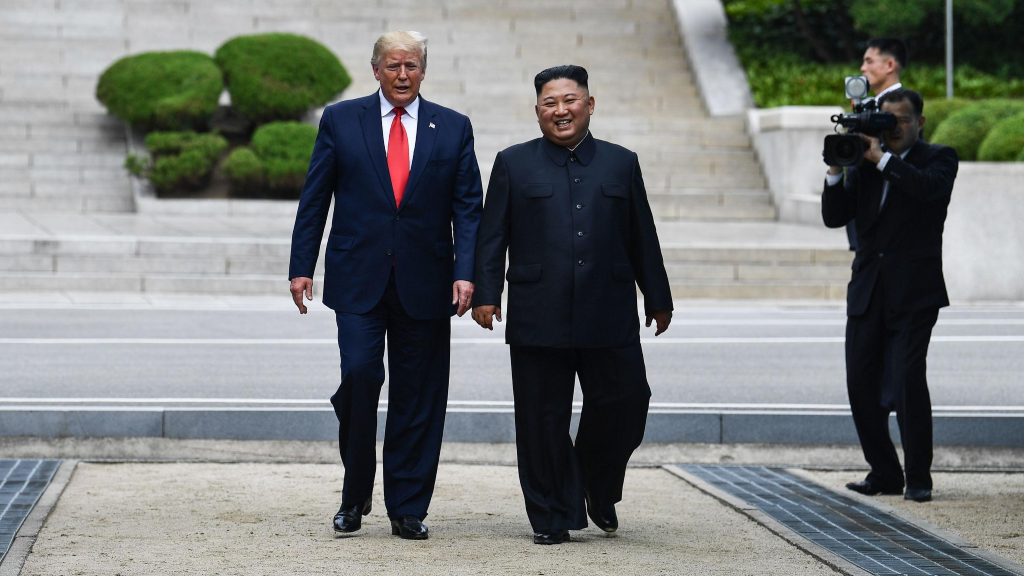 President Trump and Kim Jong Un met at the Demilitarized Zone separating North and South Korea in what is being billed as an impromptu meeting coinciding with Trump's visit with South Korean President Moon Jae In, and while the two leaders agree to restart lower-level talks that had been stalled since the failed Hanoi Summit earlier this year, it's clear that this was little more than a photo opportunity:\
SEOUL, South Korea — President Trump became the first sitting American commander in chief to set foot in North Korea on Sunday as he greeted Kim Jong-un, the country's leader, at the heavily fortified Demilitarized Zone and the two agreed to send their negotiators back to the table to seek a long-elusive nuclear agreement.

Met in the middle by a beaming Mr. Kim, Mr. Trump stepped across a low concrete marker at 3:46 p.m. local time and walked 20 steps to the base of a building on the North Korean side for an encounter carried live on international television — an unprecedented, camera-friendly demonstration of friendship intended to revitalize stalled talks.

"It is good to see you again," a seemingly exuberant Mr. Kim told the president through an interpreter. "I never expected to meet you in this place."

"Big moment, big moment," Mr. Trump told him.

After about a minute on officially hostile territory, Mr. Trump escorted Mr. Kim back over the line into South Korea, where the two briefly addressed a scrum of journalists before slipping inside the building known as Freedom House for a private conversation. Mr. Trump said he would invite Mr. Kim to visit him at the White House.

"This has a lot of significance because it means that we want to bring an end to the unpleasant past and try to create a new future, so it's a very courageous and determined act," Mr. Kim told reporters.

"Stepping across that line was a great honor," Mr. Trump replied. "A lot of progress has been made, a lot of friendships have been made and this has been in particular a great friendship."

A showman by nature and past profession, Mr. Trump delighted in the drama of the moment. Never before had American and North Korean leaders gotten together at the line bristling with concertina wire and weapons, where heavily armed forces have faced off across a tense divide for 66 years since the end of fighting in the Korean War.

The encounter in Panmunjom was cast as a brief greeting, not a formal negotiation, but the two ended up together for a little more than an hour.

After emerging, Mr. Trump said he and Mr. Kim had agreed to designate negotiators to resume conversations in the next few weeks. The American team will continue to be headed by Stephen Biegun, the special envoy, but it remained unclear who would be on the North Korean side of the table.

Mr. Trump gambled that the show of amity could crack the logjam, underscoring his faith in the power of his own personal diplomacy to achieve what has eluded presidents in the past. More than halfway through his term, Mr. Trump is eager for a resolution to the longstanding nuclear dispute, seeing it as a signature element of the legacy he hopes to forge.

Mr. Kim accepted Mr. Trump's unorthodox invitation, posted on Twitter just a day earlier, and both sides scrambled over the past 24 hours to manage the logistics and security required for such a get-together. Mr. Trump was already scheduled to make an unannounced visit to the DMZ during his trip to South Korea, and while he portrayed the idea of meeting with Mr. Kim while there as a spontaneous one, he had actually been musing out loud about it for days in advance.

"There are 35 million people in Seoul, 25 miles away," Mr. Trump said before Mr. Kim's arrival, gazing into the distance as he was shown the line from the observation deck. "All accessible by what they already have in the mountains," he added, an apparent reference to the massive North Korean artillery firepower built up within range of Seoul over several decades. "There's nothing like that anywhere in terms of danger."
Panmunjom, which straddles the North-South border, is commonly known as the "truce village" because the American-led United Nations forces signed an armistice with North Korea and its Chinese backers in 1953 to halt the three-year Korean War.

Even in this symbolic moment of reconciliation, Mr. Trump seemed to dwell on his grievances about his media coverage, repeating complaints he has made several times over the last day that he has not received enough credit for de-escalating tensions on the peninsula.

(…)

Critics said the greeting at the DMZ was nothing more than a glorified photo opportunity by a president who himself ratcheted up the conflict with North Korea in his first year in office by making "fire and fury" threats to destroy the small Asian country if it threatened American security.

"At this point I'm not sure what it is that President Trump is trying to accomplish, because while all this engagement has gone on, there has been no decline in the stockpile of North Korean nuclear weapons or missiles; in fact they have increased them," Joseph Yun, who was the United States special representative for North Korea policy under President Barack Obama and Mr. Trump, said on CNN. "Yes, it's true that tensions are down, but remember that tensions were built up because of all the fire and fury in 2017."

On the other hand, Sue Mi Terry, who served as a National Security Council aide specializing in Korean affairs under both President George W. Bush and Mr. Obama, said it could yield progress if Mr. Trump proves willing to accept a partial accord short of a comprehensive agreement.

"This meeting could lead to a more substantive meeting down the road, later in the year," she said in an interview. "I do think Kim could offer just enough on the negotiating table such as the Yongbyon nuclear facility plus yet another suspected nuclear facility in order to secure an interim deal with Trump and at least some sanctions relief."
More from The Washington Post:
PANMUNJOM, South Korea — President Trump met Kim Jong Un at the demilitarized zone between North and South Korea on Sunday, and briefly crossed into North Korea, marking the first time a sitting U.S. president has ever done so.

The two men then held 53 minutes of private talks, and agreed to set up teams to "work out some detail" to see if progress could be made in their negotiations over North Korea's nuclear program, Trump said.

"Speed is not the object, we want to see if we can do a really comprehensive, good deal," Trump said after the talks. "Nobody knows how things turn out, but certainly this was a great day, this was a very legendary, very historic day."

"It'll be even more historic if something comes up, something very important," he added. "Very big stuff, pretty complicated, but not as complicated as people think."

Trump's meeting with Kim came four months after the breakdown of their second summit in Hanoi, although Trump argued that summit had been a success because his relationship with the North Korean leader had only deepened.


History was made at 3:45 p.m. local time on Sunday, as Trump and Kim walked up to the demarcation line dividing the two Koreas, and shook hands. Kim then invited Trump to cross into North Korea. They stayed a few minutes then both crossed back into South Korea.

"Good to see you," Kim said. "I never expected to see you in this place."

Kim said the very fact of them meeting had a lot of significance.

"We want to bring an end to our unpleasant past and bring in a new future, so this is a very courageous and determined act," he said. "This handshake of peace itself serves to demonstrate that today is different from yesterday. "

Trump said it was "my honor" to cross into North Korea.

"A lot of really great things are happening, tremendous things," he said. "We met and we liked each other from Day One, and that was very important."

The two men then met with South Korean leader Moon Jae-in, before adjourning for talks in the Inter-Korean House of Freedom, on the southern side of the border.

Sitting down before the private talks began, Kim again underlined the importance of the meeting. "I hope it can be the foundation for better things that people will not be expecting," he said.

"Our great relationship will provide the magical power with which to overcome hardships and obstacles in the tasks that needs to be done from now on."

Earlier, Trump also spoke warmly of Kim.

"We've developed a very good relationship and we understand each other very well. I do believe he understands me, and I think I maybe understand him, and sometimes that can lead to very good things."

Afterward, Trump said the two sides would designate teams, with the U.S. team would be headed by special envoy Stephen Biegun under the auspices of Secretary of State Mike Pompeo, to start work in the next two to three weeks. "They'll start a process, and we'll see what happens," he said.

South Korean President Moon Jae-in called the meeting a historic moment in the peace process on the Korean Peninsula.

"Through today's meeting, the peace process for complete denuclearization of the Korean Peninsula and establishment of permanent peace has overcome a big hurdle," he said. "It gave a big hope to the world and the 80 million people of South and North Korea."

Trump had broadcast his offer to meet Kim at the border in a morning tweet in Osaka, Japan, at the Group of 20 summit on Saturday. A senior North Korean official responded soon after that the offer was "interesting."

Whether the meeting was really arranged in just 24 hours remains open to question — the two men also exchanged letters earlier this month — but Trump said the idea had simply occurred to him on Saturday.

"Yesterday I was just thinking 'I am here, let's see whether or not we can say hello to Kim Jong Un,'" he said. "I put the word out and he got back and wanted to do it from the beginning and so did I."

Notwithstanding Trump's representations that he had just come up with this idea twenty-four hour earlier, I must admit to finding that assertion difficult to believe. Meetings of this type simply are not put together at the last minute. In addition to the diplomatic back-and-forth that must occur to make an event like this, there are the rather obvious security concerns that must be considered and the coordination between the Secret Service, United States military, South Korean military, and North Korean military that would be required to pull this off. Regardless of what one thinks about whether this was a productive meeting, and more about that in a second, the idea that all of this was put together in just twenty-four hours, while certainly possible, just doesn't seem likely.
That being said, regardless of whether this meeting was put together at the last minute or something that the two sides have been talking about for weeks it's unclear exactly what was accomplished with this meeting. The resumption of talks could be a good thing, but that will only be the case if the United States changes its expectations of what those talks can accomplish. Specifically, the idea that these talks will ever end with the North Koreans giving up their existing nuclear stockpile is foolish and guarantees that the talks will end in failure. As I have made clear before, it's obvious that the North Koreans see this stockpile as the guarantor of their security and of the survival of the Kim regime. After seeing what happened in nations such as Libya and Iraq, the idea that Kim is going to give up the nuclear weapons program he and his father before him developed, and what that has resulted in, is quite simply fanciful.
Much like the Singapore Summit last year and the failed Hanoi Summit then, today's meeting at the DMZ was little more than a photo opportunity. As Korea expert Victor Cha said on MSNBC early this morning, " meeting Kim at DMZ is like having the Super Bowl when you haven't played a single game." Ordinarily, summits like this are the end of a process, not the beginning. As we saw during the course of the Cold War and, most especially, the summits between American Presidents and Soviet leaders that took place from the Nixon Administration to the Reagan Administration, a meeting of this type occurs after months of negotiation between the two sides and, typically, results in the creation of some agreement that the two leaders can agree to. The summit, therefore, is the capstone of the diplomatic process, not the foundation, and the fact that it has been necessary for these two leaders to meet three times to try to revive a process that is doomed to fail as long as the United States continues to base its negotiating position on the completely unrealistic goal of unilateral denuclearization by the DPRK.
It's still possible, of course, for the United States to end up with an agreement with North Korea that would go a long way toward reducing tensions on the Korean Peninsula. For example, we could finally negotiate an end to the Korean War via a peace treaty that includes not just the DPRK and the United States but also China and South Korea. This treaty could conceivably include agreements that would reduce tensions along the Demilitarized Zone that would include the removal of troops on both sides that have spent the last 60 years and more on a hair trigger for war. Among other things, this would significantly reduce the risk to some of the most heavily populated areas of South Korea, which at the moment remain vulnerable to a North Korean military strike that could come with virtually no warning. Perhaps, this would make it possible for the United States to remove some of its forces in the future.
Developments over the past year also offer a guide to what talks with the North Koreans could realistically achieve. For example, tensions on the Korean peninsula, which have been on a razor's edge since the end of the Korean War and ramped up significantly during the tit-for-tat exchanges that took place between President Trump and the North Korean leader throughout 2017, have calmed down significantly over the past year. Additionally, the relationship between North and South Korea appears to be better than it has been in several years during which the DPRK was engaged in provocative action such as firing missiles at a South Korean naval base and attacking a South Korean naval vessel. Making those changes permanent would be a good thing. However, as I have noted before (see here, here and here), if the United States continues to insist that the ultimate goal of these talks is the idea that North Korea will give up its nuclear arsenal, then all of this is doomed to fail.