Trump Backing Off Border Wall Shutdown Threat?
With three days to go before a government shutdown, there are at least some signs that the President may be backing away from his threats to shut down the government over funding for his border wall.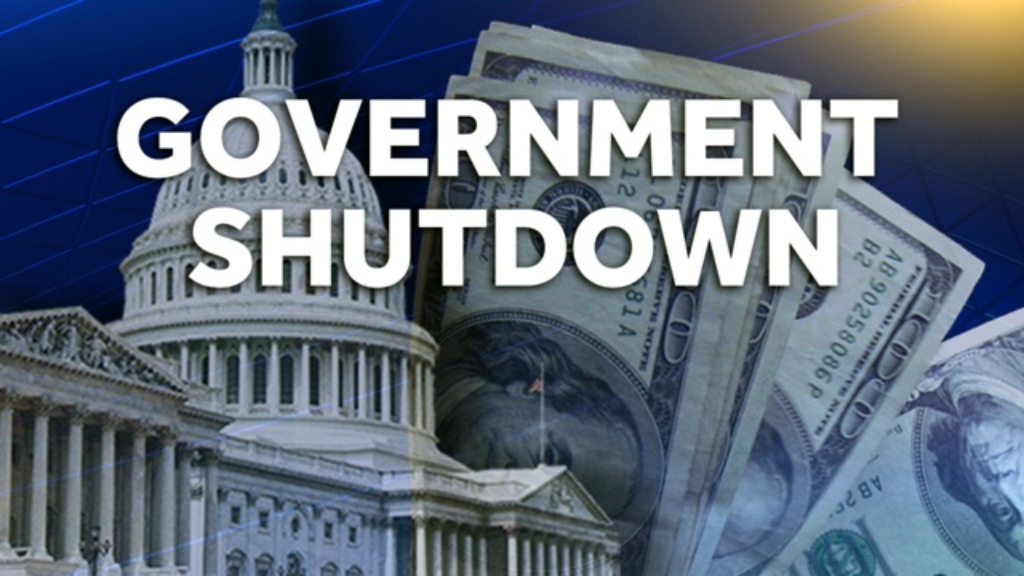 The White House appears to be backing away from threats to shut the government down over funding for the President's border wall, but it's still unclear exactly how the current budget impasse will be resolved:
WASHINGTON — The White House signaled on Tuesday that President Trump might be ready to capitulate on his demand for $5 billion for a wall on the southwestern border, but negotiations on a spending deal remained murky as lawmakers awaited a White House strategy to avert a Christmastime government shutdown.

"We'll see what happens," Mr. Trump told reporters on Tuesday about the chances of avoiding a shutdown. "It's too early to say."

Days before midnight Friday, when funding for large parts of the government will lapse, Mr. Trump's flirtation with a retreat on his wall only underscored the dysfunction at the tail end of the all-Republican majority on Capitol Hill. The White House blamed the Republican-controlled Senate for failing to pass legislation to bridge the divide, while Republican leaders said they were still unsure what the president was willing to sign.

"We are disappointed in the fact that they have yet to vote on something or pass something," Sarah Huckabee Sanders, the White House press secretary, told reporters.

Minutes later, Senator Mitch McConnell of Kentucky, the majority leader, told reporters at the Capitol that he was still trying to determine what Mr. Trump would accept.

"I'm in consultations with the White House about the way forward," Mr. McConnell said, adding that he hoped to have more information later "about what the president is willing to sign."

Republicans worked to create a package that would allow Mr. Trump to declare victory in retreat, but they came up empty, unable to forge a plan that would satisfy a president intent on fulfilling a signature campaign promise and Democrats emboldened by an impending takeover of the House. Instead, on Tuesday evening, Senator Richard C. Shelby, the Alabama Republican who leads the Senate Appropriations Committee, told reporters that Senate Republicans were preparing a short-term bill that would keep the government funded through February.

A stopgap bill would essentially push the government spending fight into the new year, when Democrats will assume control of the House and Mr. Trump's negotiating leverage — already on the wane — will be considerably weakened.

Mr. McConnell said a stopgap measure would "end up, in effect, punting this year's business into next year."

"I think it's not a very desirable outcome," he said.

But Senator Chuck Schumer of New York, the Democratic leader, said his party would be open to the idea. "We'd certainly very seriously look at it," he told reporters.

After days of eerie quiet with a partial shutdown looming, the burst of activity suggested that all sides might be preparing for a brief holiday reprieve from their stalemate.

Ms. Sanders offered the first glimmers of a way out of the impasse in an interview Tuesday morning on Fox News, in which she said Mr. Trump — who only a week ago said he would be proud to force a shutdown over wall funding — did not want to see government funding lapse. She said the president was open to spending options short of the $5 billion lump sum he has demanded, and would find "different funding sources" to finance the wall.

"The president has asked every agency to look and see if they have money that could be used for that purpose," she told reporters later.

Still, that would require approval from Congress, which Democrats said they would not grant.

In an evening tweet, the president appeared to continue to inch closer to the restrictions of the $1.6 billion funding in the Senate bill, claiming that "we are not building a Concrete Wall." (Mr. Trump has mentioned concrete in his frequent, but fluctuating, descriptions of a wall.)

"We are building artistically designed steel slats, so that you can easily see through it," the president wrote. "It will be beautiful and, at the same time, give our Country the security that our citizens deserve."

Mr. McConnell had suggested a plan that would have provided $1.6 billion for border security but prohibited spending it on a wall, while allowing Mr. Trump to spend as much as $1 billion in unspent funds from other agencies on his immigration priorities. Mr. Schumer and Representative Nancy Pelosi of California, the presumptive incoming speaker, quickly rejected it.
In a post that was updated around 9;00 p.m. last night, Politico describes the situation as one where Republicans on Capitol Hill have talked the President off the edge and convinced him that forcing a shutdown over the holidays would be unwise:
Mitch McConnell thinks he's gotten President Donald Trump to back off his shutdown threat. And it's looking increasingly likely to come with a short-term punt.

The Senate majority leader emerged from a lengthy party lunch after a flurry of mixed signals from the White House to declare there will be no partial shutdown on Friday evening, when a quarter of government funding expires. The GOP majority may have to settle for a short-term delay, but McConnell said the White House is now "flexible" on border wall funding, just one week after Trump said he'd be "proud" to shut down the government in a fight over border security.

"He can speak for himself. But I think a government shutdown is not a good idea. That's my view. The American people don't like it," McConnell told reporters. Asked whether he believes a shutdown could now be avoided ahead of the holidays, he responded: "Yeah, I do."

McConnell's efforts to soothe an inflamed debate between the president and Democratic leaders capped a day of unsuccessful negotiations between McConnell and Senate Minority Leader Chuck Schumer of New York and a softening public position from the White House. Press secretary Sarah Huckabee Sanders indicated the president could accept less than the $5 billion from Congress that he had previously demanded, and Schumer did not rule out a short-term spending bill that would punt the border fight to next year.

Trump, of course, revels in the daily drama and, on Tuesday, refused to admit defeat or pledge that he would win the standoff. After McConnell and Schumer spoke to reporters, the president said he wants more border security and was coy on whether he'll sign whatever Congress sends him. "We'll see what happens," he told the news media.

Back on Capitol Hill, senators and aides said they believed a short-term spending bill might be the best option.

Senate Appropriations Chairman Richard Shelby said Tuesday night that lawmakers were likely to pass a spending bill that would expire in "early February. It could flip a few days."

"That would give the new Democratic House time to organize," Shelby said. He said ultimately it would be up to McConnell and Trump, but acknowledged that was the most likely outcome.

Earlier Tuesday, McConnell suggested to Democrats that they pass the bipartisan Senate homeland security funding bill and its $1.6 billion for fencing plus an additional $1 billion in spending Trump could use on the wall, which Schumer deemed a "slush fund."

The Democratic leader soon called McConnell to reject the proposal and stood behind a bill offering flat funding for the Department of Homeland Security, which would provide $1.3 billion for fencing.

"The Republican offer today would not pass either chamber," Schumer told reporters. He said his caucus would "very seriously" consider a short-term spending bill, which would thrust a spending fight into the lap of presumptive House Speaker Nancy Pelosi at the beginning of the new Congress.

The round of failed talks followed a key breakthrough: Sanders admitting publicly that Trump would take less than $5 billion in border wall funding from Congress as a condition for keeping the government funded. She said on Fox News that the administration would work with Hill leaders on passing a bipartisan bill providing $1.6 billion in fencing and would try to move more money around within the government to fund the border wall. Schumer said he would withhold congressional approval for that.

Later, Sanders told reporters the White House was "disappointed" the Senate hadn't sent it anything. But she also underscored that the White House was waiting on lawmakers to act. "When they do something, we'll make a decision about whether we're going to sign it," Sanders said.

And party leaders are clearly preparing to make a move given the new wave of negotiations among Schumer, McConnell and Pelosi.
Given the fact that the House was still out of session yesterday, all of yesterday's action took place either behind the scenes or on the cable news shows. In that regard, it's hard to tell exactly where things stand with just about sixty-odd hours to go before the current Continuing Resolution runs out. As things stand, though, things are going to have to move fairly quickly if something is going to get passed by both the House and Senate and make it to the President in time to avert a shutdown at midnight on Friday, although we can probably safely let things slide into the weekend a bit if necessary. The main reason for this is that even if a budget deal is reached the Senate still has to follow its debate rules, which means that a bill of some kind will have to pass the House as soon as possible, preferably by sometime late today, so that the Senate can consider and vote on the bill in a timely manner.
The problem in that regard, of course, is two-fold. First, we still don't have any idea what kind of plan could pass the House and Senate and get the President's approval. Second, even when we do reach that point the proposal will have to be put into legislative language, a process which takes time of its own. Third, the House Republican Leadership literally has no idea how many of its members will actually show up to vote this week given that so many of its members were defeated in November and/or retiring at the end of the year. All of this means that it is the Democrats who have the real bargaining power here, and their opposition to the border wall means that this entire debate about funding the wall is academic. In the end, the wall is never going to be fully funded, and never going to be built. The sooner Republicans realize that, the better.