Trump Backs Down, Signs Relief Bill
His tantrum stopped checks over the weekend but Congress called his bluff.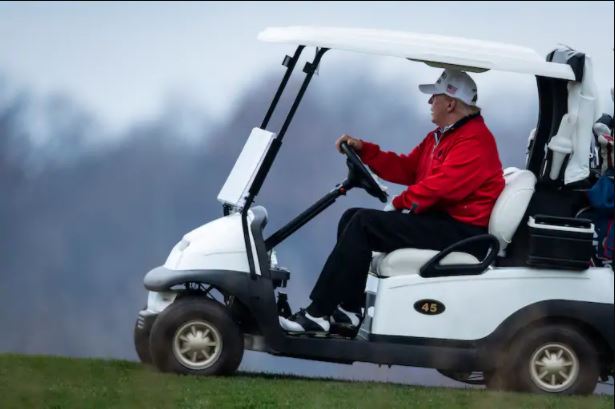 NPR ("Trump Signs COVID-19 Relief Deal After His Criticism Threatened To Derail It"):
President Trump on Sunday night signed a massive coronavirus relief and spending package, relenting on a measure he had called a "disgrace" days earlier.

The legislation, which combines $900 billion in COVID-19 aid with government funding through September 2021, was passed by large majorities in both houses of Congress on Dec. 21 — only to see Trump blindside legislators the next day and blast the bill.

In a statement Sunday night, Trump said lawmakers will pursue some of his sought-after changes.

His signature avoids a partial government shutdown, as spending was set to run out Tuesday, and it puts an end to days of uncertainty over when millions of Americans will receive the desperately needed economic relief provided by the bill.
POLITICO Playbook ("Trump got nothing"):
THAT'S IT? President DONALD TRUMP made all this noise about the Covid relief and government funding bill only to sign it and get nothing in return?

TRUMP got taken to the cleaners.

WHAT A BIZARRE, embarrassing episode for the president. He opposed a bill his administration negotiated. He had no discernible strategy and no hand to play — and it showed. He folded, and got nothing besides a few days of attention and chaos. People waiting for aid got a few days of frightening uncertainty.

ZIP. ZERO. ZILCH. If he was going to give up this easy, he should've just kept quiet and signed the bill. It would've been less embarrassing.

IN A STATEMENT, TRUMP saidCongress will reviewSection 230, the statute governing social media companies? Pretty sure they've been reviewing it for a while. A "redlined" bill? Huh? He'll never get the spending rescissions he's asking for — like, zero chance, so don't focus on this. They will review voter fraud? Sure thing, boss. And the Senate will begin the process of voting on $2,000 checks? Great. He will split the Republican Party on the way out the door. (Will it get 60 votes? Will senators even show up for this?) In his Sunday evening statement, Senate Majority Leader MITCH MCCONNELL didn't even mention anything that TRUMP got in return for signing this bill.

THIS IS PROBABLY THE MOST FITTING coda to TRUMP'S presidency, and a neat encapsulation of his relationship with Congress. He never cared to understand the place and was disengaged from its work.

THEY'LL BE LAUGHING — er, scratching their heads — at your genius about this one for a while, Mr. President.
Ouch.