Trump Banned from Twitter
Hashtag: You're Fired.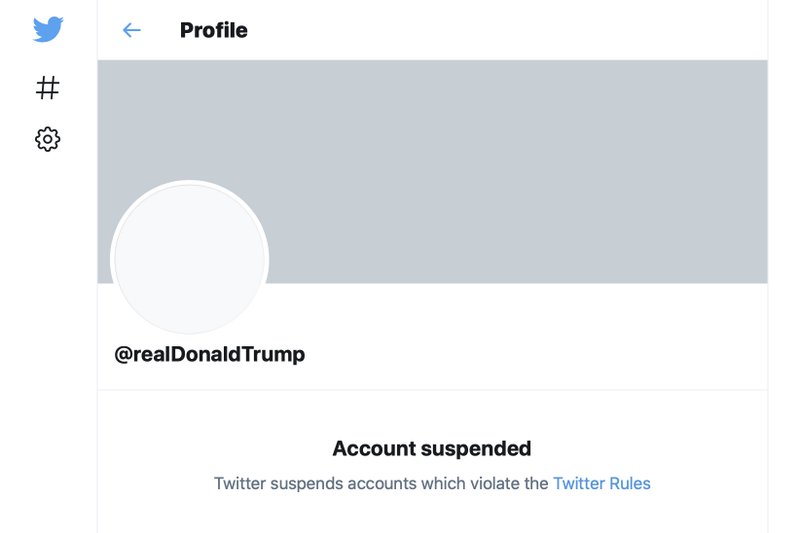 Donald Trump has used his Twitter account to increase his celebrity, ultimately winning the Republican nomination and the Presidency itself. Once in office, it remained his primary means of communicating with supporters, chastising enemies, and fomenting anger. All it took was a riot at the Capitol that could have been much worse for the platform to say "Enough."
The accompany announced the Permanent suspension of @realDonaldTrump last evening, explaining,
After close review of recent Tweets from the @realDonaldTrump account and the context around them — specifically how they are being received and interpreted on and off Twitter — we have permanently suspended the account due to the risk of further incitement of violence.

In the context of horrific events this week, we made it clear on Wednesday that additional violations of the Twitter Rules would potentially result in this very course of action. Our public interest framework exists to enable the public to hear from elected officials and world leaders directly. It is built on a principle that the people have a right to hold power to account in the open.

However, we made it clear going back years that these accounts are not above our rules entirely and cannot use Twitter to incite violence, among other things. We will continue to be transparent around our policies and their enforcement.
What caused them to finally pull the plug?
On January 8, 2021, President Donald J. Trump tweeted:

"The 75,000,000 great American Patriots who voted for me, AMERICA FIRST, and MAKE AMERICA GREAT AGAIN, will have a GIANT VOICE long into the future. They will not be disrespected or treated unfairly in any way, shape or form!!!"

Shortly thereafter, the President tweeted:

"To all of those who have asked, I will not be going to the Inauguration on January 20th."

Due to the ongoing tensions in the United States, and an uptick in the global conversation in regards to the people who violently stormed the Capitol on January 6, 2021, these two Tweets must be read in the context of broader events in the country and the ways in which the President's statements can be mobilized by different audiences, including to incite violence, as well as in the context of the pattern of behavior from this account in recent weeks. After assessing the language in these Tweets against our Glorification of Violence policy, we have determined that these Tweets are in violation of the Glorification of Violence Policy and the user @realDonaldTrump should be immediately permanently suspended from the service.
There's more at the link but you get the point.
The Associated Press offers a fitting eulogy ("A farewell to @realDonaldTrump, gone after 57,000 tweets"):
@realDonaldTrump, the Twitter feed that grew from the random musings of a reality TV star into the cudgel of an American president, has died. It was not quite 12 years old.

The provocative handle was given birth by a New York real estate tycoon who used it to help him become the 45th U.S. president. It began with a May 4, 2009, tweet promoting Donald Trump's upcoming appearance on David Letterman's show.

It died more than 57,000 tweets later, with Trump using some of his final postings on the powerful platform to commiserate with a pro-Trump mob that besieged the halls of Congress in a deadly assault as lawmakers were set to certify his defeat.

The account met its demise when Twitter announced Friday it was pulling the plug permanently on @realDonaldTrump, citing concern that Trump would use it for "further incitement of violence." Trump retorted that he'd be "building out our own platform in the near future. We will not be SILENCED!"

Trump, a novice politician but seasoned salesman, realized the power of social media in ways that few other politicians did. And he wielded it with never-before-seen power to diminish his opponents, shape elections and mold reality — at least in the eyes of his supporters.

Early on, @realDonaldTrump seemed innocent enough. Its owner, who had prolific experience in marketing casinos, real estate and even Oreos, used the platform mostly to promote his books, media appearances and give friendly plugs to friends.

But as Trump began seriously toying with a White House run, it became a tool to scorch opponents and give shape to his nationalist, "America First" philosophy.

He deployed its venom equally, whether insulting celebrity enemies (Rosie O'Donnell was "crude, rude, obnoxious and dumb") or or using xenophobia to malign a country (Britain is "trying hard to disguise their massive Muslim problem").
There's quite a bit more but, again, you get the idea.
Facebook, which was in some ways more important for spreading lies and rumors than Twitter, banned him first. And Reddit has been more aggressive, longer. Indeed, Axios catalogs "All the platforms that have banned or restricted Trump so far" and the answer is, pretty much all of them:
The bottom line: Trump is quickly losing access to all the platforms where he once was able to spread his message freely, but groups of his supporters will still be able to gather online.

The platforms have been in an unenviable position. Like it or not, Trump is the President of the United States of America. Blocking him from his preferred platforms from communicating with the American public is a drastic step, indeed, and would certainly invite regulatory scrutiny.
I've long argued that, because of their oligopoly, if not monopoly, status on certain types of communication, Twitter, Facebook, YouTube, and others should be thought of as something akin to public utilities. Yes, they're private companies. But so are the major television and radio networks, which have been regulated since their inception.
It would be problematic, indeed, if our political leaders were banned from participating in the public discourse because of the whims of entrepreneurs whose apps happened to catch on and achieve critical mass.
But, even with a President—perhaps, especially with a President—there have to be limits. Were I running a major news network, I would have stopped carrying his speeches live some time ago. At best, the news value had become limited and, at worst, he was spreading lies, undermining our civil society, and inciting lawlessness. One can argue Twitter waited too long but it's hard to argue that the risk off cutting a lame duck President off after he has incited rioting outweighs the risk of letting him continue.
Particularly since, at least for now, he still has access to the @POTUS account, from which he continues to rant.
I will say, however, that the manner in which Twitter has carried this out is problematic. That is, I very much hope his old tweets are not hidden from the public view forever. I can understand keeping them offline through the transition but there is substantial public and scholarly interest in having the old tweets available for study.