Trump Emoluments Suit Moves Forward
200-odd Congressional Democrats are taking an odd route to go after corruption.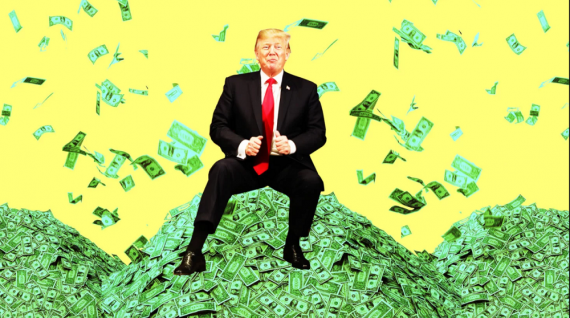 Congressional Democrats are suing President Donald Trump for using his office for personal financial gain. A Federal judge has dismissed Executive Privilege arguments.
Democrats in Congress can move ahead with their lawsuit against President Trump alleging that his private business violates the Constitution's ban on gifts or payments from foreign governments, a federal judge ruled Tuesday.


The decision in Washington from U.S. District Judge Emmet G. Sullivan adopted a broad definition of the anti-corruption law and could set the stage for Democratic lawmakers to begin seeking information from the Trump Organization. The Justice Department can try to delay or block the process by asking an appeals court to intervene.


In a 48-page opinion, the judge refused the request of the president's legal team to dismiss the case and rejected Trump's narrow definition of emoluments, finding it "unpersuasive and inconsistent."

The lawsuit is one of two landmark cases against Trump relying on the once-obscure emoluments clauses of the Constitution.

In a case brought in Maryland by the attorneys general of D.C. and Maryland, Justice Department lawyers representing the president have succeeded in temporarily blocking subpoenas for financial records and other documents related to Trump's D.C. hotel.


The congressional case, brought by about 200 Democrats, extends beyond the hotel and provides a potential new avenue for investigators to gain access to a broader array of Trump's closely held finances.

Trump's lawyers argued that the prohibition applies only to payments received for government action taken by a president in his official capacity. The clause, they argue, should not be considered a blanket bar on private business transactions with foreign governments.

Sullivan noted that the lawsuit alleges the president — without seeking permission from Congress — has received payments for hotel rooms and events from foreign governments, as well as licensing fees paid by foreign governments for his show "The Apprentice" and intellectual property rights from China.

The emoluments cases, which could eventually end up at the Supreme Court, appear to mark the first time federal judges have interpreted these clauses and applied their restrictions to a sitting president. The lawsuits were early arrivals to what is now a wide range of investigations and legal battles over the president's business interests and what information he and his family will be required to provide about them.

— WaPo, "Congressional Democrats' emoluments lawsuit targeting President Trump's private business can proceed, judge says"
Trump fans will likely take umbrage that Judge Sullivan is a black man appointed to his post by Democrat Bill Clinton. But it's worth noting that he was previously appointed to two DC judgeships by Republicans George H.W. Bush and Ronald Reagan.
I've been arguing from Day 1 of his administration that violations of the Emoluments Clauses, and personal corruption more generally, were the most obvious grounds for impeachment. It's simply outrageous that he's profiting off a hotel—leased from the government in violation of the law—and funneling taxpayer money into his various personal properties including Mar a Lago.
It's baffling, then, that they're pursuing this matter through the third branch of government. It made some sense when the President's party, which has been shamefully spineless when it comes to his turpitude, controlled the House of Representatives. But the Democrats have had the majority there since the beginning of January. They have all the power they need to investigate these misdeeds without going to court.
Further, as Doug Mataconis discussed extensively at the time, a Federal judge ruled in December of 2017 that the courts had no jurisdiction over Emoluments cases, since the Constitution assigns to Congress the authority to grant approval. Whether that's true is disputable, given the lack of precedent and rulings from higher courts. But he correctly observed, "Congress is not a potted plant. It is a co-equal branch of the federal government with the power to act as a body in response to Defendant's alleged Foreign Emoluments Clause violations, if it chooses to do so."
That the application of the Emoluments Clauses to a sitting President hasn't been the subject of previous judicial ruling isn't surprising, really. None of his forty-three predecessors have engaged in anything like Trump's self-dealing.
Indeed, one of the many ironies of the Trump presidency is that one of his repeated campaign themes was that, because he was so rich, he couldn't be bought. But no one has made more money from the office while still in it.