Trump Golf Courses Displaying Fake Time Magazine Cover Featuring Donald Trump
Donald Trump's golf courses are displaying something that literally is fake news.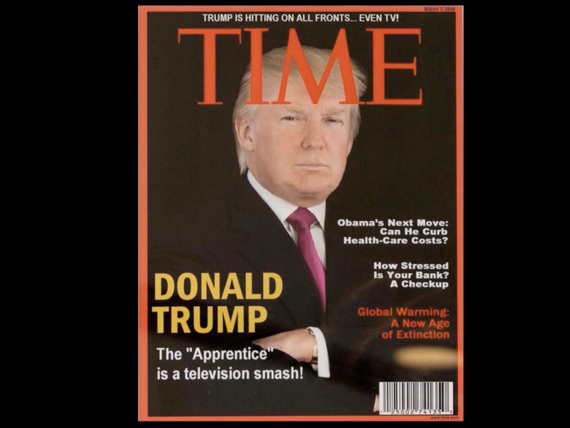 Several of Donald Trump's golf courses are hanging a Time Magazine cover featuring the President that turns out to be entirely fake:
The framed copy of Time magazine was hung up in at least five of President Trump's clubs, from South Florida to Scotland. Filling the entire cover was a photo of Donald Trump.

"Donald Trump: The 'Apprentice' is a television smash!" the big headline said. Above the Time nameplate, there was another headline in all caps: "TRUMP IS HITTING ON ALL FRONTS . . . EVEN TV!"

This cover — dated March 1, 2009 — looks like an impressive memento from Trump's pre-presidential career. To club members eating lunch, or golfers waiting for a pro-shop purchase, it seemed to be a signal that Trump had always been a man who mattered. Even when he was just a reality TV star, Trump was the kind of star who got a cover story in Time.

But that wasn't true.

The Time cover is a fake.

There was no March 1, 2009, issue of Time magazine. And there was no issue at all in 2009 that had Trump on the cover.

In fact, the cover on display at Trump's clubs, observed recently by a reporter visiting one of the properties, contains several small but telling mistakes. Its red border is skinnier than that of a genuine Time cover, and, unlike the real thing, there is no thin white border next to the red. The Trump cover's secondary headlines are stacked on the right side — on a real Time cover, they would go across the top.

And it has two exclamation points. Time headlines don't yell.

"I can confirm that this is not a real TIME cover," Kerri Chyka, a spokeswoman for Time Inc., wrote in an email to The Washington Post.

So how did Trump — who spent an entire campaign and much of his presidency accusing the mainstream media of producing "fake news" — wind up decorating his properties with a literal piece of phony journalism?

The Trump Organization did not respond to questions this week about who made the cover and why it was displayed at Trump clubs. White House spokeswoman Sarah Huckabee Sanders declined to say whether Trump had known that the cover wasn't real.

"We couldn't comment on the decor at Trump Golf clubs one way or another," Sanders wrote in an email.

The cover seems to fit a broader pattern for Trump, who has often boasted of his appearances on Time's cover and adorned his Trump Tower office with images of himself from magazines and newspapers. Trump has made claims about himself — about his charitable giving, his business success, even the size of the crowd at his inauguration — that are not supported by the facts.

In this case, Trump's golf clubs might seem like places where he wouldn't need to stretch the truth. Reality is flattering enough. The clubs are monuments to Trump's success — they bear his name and are filled with his images. But, still, his staff added an extra trophy that was phony.

It is not clear who created this fake Time cover — or why.

Its date might be a clue: March 1, 2009, was the season debut of Trump's show "The Celebrity Apprentice." But a transcript of that show offers no answers. In that episode, various B-list celebrities competed to sell cupcakes, and Trump fired comedian Andrew Dice Clay for poor performance. Nobody mentioned Time magazine.

While it's not difficult to mock up a fake cover using graphic-design software, whoever made this one sought out real Time headlines, to add to the fake.

There are secondary headlines on the Trump cover that tout stories on President Barack Obama, climate change and the financial crisis. Two of those are taken from a real March 2, 2009, issue of Time, which featured actress Kate Winslet on the cover. But the issue makes no mention of Trump.
Time's publisher has asked the golf courses to take down the fake covers, but there's no indication that any of them have done so as of yet. To be honest, I'm not sure that Time would have any legal recourse against them if they don't, although one would imagine that now that the truth is out there would be at least some effort by management to bring an end to the embarrassing incident rather than continue to gather attention by knowingly displaying a fake news magazine cover as if it were real.
Beyond that, it's not really a surprise that Trump would do something like this. His entirely real estate empire is built around the idea of promoting the Trump name about all else. Wandering into any of his properties in New York City or elsewhere means one is bombarded with a wide variety of Trump-related branding on everything from the bottled water to bathroom fixtures. Each property seems to have a huge display of Trump-branded products ranging from clothing to wine and water, most of them items that can't be purchased anywhere other than on Trump-branded properties thanks in small part to the fact that various retailer ended their business relationships with the President after he made offensive and obviously racist remarks about Mexicans and other minorities at the start of his Presidential campaign. Given that, it's not surprising that you'd also encounter a news magazine cover featuring "The Donald." What's odd about it is that someone would consider it necessary to create a fake cover rather than utilizing a copy of any of the numerous number of times that Trump has in fact been featured on the cover of Time or one of the other news magazines. There's even one from this past December that has Trump on the cover as the "Person Of The Year." It's just, well, so very strange.
One clue as to why it may have been done, though, can be found in what ends up being another one of Donald Trump's lies, namely the success of his reality television show. On repeated occasions both before he was running for President and after he had entered the race, Trump made the claim that The Apprentice and Celebrity Apprentice were top-rated shows and that NBC and his producer had "begged" him to stay with the show rather than running for President. He's repeated it so often that it's become something he must obviously truly believe. The only problem is that it quite simply isn't true because if you look at the ratings it's clear that neither show was the ratings success he claimed it to be. The Apprentice, for example, was only a Top Ten show for its first season when it was ranked as the 7th most-watched show with an average of about 20.7 million viewers per episode. That was the only season in which it was in the top ten, and by Season Four in 2005 it had fallen out of the Top 25 shows and kept falling to the point where it was the 113th ranked show in the final season that aired in 2010. (Source) Celebrity Apprentice, meanwhile, was never a Top 10 or Top 25 show. In its first season it ranked 48th with an average of 11.00 million views, and by the final Trump iteration of the series in 2015, it was ranked 67th with an average of just 7.6 million viewers. (Source) In other words, yet another one of Trump's claims to fame is based entirely on a lie. Given that, it's not too hard to undertand why he'd have fake news magazine covers hanging in his properties.