Trump To Remain Executive Producer Of 'Celebrity Apprentice' After Becoming President
Another conflict of interest for President-Elect Trump.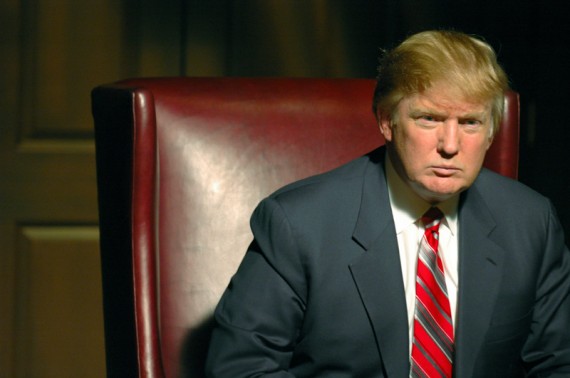 Donald Trump will continue to be credited as a co-Executive Producer of 'Celebrity Apprentice' even after becoming President:
President-elect Donald J. Trump may have leapt from reality-show success to the highest echelons of political power.

But that does not mean he is ready to give up the reality-show part just yet.

Although Mr. Trump is not starring in NBC's coming season of "The New Celebrity Apprentice," the president-elect is still involved: Mr. Trump will be credited as one of the show's executive producers, a spokeswoman for Mark Burnett, the creator of the "Apprentice" franchise, said on Thursday.

MGM, Mr. Burnett's studio, declined to comment on what the president-elect would be paid for his participation in the new season, which will feature Arnold Schwarzenegger as the show's power-wielding businessman. But in the past, Mr. Trump has held as much as a 50 percent stake in "The Apprentice," and received payments from the show's international editions and a short-lived version that starred Martha Stewart.

"Mr. Trump has a big stake in the show and conceived of it with Mark Burnett," Hope Hicks, the president-elect's spokeswoman, said on Thursday. Ms. Hicks confirmed that she was referring to a financial stake.

For an incoming president whose business holdings have already drawn ethical scrutiny, Mr. Trump's continuing involvement with "The Apprentice" could spawn a new round of questions about conflicts of interest.

For NBC, which nurtured Mr. Trump's celebrity until he left the show in 2015 to pursue a presidential bid, the fact that the president-elect stands to profit from the program could raise concerns about how a politically polarized audience may react to one of its biggest prime-time shows.

Mr. Schwarzenegger's first episode airs on Jan. 2, and major companies, including Trident gum, Welch's, and Carnival Cruise Line, have signed on as sponsors. NBC declined to comment on Mr. Trump's producing credit, which was first reported by Variety.

Mr. Trump, for months, has shown a keen interest in how Mr. Schwarzenegger, a former governor of California, bodybuilder and actor, might perform as host, asking friends and even campaign crowds, "How do you think Arnold's going to do?" During an interview in May about his history with "The Apprentice," Mr. Trump made clear that he remained invested in the program, emotionally and otherwise.

"You know I have a big chunk of that show, going forever," Mr. Trump said. "Mark and I did it together. We were 50-50 partners."4
From other reports, it seems clear that Trump's role as co-Executive Producer does not include performing any actual duties in connection with the show, nor does he appear to have had any role in the production or promotion of the show's new season, which is set to begin after the New Year. Instead, as is common in Hollywood, he was given the credit in exchange for his role in creating the series with Mark Burnett, something which Burnett and others involved in the actual production of the show from the beginning. Additionally, this likely means that he is contractually entitled to receive some portion of the royalties and revenue from the show notwithstanding the fact that he is no longer the host. In some sense, then, this arrangement is no different than a candidate for President who wrote a book and continues to receive royalties from the sale of that book even after becoming President. This was the case for President Obama, for example, who has continued to report income from sales of the two books he wrote before becoming President every year that he's been in office, and several Trump supporters have made analogy since this story became news late yesterday. Obviously, if Trump intends on taking some sort of active role in the show while simultaneously serving as President, then that raises questions of when exactly he'd find the time to do so. Of course, given the fact that Trump has said he intends to maintain his business holdings even after becoming President, that question is one that will hang over the Trump Administration regardless of what he does or does not do in connection with 'Celebrity Apprentice.'
If that's where the this ended, then this wouldn't really cause has problems either for Trump or for anyone involved in production and broadcast of the show. However, there are several differences between this situation and the book analogy that raise conflict of interest for Trump, and for NBC/Universal, that just add to the myriad of conflicts that Trump will face once he takes office.
The primary conflict, of course, is the fact that Trump and NBC will have a financial relationship of some kind at the same time that Trump is at the the top of a government that includes agencies that could potentially be called on to investigate or regulate NBC/Universal. At the top of the list, of course, is the fact that NBC is a broadcast network and thus falls within the jurisdiction of the Federal Communications Commission, an Executive Branch agency that Trump has the power to appoint Commissioners for. There aren't likely to be any Trump appointees on the FCC in the first season of the new version of "Celebrity Apprentice.' However, it's probable that he will be appointing at least one member, and possibly as many as three, during that first year. The prospect of Trump having a financial relationship with one of the entities over which the FCC had raises some rather obvious conflicts of interest. This same situation applies to the Securities And Exchange Commission and the Department of Justice since NBC/Universal is a publicly traded company. Additionally, these potential conflicts exist not just for Trump but also for NBC/Universal since it raises the question of whether or not there might be a motivation hold back on negative reporting or commentary about the incoming Administration given the financial relationship between Trump and the parent company. At the very least, it would seem that this arrangement would require NBC News to issue a disclaimer regarding the relationship in connection with every news report or commentary on Trump Administration policy.
As Allahpundit notes, the relationship between Trump and 'Celebrity Apprentice' also raises questions on the international front:
A foreign media organization or a foreign government with its own state media that's seeking Trump's favor could try to butter him up by making a deal to bring "Celebrity Apprentice" to their home country, knowing that the president would appreciate the interest — and the extra revenue — in his pet project. They could do something similar with Obama by buying up copies of his books, but as far as I'm aware, book royalties are far less lucrative than TV syndication deals. Then again, given the Trump family's web of global real-estate interests, there'll be so many other ways to impress Trump by throwing money at his businesses that it'd be silly to do something as visible as picking up an NBC show for international broadcast.
Of course, given the fact that conflicts of interest and ethical rules are far less of a concern in many other parts of the world, the fact that picking up 'Celebrity Apprentice' for international syndication or creation of domestic version of the show in another country, which would also result in the payment of royalties of some type to Burnett and Trump, would be a visible way of currying favor with Trump may not be seen any as  problem.
The 'Celebrity Apprentice' issue is, of course, only one of unprecedented plethora of conflicts of interest that Trump will face when he enters office, and he still has not made clear exactly how he intends to deal with these issues. Last week, he announced that he would 'leave his business' but he has failed to provide any details beyond that, instead promising to provide details about his plans at press conference schedule for some time next week.  For moment, though, it appears that Trump intends to keep his ownership and other interests in The Trump Organization and other business entities and let his children manage them. As I've noted, that does nothing to remove the conflicts of interest that would arise from him having ownership interests in the business even while serving as President of the United States. Unfortunately, it seems likely that Republicans on Capitol Hill are going to largely ignore these conflicts in favor of exploiting the power that having control of both of the elected branches of government will give them starting on January 20, 2017.