Trump Has Already Stopped being President
He seems to have taken his ball and gone home.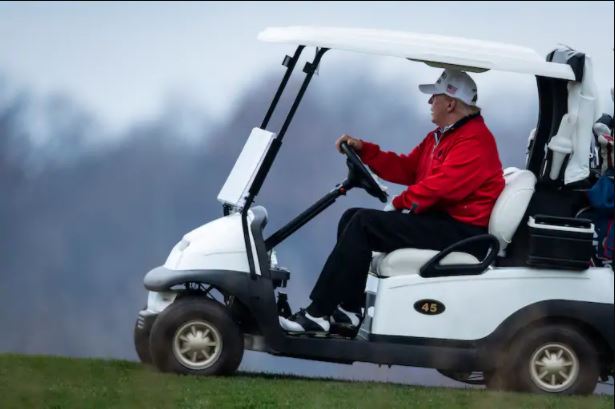 Washington Post White House reporter Josh Dawsey notes that, amidst all the bluster over stolen elections, something usual is happening with President Trump: he's not talking.
The president who likes to put on a show is mostly offstage these days.

Since President Trump was declared the election's loser earlier this month, gone are blustery speeches and stemwinder White House news conferences about the coronavirus, which never disappeared like he promised — or any other topic for that matter. Gone are lengthy call-in sessions with favored Fox anchors that often stretched so long the hosts had to push to conclude the calls.

Gone, too, are regular White House jousting matches with the press, impromptu Oval Office appearances with random guests or any pretense of being interested in many of the duties of the job.

In the 19 days since the election, 12 have included no events on the president's schedule. He has appeared at public events four times and has played golf at his own Virginia course six times. He has taken no questions from reporters.

[…]

Trump has not left the Washington area since his loss, eschewing his annual trip to Mar-a-Lago for Thanksgiving, where an ostentatious dinner underneath the chandeliers of his gilded Florida club was usually part family gathering, part publicity event.

The president's lust for ratings — he has sometimes defended events such as his coronavirus news conferences by citing how many people watched them — seems to have evaporated.

Trump — known for cannonballing on the global stage with moves such as threatening to pull out of NATO — participated minimally in the virtual Group of 20 summit this weekend, speaking to other world leaders for a few minutes, looking downward at his phone during the proceedings and leaving early both days, aides and diplomats said. He skipped the special session about handling the coronavirus pandemic on Saturday — even as cases surge in the United States — and went to the golf course. He went golfing again on Sunday.

[…]

Given a chance to brag about the successful development of a coronavirus vaccine in recent days, a historic achievement for his administration, the president attacked the company for not releasing it before the election.

"I won, by the way," he said offhandedly during a brief Friday appearance. He did not elaborate.

It is a marked sea change from the past five years, during which Trump dominated the national psyche with a constant stream of bravado: provocations, cliffhanger events, firings, rallies, tweets and controversies that often blurred one into the next. The denouement of the Trump presidency is largely playing out without Trump. He is no longer pretending to embrace parts of the job that he never liked, some advisers say.

[…]

Advisers say he is trying to figure out what to say and what to do. Unlike 2016, when Trump doubted he would win, he is genuinely surprised by the defeat, advisers say. Over the past few weeks of the campaign, advisers on Air Force One repeatedly told the president he was going to win because of the large crowds at his rallies and showed him favorable polling. Trump mused about how he would mock the pundits and his critics after the election when he won again, advisers said.

Since then, he has vacillated between delusion that he actually won, anger and deflation that he lost and a desire to keep fighting. "I don't think he knows what he wants to say yet," said one official who has spoken to the president and who, like other aides and advisers, spoke on the condition of anonymity to reveal private conversations. "It's all over the place based on the day."
The ship of state has no captain. For the next fifty-eight days, the country will be adrift. That's really, really bad when you're a global superpower. But it could be worse.
To be clear: Trump has every power of the Presidency at his disposal until noon on January 20. I would expect, at a minimum, the usual administration-ending flurry of pardons. But Trump has always been a man more interested in the trappings of the President than the job. Now, he's not even pretending to do it.