Trump: I Wish I Didn't Have to Do It
Donald Trump figures that, because he's rich, he's qualified to be president.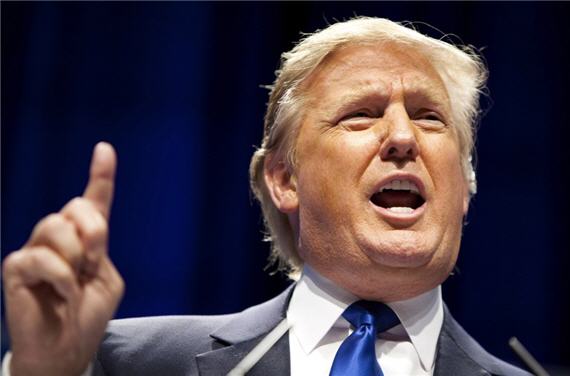 Donald Trump figures that, because he's rich, he's qualified to be president.
CNN ("Trump: I'm 'much bigger' than Romney"):
Real estate mogul Donald Trump touted his net worth as a selling point over likely presidential contender and former Massachusetts Gov. Mitt Romney.

"I'm a much bigger business man and have (a) much, much bigger net worth. I mean, my net worth is many, many, many times Mitt Romney," Trump said Sunday on CNN's "State of the Union." "I built a very big net worth and I'd like to put that ability … to work for this country."

"I don't do it for myself, I'll be doing it for the country," Trump added. "And guess what? That's what this country needs."

The "Celebrity Apprentice" star has flirted with a bid for the White House in recent months and is expected to make an announcement after the show wraps May 22. But Trump said he wishes he didn't have to run for president. "I love my life. I love what I'm doing," Trump told CNN Chief Political Correspondent Candy Crowley. "I wish I didn't have to do it. I would prefer not doing it. But I love this country."

Although he said he's honored by his rising poll numbers, he conceded his name identification helps him. "Well, they know my name," Trump said. "But you know why they know my name? Because of success."
Like Romney, Trump had a pretty nice head start. Trump's dad already had a thriving real estate development business and he took it over three years out of college. He adopted a high risk style that made him very wealthy–and put him at the brink of bankruptcy numerous times. But he's certainly been successful.
Leaving aside his weird policy pronouncements, is he qualified to be president? Romney has run successful companies and been a state governor; Trump has no public policy experience. We've elected a handful of presidents who'd never previously held elective office, but they were all generals. And the only one of those in modern times was Dwight Eisenhower, whose military career involved years of diplomacy at the highest levels.
By Trump's logic, though, there are a lot of people more up to the job. He's worth a measly $2.4 billion, which puts him in a 6-way tie for 153rd on Forbes list of richest Americans. And I've never heard of 4 of the other 5–and one is a Rockefeller. Dallas Mavericks owner Mark Cuban, who's an even more entertaining interview, is 144th. Shouldn't we be asking him to run? For that matter, Microsoft co-founder Bill Gates is worth a whopping $54 billion and is now devoting his life to philanthropy. Just think what he could do with the entire Federal budget at his disposal!